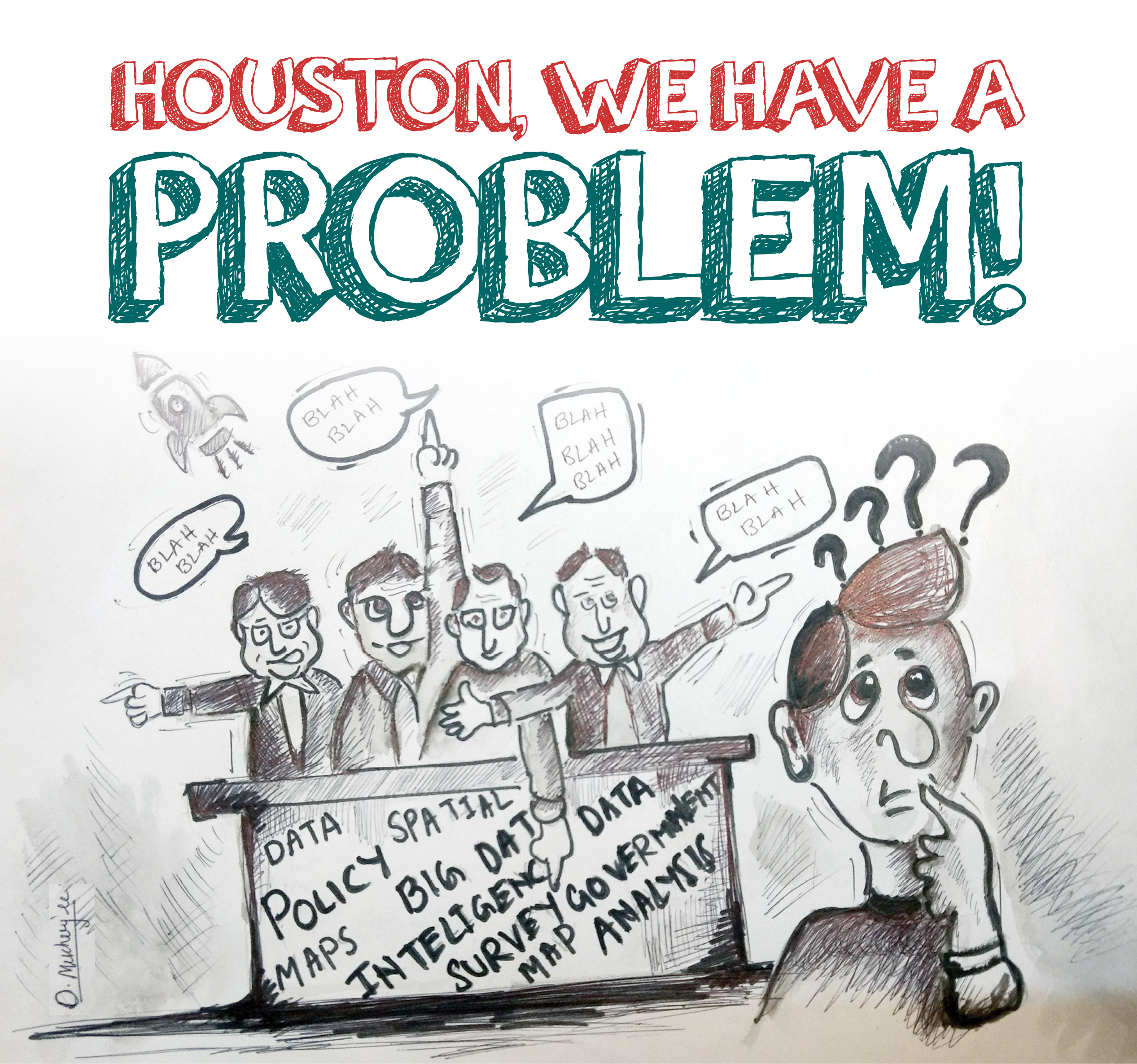 Even though heavy infrastructure push from the government has opened up great opportunities for the geospatial industry in India, the country can't optimally leverage the benefits of this cutting-edge technology unless there is a studied, concentrated effort to collaborate — and not compete — open up data and stop obsessing about policies.
In 2012-13, the India government's annual Economic Survey had called for "careful mapping, assigning of conclusive titles to facilitate land leasing, and creating a fair but speedy process of land acquisition for public purposes." Earlier, McKinsey Global Institute's report had highlighted that land market distortions in India lead to 1.3% loss in GDP annually. This amounts to $34.45 billion each year at current values (Indian GDP is currently valued at $2.65 trillion). In other words, effective use of geospatial and digital technologies in India's land records management has the potential to unlock $34.45 billion. This is almost equal to the FDI equity inflows into the country between April and December 2017, making India one of top foreign investment destinations in the world.

That was then. And even though we have extrapolated the old Mckinsey estimates on current GDP (in the absence of any recent estimates), it would be safe to assume that with the massive infrastructure development works happening all over the country, the figure would have gone up by several times. And before we proceed, let's get this clear — this is only the amount lost because of land market distortions. Now, if we add other sectors, and various stages of infrastructure development, the final figure could be mind-boggling. So, let's not even get there.
Let's look at something else. India is among the key engines of global economic growth and progress on development goals. It is the world's seventh-largest economy, growing second fastest among large economies after China, and is projected to be the world's second-largest economy (behind China again) by 2050. However, the Indian geospatial sector ecosystem, despite its long history of survey agencies and globally visible accomplishments in Space and ICT domains, stands "below-par" and "under delivering to national growth and development objectives", as per the Countries Geospatial Readiness Index (CGRI) 2018 brought out by Geospatial Media & Communications.
India ranks 26th among 50 nations covered in the CGRI 2018, and as a major economy fares much poor compared to other emerging nation economies — including China (Rank 6) — which are key to shaping the future of global economy and development (below see the graph).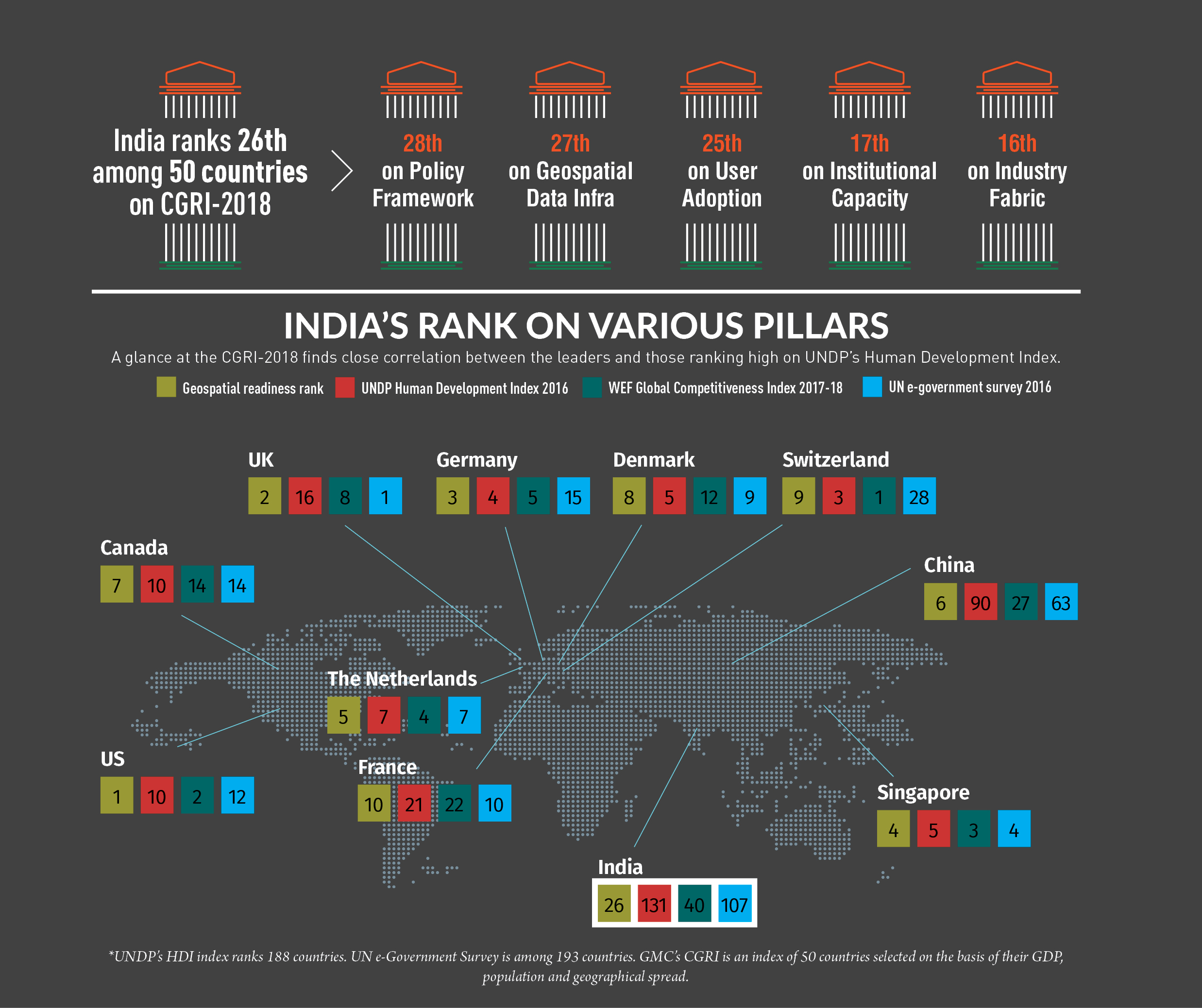 "Geospatial data plays a vital role in the decision-making process across a range of industries. Therefore, accessing, sharing and using the geospatial data forms the essence of the geospatial infrastructure," says Sujeet Kumar, Vice President & Head Asia Pacific – Utilities & Geospatial, Cyient. If a country doesn't hold a framework, naturally the growth of the geospatial industry will suffer, eventually hurting national interests.
India has for long been using remote sensing and GIS and other geospatial technologies for planning and development. However, the renewed focus on big-ticket infrastructure projects brings the focus back on updated maps and spatial technologies. In every major national program, including Digital India, Smart Cities, transportation and highway development, river linking, industrial corridors, smart power, and agriculture, geospatial technologies are poised to play a critical role. Acknowledging the fact that infrastructure is the growth driver of any economy, Union Budget 2018 made an all-time highest allocation of INR 5,970 billion ($91.7 billion) for infrastructure spending in the country.
That is not all. As with other countries, digitization presents India with a rare opportunity to make swift economic progress all across. There is a vision for speeding up the digital revolution and accelerate this transformation to yield up to $1 trillion of economic value by 2025, benefitting 55-60 million workers.
New-age technologies like IoT, Artificial intelligence, Cloud, Wireless & Broadband and Big Data are empowering the assimilation of spatial information into existing business processes. Analyzing data using a geographic information system is becoming a critical core strategy for successful decision making in an increasingly competitive global economy, highlights Atanu Sinha, Director, India and SAARC, Hexagon Geospatial. "This trend is being driven by many factors, like reduced technology costs, free mobile apps, social media platforms, Cloud computing and effective ways of managing high volumes of data."
Geospatial data usage in India is supported to a large extent by initiatives set out by the central government through its ministries and various departments, especially in 160+ projects, wherein the departments concerned have been asked to closely work with Indian Space Research Organisation (ISRO) and its data center National Remote Sensing Centre (NRSC). These initiatives, along with states and local level initiatives, have the potential to transform the very future of India.
In this background, "an enabling geospatial content policy will act as a catalyst in embedding geographic information into various government processes and building powerful decision support systems — the foundation for achievement of the goals of the Digital India Program", feels Agendra Kumar, President, Esri India.
Also Read: India needs to be geospatial savvy, says Hardeep Singh Puri
So what are the hindrances?
While base data availability has improved in growth markets, the real challenge still lies in generating a reliable base data that is up-to-date and contextual. "This is imperative for development and growth in these regions," hammers out Anup Jindal, CEO and Joint Managing Director, RMSI.
A case in point is the United States where base data is maintained centrally by the government and updated regularly. The information related to monsoon, acreage etc. is regularly shared with farmers and private sector. Similarly, in India, the private geospatial players are consumers to a lot of information/data generated by the government. There is a pressing need for all of this data to be unlocked and made accessible to the private sector, as this data forms the core for their innovation.
The absence of a comprehensive policy on the use of geospatial data and technologies had been the biggest contention for the country, more so with a number of old obsolete policies — restrictive and overrun by security concerns — hindering the efforts. Consider this — there are a total of 15 national-level policies and rules, with four in draft stage, dealing with geospatial data, under as many as six inistries/departments!
Any important industry needs government support initially in the form of a relatively straightforward and supportive policy framework to encourage innovation in the industry from start-ups and big companies alike, spells out Rajan Aiyer, Managing Director (SAARC), Trimble Navigation. "These policies should foster easier data acquisition, data management, data processing and analytics. India definitely needs a simplified, practical, innovation-friendly geospatial policy framework to be constantly monitored by a nodal set of agencies that can modify to suit the current needs of the industry," he adds.
"The biggest role that the government can play is in the implementation of a National GI Policy. Over the years, various aspects and components of GI policy frameworks have been put forward with a piecemeal approach. We have come across national policies of Remote Sensing, Maps, Data Sharing Principles, Security Classification… that too are dated now. It is time to examine these silos and harmonize these discrete policy elements into a comprehensive framework," adds Jindal.
The missing links


Policy Framework
• Integrated National Geospatial Policy
• National level geospatial sector coordination mechanism to enable integrated programs/strategy/guidelines
• Reference state geospatial policy and nodal implementation mechanisms i.e. department/division
• Ecosystem development for geospatial industry, startup entrepreneurship and Innovation, R&D promotion
• National guidelines on data sharing and standards

User Adoption
• Industry partnered geospatial technology use mandates in mission-mode programs
• Industry partnered Centre of Excellence in key mission areas like railways, smart city solutions.
• Incentive-reward programs
• Benchmarking reference examples


Institutional Capacity
• GIS skill development: GIS certificate courses, optional courses available in every engineering college, undergraduate and postgraduate education institute for interdisciplinary development
• National Geospatial Education Policy


Geospatial Data Infrastructure
• Base maps
• Modern geodetic references.
• Modern and precision Ground positioning infrastructure i.e. CORS network

Industry Fabric
• Startup accelerator, incubation programs, innovation challenges
• National, regional or functional awards programs with industry-institute participation
• Geospatial equity investment/debt funds
• MSME/Innovation cluster programs
In 2012, National Institute of Advanced Studies, IISc, Bangalore was given the first charter to release a draft geospatial policy. Since then, the country is striving to put forth a comprehensive policy and to date, only a draft version of the National Geospatial Policy (NGP) is in place. Even though Dr Bhoop Singh, Head of NRDMS, Department of Science and Technology, is optimistic of the NGP — which is currently being examined by various departments — taking shape within the next four to five months, it is easily quite some time before it sees the light of the day.
"To facilitate wider and faster adoption of geospatial technologies it is necessary to revisit these policies and evolve a unified geodata policy which will satisfy development and civilian applications while at the same time address the national security concerns," Abhay Kimmatkar, Joint Managing Director, Ceinsys, rightly points out.
Realistically speaking, it may not be possible to bring all the geospatial-related policies under only one umbrella. Even the National Geospatial Policy draft doesn't strike out any of the existing policies but is in "harmonization of these existing policies". However, they can surely be amalgamated into a maximum of two-three policies for ease of implementation. Further, taking lessons from the developed countries, there is also an urgent need for one ministry/department to be nominated as the nodal ministry and all other ministries should legislate/make rules after referring/seeking approval of the nodal ministry.
Another issue is each organization generating data also wants to regulate it. The result is a plethora of policies working at cross purposes. A typical example is the Remote Sensing Data Policy and New Map Policy, the former dealing with satellite data from ISRO, while the latter deals with maps produced by Survey of India — two critical data-generating organizations that rarely interact.
Additionally, there are no clear-cut guidelines on data sharing. So, when a department creates any data for its own use, despite the existence of the National Data Sharing and Accessibility Policy 2012, most of that lie in silos, because of the absence of one single platform, which can then be used by another department to put that data into, and which can further contribute in enriching this dataset.
Data acquisition of land and marine data, for example, is a cumbersome process involving huge cost overheads and investments, points out Raj Alla, Chairman & Managing Director, IIC Technologies. "The cost of survey equipment and platforms like survey-boats and aircraft are still at the higher end. Utilization of such high-cost equipment and platforms remain sub-optimal owing to large wait-times between approval and clearances from the competent authorities to the actual conduct of surveys. This naturally adds to cost and time overheads. In some cases, although, easy-to-use survey options are available, for instance UAVs and drones, their deployment for land and coastal surveys are subject to government policies and security clearances."
"Forget about cross-department data sharing. Many a times departments/organizations don't know what they themselves possess," says an irate source in the government. He gives the example of how the Ministry of Urban Development (MoUD), which had already initiated the 1:2,000-scale mapping for some cities under the National Urban Information System (NUIS) in 2006, approached Survey of India again recently to create the same data for another project.
In developed nations, there is a regulation under the free data sharing policy that mandates all government departments and public organizations to publish their datasets to a centralized authority, ensuring seamless access to standardized datasets. Likewise, it will help to have a national consortium for geospatial data in India with a charter to organize and maintain uniform, standardized seamless spatial data, which will also ensure that the database provides access of the same set of data to every stakeholder, feels the industry.
Multiple agencies generating independent datasets without a common guideline are leading to problems of data quality, authenticity, interoperability and convergence. Often, no two datasets sit on each other. So, who will check and clear the quality and authenticity of data that is generated? The need for an independent agency to ensure the accuracy, standards and quality is felt more now than ever with the growth and reach of technology. A centralized agency on the lines of National Accreditation Bureau for Laboratories of Department of Science and Technology could be the answer, a mechanism which has worked well in other areas such as education.
Absence of a single window clearance delays projects. This again is majorly owing to the varied number of the departments controlling permission, and the knee-jerk tendency in the Indian government corridors to be restrictive the moment geospatial data is mentioned. Involvement of so many different departments make decision-making slow, and by the time the clearances are issued, changes in landscape are observed and the imagery data many a times loses relevance, adversely affecting project implementation, points out Manosi Lahiri, Founder, ML Infomap.
A solution to this issue can be provided by Survey of India by providing certified boundaries of India to the industry, instead of it playing a policing role of checking and certifying privately created maps — a process that takes several months.
The L1 process for tendering (lowest of the bids bags the contract) followed in most government departments is another major concern. Technical understanding of the scope of work and ownership of implementation from the government stakeholders is very poor, adds Sujeet Kumar. This results in awarding of contracts to companies bidding unrealistically low, leading to shoddy work and failure of many projects. "Also, unrealistic project timelines, lack of support and lack of vision for utilizing the output in day-to-day governance and scope creep in due to change in priorities."
Additional challenge is that in India , which is a price sensitive economy, organizations typically tend to look at the initial cost of capital investment only versus the total cost of ownership of the project. "In some sectors such as transportation and logistics, there are quite a few fly-by-night operators who over-promise and under-deliver leaving a bad customer experience and therefore disbelief in the geospatial technologies," says Aiyer.
The other major challenges include lack of exposure to benchmark cases, inadequate capacities to design procurement guidelines and high cost of procurement, implementation and maintenance.
More so, none of the existing policies focus on start-up entrepreneurship promotion programs such as incubators, investment funds, accelerator programs, support structures for market and data access, industry partnerships, center of excellences from use-case perspectives etc. All geospatial agencies in developed economies have such programs in place. Also there is a big need to focus on professional certifications, skill development to address the demand-supply skill gap.
Unshackle Survey of India
The biggest issue of all is that Survey of India, has consistently failed to upgrade its maps, which are dated and available at 1:50,000 scale. This, despite it announcing plans for mapping the country at 1:10,000 scale as one of its primary focus areas back in 2012.
Today, digital maps at 1:50,000 scale are available from SoI, but not on the NSDI portal. While old paper route was the only way to place orders for digital data till 2016, it was only last year SoI launched its digital platform — Nakshe Portal — where it has made the provision of Open Series Maps at 1:50,000 free for download. However, the maps are available only in PDF format. One can always convert the pdf map into a GIS-usable map by using on-screen digitization, but that will result in hundreds of 'digital' maps of the same mapsheet, which was sought to be avoided with the National Map Policy 2005 that promised digital OSM maps.
Further, most of the maps are dated and useless except for the authoritative coastline, National waters, EEZ boundary, international borders, district and taluka boundaries and standardized place-names. Natural and manmade features are better depicted in remotely sensed imagery from satellites and aircraft and are therefore up to date. Merging such data with the artefacts mentioned above can easily be done by the users on a GIS. All SoI therefore needs to do is to just issue maps in digital form with these artefacts.
To be fair, it is not that Survey of India doesn't have its own share of problems. It has an existing staff strength of only about 4,000 as against the sanctioned 11,000. To add to its woes, in the absence of regular infusion of new blood over the years, most of the staff are aged and generally resistant to try out new technologies. "The agency is going through the same phase that say nationalized banks went through when computers were introduced. It needs a complete mindset change. Look at how Ordnance Survey phased out the old crop and overhauled the entire organization to emerge as one of the most competent survey organizations in the world today," points out a source.
A major issue for the national mapping agency has been its lack of autonomy. It is housed in the Department of Science and Technology, whose mandate is simply to "provide central direction, leadership and coordination of scientific and technological efforts and ensure that the results therefrom are geared and utilized in areas of maximum economic and social benefits for the people". Survey of India is the only organization in this department whose mandate is delivery. Naturally, there is a huge gap in mindset. Further, over the years, too many officials in DST have meddled in SoI's affairs. For instance, when the NSDI was set up back in 2006, there was no reason why it was not put under SoI, and DST had to launch a separate setup to manage that. "Our national mapping agency is still a subordinate office of the Government of India even after 250 years of its existence," Dr Swarna Subba Rao, then Surveyor General of India, had publicly lamented last year.
In contrast, Department of Space (which houses ISRO) is an independent department directly reporting to the Prime Minister's Office. Similarly, IT has for years been an independent department. In fact, to empower it further, in 2016 the government further carved out a separate Ministry of Electronics and Information Technology (MeitY) Communications and Information Technology.
Even when one looks at the budget, SoI's budget at about INR 4 billion is about one-third of that of Geological Survey of India's INR 11 billion. What makes it worse is that about 85% of this INR 4 billion goes into paying salaries. A simple back of the envelope calculation reveals that Indian government spends about INR 50 billion combined on various spatial data generating organizations, including earth observation and other application areas. Not even 10% of that goes for the premier national mapping agency!
In the absence of concentrated focus and recognition, Survey of India today is a sad shadow of its glorious past. "Everybody knows this harsh reality, but no one accepts. Nor the Minister, neither its Secretary or anybody of that level. And they continue to do so, and the whole ecosystem is suffering. They should have enabled SoI long back," says the source.
With so much of backlog and very little field to play, SoI should change its mindset about starting things from scratch. For quick delivery, it should look at outsourcing its mapping work to industry players on a PPP model, which it has already initiated as part of some of the commendable projects — mapping the entire Indian coastline under the Integrated Coastline Zone Management, National Hydrology Project, or its active involvement in the Smart Cities and AMRUT projects. It can even mull giving away state-wise mapping to companies, and let them create the maps, and sell them for a royalty to government users in those states. These companies can also work as quasi authorities under the supervision of SoI as a state actor and help in ensuring data is created where it is most needed.
"The government should get rid of this fear that data will go into wrong hands if private industry is involved. There are many Indian companies who are working for so many sensitive projects for countries like US, UK etc. sitting here in India, so why can't they do the same for Indian government?" asks an industry person requesting anonymity.
Further, what government agencies forget is people are always looking for easily accessible data, and they should work with this one goal of making data accessibility — and not data creation — their highest priority. "Your data should be so easily accessible that when a user does Google Search, it should be among the first ones to come up. That is where the world is moving," he adds.
SoI could instead concentrate all its energies on quickly creating a geodetic network of control points which are needed for precise location and research in tectonics. A PAN-India Continuously Operating Reference Station network will require around 550-600 CORS towers, which costs approximately INR 3,300 million at 1:10,000 scale.
Here too, there is a spoiler. While SoI invited an expression of interest from concerned parties in 2016 for launching a pilot project for CORS, it is still awaiting government nod. "Even Pakistan has implemented CORS and we have been chasing the government to use this technology for years now, but to no effect," Dr Subba Rao had pointed out last year.
Also Read: Geospatial a crucial component of the Indian Army – Lt. Gen. Anil Kapoor VSM, Director General Information Systems
Who is doing what

Department of Science and Technology (DST)
• Formulation of science and technology policies
• Entrepreneurship and innovation promotion
• Survey of India*
• National Atlas & Thematic Mapping Organization (NATMO)
• National Spatial Data Infrastructure and promotion of GIS


*Survey of India (SoI)
• Geodetic control, surveys
• Topographical control, surveys and mapping
• Tide Tables


Geological Survey of India
• Geoscientific information and mineral resource assessment
• Multi-disciplinary, glaciology, seismotectonic studies and fundamental research


Forest Survey of India
• Spatial database on forest resources
• Research on applied forest survey techniques
• Assessment of forest cover & change monitoring


National Remote Sensing Centre
• Providing Earth Observation (EO) Data
• Develop technologies & applications for Natural Resources Management
• Support for disaster monitoring & management
• Capacity building for utilization of EO data


DEITY-NIC
• ICT Infrastructure
• Implementation of e-Governance Projects
• Framework products and services
• Consultancy to the government departments
• Research and development
• Capacity building


State DoIT&C
• State IT Policy
• NeGP projects in the State
• Standardization and Security Aspects
• Capacity Building
• End-to-end service delivery of (G2C) (B2C) and (G2G) services
Too many cooks spoil the broth
DST is hard-selling the National Geospatial Policy as a single policy that would synergize various departments towards ensuring quality, accuracy, interoperability and commonality. It will not. NGP doesn't address any of the restrictive measures that are part of the old data policies, including National Map Policy 2005 and Remote Sensing Data Policy 2011.
Also, before we get gung ho about a new policy, let us remember this is not the first time we are talking about this issue. The demand for clearer data-sharing mechanisms to ensure quality and availability has been there for some time and there have been multiple attempts to address the issues.
The National Spatial Data Infrastructure was mooted in 2000 and launched in 2006 under DST. The project envisioned a national infrastructure for the availability and access to organized spatial data and use of the infrastructure at all levels for sustained economic growth. Today, 16 years later, NSDI is a toothless body which has not achieved much, not even managed to get complete metadata in one place. Since departments were not mandated to share data, some did, many didn't.
Even as the NSDI was struggling to take off, in 2013 the government did what India is famous for — forget the existing arrangement and propose a brand new one! It proposed a new National GIS (NGIS) project. The NGIS was pushed through the Planning Commission and was considered to be a pet project of Sam Pitroda, the then Adviser to the Prime Minister on Information Technology, and was sanctioned INR 30 billion (approx $461 million) under the XII Five Year Plan 2012-17. There were even plans to establish a separate Indian National GIS Organization committed to further the use of GIS in governance. However, owing to changes in the Planning Commission and after several inter-department turf wars, the project was handed over to the DST. So, there are now two agencies working towards the same goal under the same department! Years down, NSDI is still floundering, while NGIS remains only on paper.
Meanwhile, ISRO went its own way and launched Bhuvan in 2009. To its credit, Bhuvan is regularly updated, and also boasts of a rich ensemble of datasets and analysis models. Others will take years to reach such a level of sophistication. But, Bhuvan has its limitations. The fact that it caters to 1-meter data makes it good only for thematic visualizations, not engineering grade work. Further, it is devoid of elevation data and ground-verified attributes which SoI alone can provide.
Ideally, Bhuvan assets should form a part of any national level platform where all spatial datasets — be it SoI maps, forest data, geological data, or those generated by other government departments (states or federal) — are aggregated. But again, that is an ideal situation. In a real-life situation where every department is trying its best to compete and not collaborate, this is but a pipedream.
Then suddenly in 2015, MeitY launched its own National Center for Geoinformatics. To make matters further ridiculous, the National Informatics Centre under MeitY has created a multi-Layer GIS platform called Bharat Maps which claims to "depict core foundation data as NICMAPS, an integrated base map service using 1:50,000 scale reference data from SoI, ISRO, FSI, RGI and others".
If this isn't a free for all show, what else is!
Get out of policy making mode
Ever since Google brought maps in every hand, the importance and availability of geospatial data has grown manifold. The reality today is that anybody can now see a very detailed map, and a very detailed satellite imagery or aerial imagery openly on the Web, and the world has moved beyond restrictive policies.
Further, an un-enforceable policy is a waste of paper. "We have a National Data Sharing and Accessibility Policy (NDSAP). How many are aware of it? How many abide by it?" points out a geospatial industry veteran on the condition of anonymity. This is simply because a policy is not mandatory–so one gets away by not following the NDSAP — but a law is. But any law must have an understanding of ground realities, must be open and encouraging for industry and users.
All around the world governments are increasingly taking on the role of enablers and less of regulators. "Policies by nature are restrictive. Governments should enable what private industry and public can do, rather than focus on what they can't do. Also, regulations should be applicable only with respect to data that directly affects the security and sovereignty of the country," says Lt Gen Chandele, Advisor, Ashok Leyland Business Advisory Committee.
A typical case in point was the ill thought out Geospatial Information Regulation Bill that was suddenly unveiled by the Ministry of Home Affairs in 2016, which created such an uproar that even the common man on the streets was also forced to take note of the importance of map data. The Bill, since put in cold storage, not only proposed to impose heavy penalties on sharing of map data that is not vetted by the government, but also sought to put heavy controls on how geospatial data is generated and shared, in effect sounding a death knell for the private geospatial industry in India.
It is not a geospatial policy but a holistic strategy that is the answer. "Look at all developed countries, they talk of visions and strategies, and how to open up data. And here we are still talking of how to restrict it," says the anonymous source. "Often, a policy document is about how to "not" do something. Instead, we should work towards having a vision document with an aim of how to do something."  Among the first things that need to be done are mandating all geospatial data generating agencies to collaborate and not compete, mandating sharing of all geospatial data generated by tax payers' money in one single platform, and most importantly empowering of Survey of India. While one may scoff at the last suggestion, but it is true that no other organization has the capability or the knowhow or even the mandate when we talk of vetting, aggregating and managing all kinds of spatial data. Let us also remember, a country can't progress geospatially if its national mapping organization is weak. Don't believe us? You can always check out the "Leaders" in the Countries Geospatial Readiness Index 2018!
Shimonti Paul, Senior Assistant Editor contributed to this article.
Also Read:
Indian space stands at the forefront, highlights Dr. Jitendra Singh
Building a good space ecosystem tops the priority list – Rakesh S, Chairman & MD, Antrix
Geospatial a crucial component of the Indian Army – Lt. Gen. Anil Kapoor VSM, Director General Information Systems