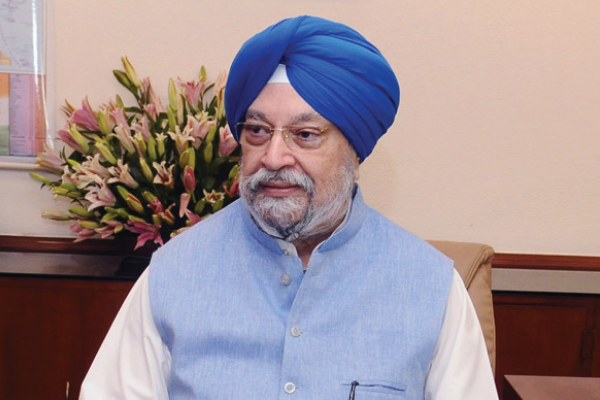 Geospatial technology can help in resource allocation, decongestion, better planning, identifying specific problem areas, and faster solutions. It gives us a chance to converge efforts to make every project a success, says Hardeep Singh Puri, Minister of State (Independent Charge), Ministry of Housing and Urban Affairs in an exclusive interview.
How does geospatial technology help in better governance and maintenances of cities?
Geospatial allows visualizing essential aspects of cities, for instance the agglomeration of people, place and functions that create a city. This agglomeration requires a Bird's eye perspective of a city so that administrators and planners can understand it better.
Today every government office is using Google Earth as an indispensable tool. The ability to track various locations offers us opportunities for greater investment of resources and hence better outcomes. Also with the population increasing at a high rate, new measures are required to handle the new challenges that are cropping up. Geospatial technologies can help in resource allocation, decongestion, better planning, identifying specific problem areas, and faster solutions.
To have effective outcomes, it is time that every piper stops playing his pipe individually and stops working in silos, collaboration and convergence can bring in huge benefits. The Ministry of Housing and Urban Affairs is actively working towards the convergence of ministries on the principle of Team India. Geospatial is the enabler of this convergence.
What are the recent initiatives involving geospatial technology in your ministry?
The Prime Minister Narendra Modi's three flagship programs — Swachh Bharat Abhiyan (Clean India campaign), Pradhan Mantri Awas Yojana (Housing For All) and Smart Cities program anchored in the Ministry of Housing and Urban Affairs are very good examples where geospatial technology plays a crucial role. Swachh Bharat mission is an ambitious project with an aim to make India an open defecation free country using 100% solid waste management technology by the end of October 2019. The program requires building of public toilets and individual toilets at home in both urban and rural areas. However, it is very important that these be geospatially mapped.
On the Swachh Bharat portal you will find every toilet marked. This creates greater transparency in government functioning and allows both governments and citizens to see what is being done for the public good. It gives us a chance to converge our efforts to make every project a success.
The Pradhan Mantri Awas Yojana scheme envisages home for every Indian by 2022. We have been able to sanction 5,000 homes using geospatial technology. We have mapped the entire scheme to have an idea about its progress.
We have chosen 100 cities out of the exisiting 4,041 to be developed as Smart Cities. It is a major beginning for us. The Smart City project is where geospatial has a great role to play. With the help of imaging and real-time data, we are able to map and monitor how each Smart City project is doing. The INR 1,400-billion program is just 2.5 years old.
Please elaborate more on the Smart City project.
The scheme was announced in June 2014. Till now, in total, we have identified 90 cities and have 10 more to go. These 10 cities will be announced shortly. The project is one of the fastest implemented schemes where each city is developing at a different level because they were announced at different points of time. In the first round, 20 cities were announced, so they had the advantage of time. For the development of each city, we are setting up special purpose vehicles. About 70 cities have SPVs and very soon other cities will have SPVs too.
When a city is selected for a smart city then it's a process of competitive selection. The good news is that from 14 countries, 42 top-class companies have already bid and won contracts. Smart City is not just an Indian project, it's a global opportunity and it's a win-win for everyone.
Today, our Smart Cities are going to have command and control centres for their transportation systems and public surveillance systems. Tomorrow, they will be monitoring the consumption of energy in every building.
What steps do you suggest for smoother and quicker urban transformation?
If we have to plan for an urban economy where there is greater symbiosis between the city and the village, we must use maps and analysis for our resource footprints as well as flows of labor and capital. The use of geospatial technology is therefore an essential element of the urban transformation that the ministry is promoting between the states and union territories.
This urban transformation requires cities to use geospatial technology to create e-governance platforms that allows our municipalities to get a holistic picture of what they are dealing with. A unified geospatial platform helps the city managers to construct a common operational picture and to treat his/her city as an enterprise so that he/she has the power to see and visualize, detect, locate and judge, resort and act. This makes the task of managing the cities more efficient and allows the managers to eliminate redundancy and optimize resource consumption.
I am sure there will soon be an urban world where everything has been geospatially marked. This will allow us to plan better, to spend money better and deliver services better.
Do you think India is in a position to leverage the power of the technology to the fullest?
The issue is that many of these technologies are new. However, it is something which is remarkable and cannot be ignored. Of late there is a lot of progress and the technology has caught on people now. There has been a realization that for efficient running or completion of a Smart City or any big project, it is beneficial to use geospatial technology.
There was a discussion in the year 2011 about setting up of a geospatial hub or an institute to study geospatial technology. I am very eager about the technology and will take this up so that we can persuade that each Smart City has a geospatial institute. We need to train people to understand the importance of the technology.

Also Read