I recently had the opportunity to join the TC Sessions on Enterprise organized by TechCrunch. I was...
The technology necessary to enable self-driving vehicles is evolving at an extremely high speed, but there are still multiple challenges in the...
Space Angels, a New-York based venture capital firm that focuses on investments in space sector, has launched a new portal that helps space companies...
The company uses AI and Machine Learning to automate the production and maintenance of indoor maps and to ensure that these maps match with...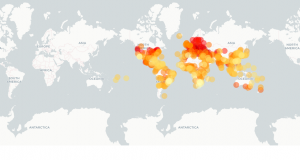 While increase in global temperatures in the near future is an inevitability predicted by many, Crowther Lab's interactive map shows how global...
Undoubtedly the best case scenario while working with satellite imagery is to find the most suitable images for your use-case from, let's say, Sentinel-2...
With the Key Registry of Large-Scale Topography, The Netherlands has a nationwide ground plate suitable for sharing digital constructions, 3D data generated through smart...
Ground Penetrating Radar (GPR), Electromagnetic Location (EML) and Building Information Modelling (BIM) are being extensively used to geolocate below the surface utility networks and...
When users are able to freely work with captured data in the means that best suit their needs, then they uncover their full potential....
A Smart City must also be resilient. For one, the steady migration of population from villages to towns is putting pressure on civic services....