Architecture, Engineering and Construction (AEC) is the second largest industry in India and one of the key...
The effects of population growth, urbanization and climate change are motivating us to contemplate serious changes in...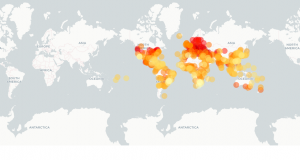 While increase in global temperatures in the near future is an inevitability predicted by many, Crowther Lab's interactive map shows how global...
Nottingham-based GVL provides mapping and land motion solutions to a wide range of industries using its patent-pending ISBAS method Founded in 2015, Geomatic Ventures...
Are you living in a 'smart home' where you have numerous internet-connected and computing devices for an...
Recently, the German photogrammetry company GeoFly purchased two camera systems. With the Vexcel Imaging Eagle Mark 3, they will be able to work more...
During a 3D laser-scanning project, it is not a common sight to see the land surveyor working on his or her tablet, analyzing near...
For more than thirty years Norwegian company KSAT ('Kongsberg Satellite Services') has been running and operating ground stations to receive data from satellites. Their...
Digital technologies have transformed entire industries in the last decade, impacting lives on both personal and professional fronts. Companies have had to reinvent themselves...
When we talk about a smart city or smart governance, the word 'smart' has connotations of the use of the latest technology and innovation....