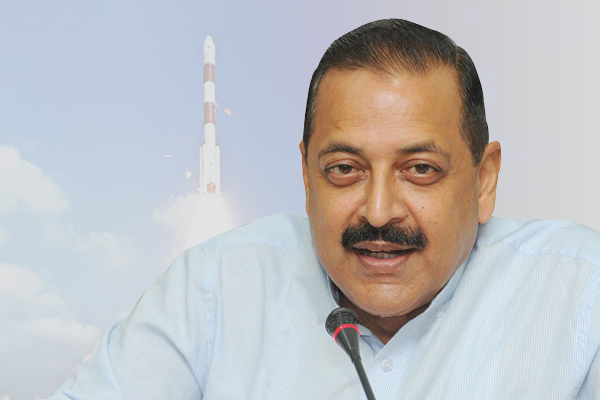 India, unlike any other country in the world, has a wide and diverse application of space technology in developmental programs and infrastructure programs, believes Dr. Jitendra Singh, Minister of State, Prime Minister Office, Department of Atomic Energy and Department of Space in an exclusive interview.
Space technology has become all-pervasive. How is it impacting Indians per se?
Space technology has become an essential part of the new developmental transformation happening in the life of each Indian. It is expanding its reach to every household in India now.
India has come a long way and has moved out from the narrow areas of simply launching satellites for the study of planets and stars. Whether it is urban development, Smart Cities program, real-time monitoring of railway tracks, tele-education, telemedicine or agriculture sector using soil testing, space technology is making its presence felt in every field.
We have a scheme called MGNREGA in India where the government was facing certain issues. But after geo-tagging it, there is absolute transparency, no pilferage and coupled with direct transfer. It is now being called as to GeoMGNREGA.
In Railways, we had a huge problem of unmanned railway crossings. We have signed a MoU with the Indian Railways where space technology will be used to give warnings at unmanned level crossings.
In the last few years. ISRO has come up on global stage like never before. What led to this?
In the field of space technology, the nation stands at the forefront. We have actually overtaken some of the advanced nations. The most evident example is the January 12 launch when 31 satellites were launched, out of which 28 satellites were from some of those countries who had started their space journey much earlier than us. We had satellites from the US, UK, Korea, France and Finland. This shows India's space capabilities have succeeded in achieving a kind of a trustworthiness that even the most advanced nations in the world feel confident to repose their faith in us.
I can say with confidence that India today is a leading nation as far as applications of space technology is concerned. No other country in the world has such a wide and diverse application of space technology in developmental programs and infrastructure programs.
Therefore, India needs to widen its sphere of activities. The involvement of other partners also becomes important. ISRO is taking calls on that. It may not be a typical Public-Private Partnership per se, but parties are being involved to further boost growth in the space arena. Of late we have seen some example of PPP models during the tenure of former ISRO Chairman Kiran Kumar. Partnerships of this kind will help the industry to generate revenue.
Prime Minister Narendra Modi's 'Start-up India, Stand up India' initiative is also going to benefit the space industry. The program will not only generate more jobs but will also pave the way to new innovations in every field, in the space sector too.
ISRO is closely working with 160+ projects across ministries to help them with satellite data. Please elaborate.
We feel proud that the space technology has virtually become part of the government's mission to transform India. It is no longer confined to studies of planets, stars and moon, though that part is also going well as ISRO is getting ready to land its very first lunar rover by this year.
The Prime Minister's personal interest has given a huge impetus to our space mission and space programs. In 2017, we created a world record of launching 104 satellites in one go, which nobody had done. We sent out the South Asia satellite that was dedicated to the world by the Prime Minister which will be of use to all the neighboring countries.
Also Read