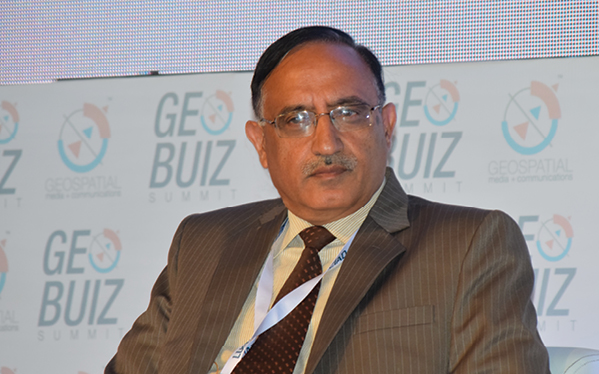 Once a soldier always a soldier. The turf may change, but the skills army training inculcates, makes leading from the front, taking up challenges and finding solutions, a natural instinct. The theory gains strength as we indulge in a candid conversation with Lt. General Girish Kumar, Surveyor General of India, and explore his urge to make a difference in the Indian geospatial scenario, even when the odds are high.
You took over as the Surveyor General of India in October 2017. Under your leadership, what all new projects is Survey of India (SoI) planning to undertake?
Our main aim is to generate large-scale data for the entire country. As of today, we have printed maps at 1:50,000 scale, and now we want to upgrade the same maps at 1:25,000 scale with updated content and within the framework of all national policies. These will be available in printed form. We need to print maps as they are used by many departments, including the defense forces, paramilitary organizations etc. However, the data content will be much finer than 1:25,000 scale.
Digitally, we are targeting data at 1:10,000 scale; and urban areas will be mapped at 1:2,000 and even 1:1,000 scale. Recently we carried out a pilot project with the Government of Maharashtra where we used drone mapping. Now, we will take up mapping of 38,000 villages in the state. There are other such projects in the pipeline.
All these map generation work — be it 1:25,000 or 1:10,000 — is planned to be complete within the next two to two-and half years.
We are also working on an integrated G2G platform for sharing data generated by Survey of India for various government agencies. This is in accordance with the government's data sharing policy. This will benefit all government agencies since it will be accessible to all user departments.
Further, we are actively reaching out several ministries and government agencies such as the Ministry of Home Affairs, Indian Meteorological Department, National Disaster Management Authority, Indian Railways etc for helping and enabling them in their projects.
SoI has also been playing a significant role in the National Hydrology Project, which is one of its kind. Please tell us more about it.
The National Hydrology Project of the Ministry of Water Resources involves gathering hydro-meteorological data which will be stored and analyzed on a real time basis.  This is a World Bank aided project and envisages covering the entire country. Roughly, 8 lakh sq. km area will be covered under this project.
Survey of India will give them data at 1:25,000 scale with digital elevation model with 3-5 meter accuracy. They have asked for very high-resolution elevation model with 0.5 meter accuracy for about 60,000 sq km. We will be conducting fresh surveys for all this work. Since the requirements are immediate and huge, we will be outsourcing it, and agencies will be selected on the basis of open bids.
What is the progress on CORS-network?
The CORS [Continuously Operating Reference Station] network is an important project for the country. The proposal has been submitted to the government and it is awaiting final nod. Though there is no in-principle disagreement at any level, we need to fine-tune certain requirements. I am confident of rolling out the project by the end of this year. CORS needs around INR 1,000-1,200 million to cover the entire country.
As we understand, there is a serious human resource crunch in Survey of India. What are the reasons and how do you plan to tackle this issue?
For every government recruitment, there is a recruitment rule that has to be finalized in consultation with a number of departments and ministries, and then the rules are gazetted, following which you can call for recruitments. Survey of India recruitment rules were very old and therefore posing problems. Now, we have revised the rules in consultation with Department of Science and Technology, and new recruitments will soon take place. The department has been very supportive in these endeavors.
Funds allocated to SoI are very low as compared to other geospatial data generating agencies. What's your take?
Departments project their demands to the government almost a year in advance. Since at that time SoI didn't have many projects under consideration, the demand raised was less.
Now, we that we are engaging with various departments and undertaking new projects, we have submitted a separate proposal seeking about INR 4.97 billion. As soon as the schemes are approved, the funds will be released. This INR 4.97 billion will be over and above our annual allocation of INR 4 billion. Of course, this money will be spent over the next two-three years as part of progress of the projects. Fund crunch will not affect the work of SoI.
You have also been talking about empowering Survey of India. How can that happen?
Since I have taken over, we are having a very positive dialogue with the Department of Science and Technology. The DST Secretary has given his full support, and there is also full support from the minister. The ministry has already initiated few proposals to empower the Survey of India in terms of manpower, resources, policies, and guidelines. There is also a proposal to increase SOI's power at regional level. I am very sure that with this support, the organization will achieve its goals. The process has at least begun.
Do you think India needs a proper national geospatial strategy to move ahead?
A single geospatial policy framework needs to be debated upon. Integration of all policies under one umbrella is a good idea from the industry point of view, but this needs to be taken up at the highest level. It needs to involve all stakeholders keeping in mind the pros and cons of a single policy and its implementation as well as mandate and business rules for various ministries.
Also Read