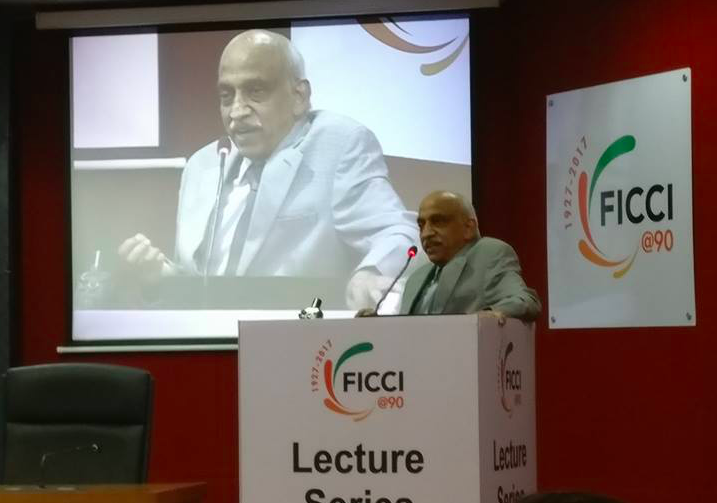 Indian Space Research Organisation (ISRO) is looking to double the number of launches in the next two years to meet the increasing demand. Currently, the Indian space agency has 42 operational satellites for various purposes, including remote sensing, navigation and communications, and they are exclusively focused on the country's needs. However, they are inadequate to meet the increasing needs of the country, ISRO chairman A.S. Kiran Kumar said on Monday.
Kumar was in New Delhi to deliver a lecture on India's Journey towards Global Leadership in Space Program.
Kumar, who had asserted the same thing earlier in the day in his inaugural address at the two-day International Seminar on Indian Space Programme: 'Trends and Opportunities for Industry', organized by FICCI and ISRO in the capital, also reiterated the need for collaboration with the private industry.
Why ISRO is engaging more and more with private players
"Today we have 42 operational satellites in space. But the number is significantly less when we look at what it needed for the country – whether it is communication, remote sensing, or navigation. We need to double this number. For that we need to double our launch capacity," he said.
For this, ISRO is planning to privatize the operations of its popular launch vehicle PSLV by 2020. Kumar confirmed that discussions are being held with private players towards a joint venture for managing the PSLV program on an end-to-end basis.
Earlier, in an exclusive interview to Geospatial World, Kumar had also confirmed that ISRO was also in talk with the private players for manufacturing of the launch vehicle itself. On Monday, he further urged the private sector to collaborate and explore collaboration in assembly and integration of satellite sub-systems, launch infrastructure co-development, cryogenic technology transfer for GSLV Mk III, manufacturing communication and navigation satellite among others.
ISRO looks at JV for PSLV manufacture; launch to be privatized by 2020
It is important to mention here, the space agency has already outsourced manufacturing of some of its satellites. Its first privately manufactured satellite IRNSS-1H, the launch of which unfortunately failed in August, a rare case for ISRO, was made by Bangalore-based Alpha Technologies.
"In the years to come the challenge will be decreasing the cost of access to space for optimal advantage of common people and to utilize the talent base of demographically young country," he said while emphasizing that the development and progress of the country is directly dependent on the strides made in the sector of space growth.
With the Indian government's aggressive focus on geo-enabling various sectors, there is pressure on ISRO's downstream services, which again translates into newer satellites and launch vehicles. Additionally, the tremendous success of the Polar Satellite Launch Vehicle (PSLV) globally, especially after the record 104-satellite launch, has led to further launch demands.
"Whether it was the Chandrayaan or Mangalyaan or the launch of record 104 satellites, we did things differently, and made the world turn around and take a look at us," Kumar said, while highlighting the achievements of the space agency.
Currently, ISRO launches four-five satellites per year for itself, while the need is to launch 15-18 satellites per year to meet the demand. The space agency is severely constrained to meet the ever-increasing demands from over 60 central departments, 29 states, and thousands of private sector companies. ISRO's current strength is around 16,000 people, which is not enough to meet the regular demands of the country. Further, technological innovations have undergone a giant leap with the passage of time and the agency feels severely constrained. As Kumar pointed out being a government organization doesn't allow it to recruit more people whenever it wants. Privatizing the PSLV operation or manufacture of satellite sub-systems would free up ISRO to focus on more cutting-edge missions.
It is pertinent to mention here ISRO's annual budget for 2017 stands at around $1.4 billion even after a substantial hike, which is peanuts when compared to NASA's 19.1 billion.
Stating that ISRO is currently engaged with over 500 industries, ISRO chief said making use of all the sections of society and its talent is required to enhance the capabilities.
Earlier, the Telecom Regulatory Authority of India (TRAI), has also suggested that ISRO ropes in the private sector to launch satellites in low and medium orbits to expand broadband penetration in the country to further the government's vision of Digital India.
India had about 31% Internet connectivity and it was estimated that only 450 million of India's of 1.25 billion people would have internet connectivity by June, a report from the Internet and Mobile Association of India and market research firm IMRB International had said in March. It added that there are potential approximately 750 million users still in rural India who are yet to become Internet users. But currently this is not possible given the status of data penetration in the country, especially the Northeastern parts where laying optic fibre cables is difficult given the rough terrain.
The move to commercialize is also keeping up with the global trends. There is a concerted move to open up the space sector across the world. While NASA has for long supported private players, under the Trump administration it has taken bold steps towards further commercialization of the sector through legislations like the NASA Transition Act and the recently introduced American Space Commerce Free Enterprise Actof 2017.
The European Space Agency (ESA) has also been a great proponent of public-private collaboration in space, which according to it is capable of bringing diverse advantages. Under a 'Space 4.0' policy, which fosters the transition of ESA from a government-run laboratory in orbit to a commercially driven human and robotic spaceflight economy, a step-wise approach is nurturing new commercial services led by European private companies that strengthens the competitiveness of the space and non-space industrial base, stimulates R&D, and integrates innovative solutions into ESA space exploration missions.
Even in countries such as Canada or Japan, there has been move towards commercialization of the sector. Among the big space powers, perhaps only China can be compared to India in terms government controls and monopoly of the state agency.
As Kumar pointed out, governments across the world are giving licenses for space exploration to the companies talking about thousands of satellite constellation for providing communication and internet access.