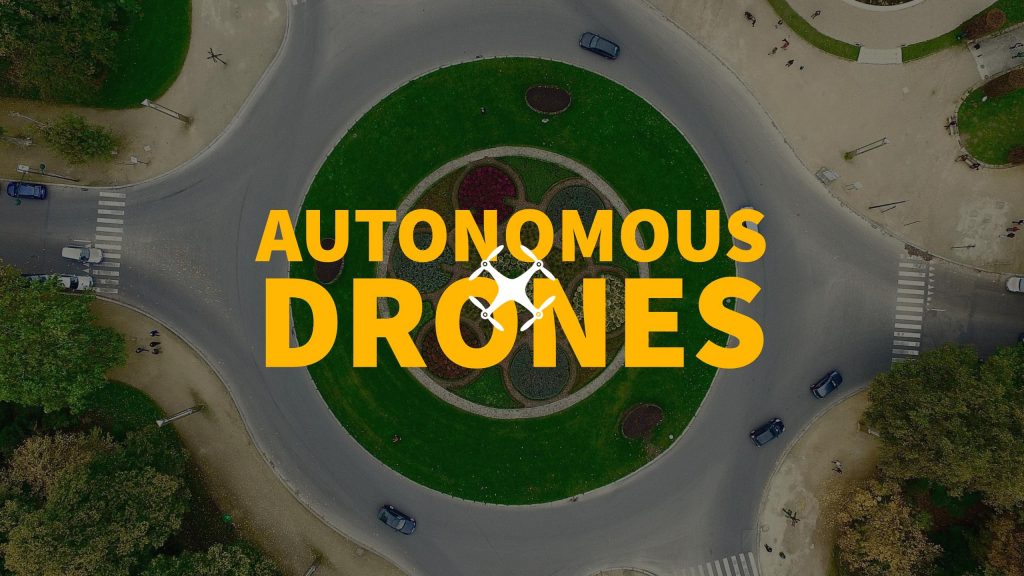 In the previous blog, I wrote about the fourth industrial revolution. Drone technology is one of the key revolutions that is part of the fourth industrial revolution. Let us look into the what are autonomous vehicles, what are autonomous drones that are currently available for geospatial professionals.
What are Autonomous Vehicles?
Autonomous vehicles are those that are capable of sensing its environment and navigating and operating without human input. When it comes to autonomous vehicles, the first and foremost thing that strikes our mind is self-driving cars. But the most evident autonomous vehicles that are already prevalent are drones or UAVs and drone technology is already accepted and is used by many industries. Further, we are seeing the advent of autonomous submarines, autonomous trucks, autonomous ships and autonomous trains.
When it comes to the word autonomous and vehicles, it might be presumed in most cases that the vehicle can fully operate itself in any given condition. But that underlying presumption is wrong, as it is important that we understand the level of autonomy.
As defined by Society of Automotive Engineers, there are 6 levels of autonomy, with the first level being Level 0, where automated system issues warnings but has no vehicle control and the Level 5 where No human intervention is required. Read here to understand more on these classification levels.
Autonomous drones in geospatial industry
Professional Drones have caused a quite stir in the surveying space. Drones can be operated with two degrees of autonomy – one by a human drone operator using a remote control and secondly fully autonomously by onboard computers, via a set flight path.
In most cases, a fully autonomous drone would cost more than a manually operated drone. However, the advantages being the ability to be operated automatically, in repetitive scenarios such as scheduled maintenance and mapping, with less chance of damage, getting to hit to hurdles or blocks without the fear of being damaged by a human operator.
Are professional drones fully Autonomous?
For a drone to able to fully operate with no human intervention, would really mean it has achieved level 5 of autonomy. But, as we discuss this now, most of the professional drones are not yet fully autonomous. The level of autonomy at this time is limited to flying along a set path or waypoints and return back to home location as the flight is complete. Event in this scenario, the professional drone technology is not fully mature, and a pilot is necessary to take care of the drone. So, we can say that most of the drones have achieved level 1 of autonomy and are moving towards level 2 of autonomy.
Which professional drones support autonomous flying?
Some of the major players providing autonomous drones for geospatial applications at this point of time are 3D Robotics, Autel Robotics, DJI, Hexagon AB, Intel, Microdrones, senseFly and Yuneec International. Here are the most popular professional autonomous drones from these companies.
Top Professional Autonomous Drones
3D Robotics: Solo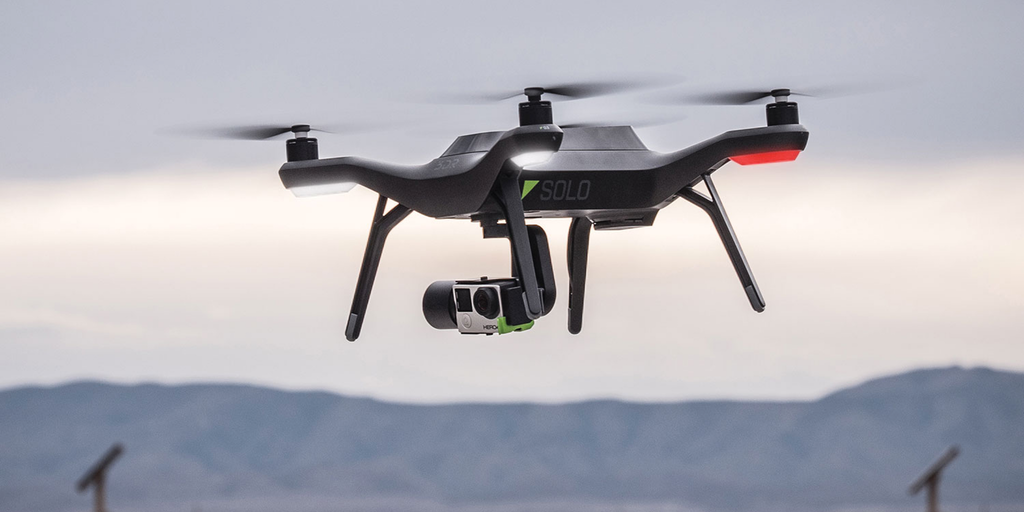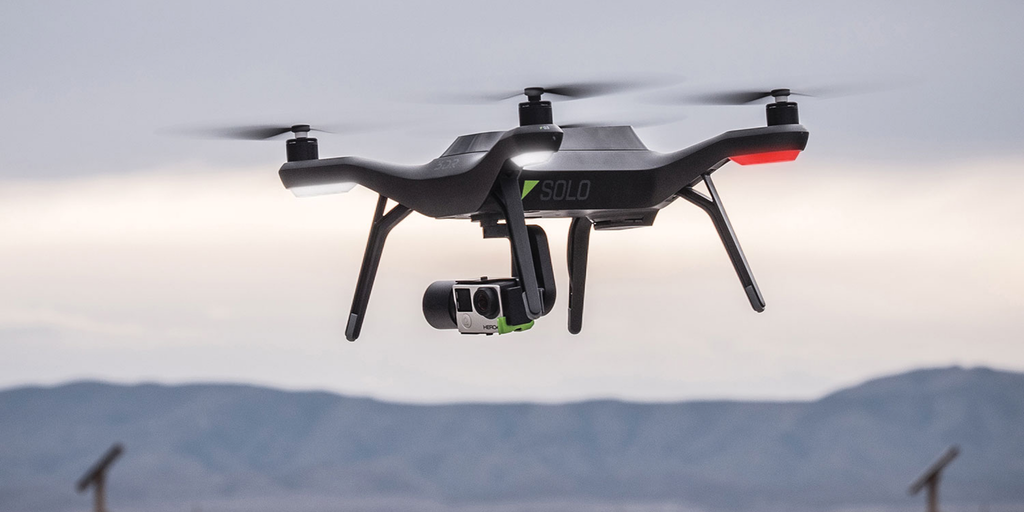 Solo is the drone platform from 3D Robotics. This comes with two Cortex A9 computers located in the controller and is designed to perform tasks related to autonomous flight which is one of the key features of this drone. The platform provides with a flight time of 22 minutes and 800 meters flight range.
Autel Robotics: X-Star Premium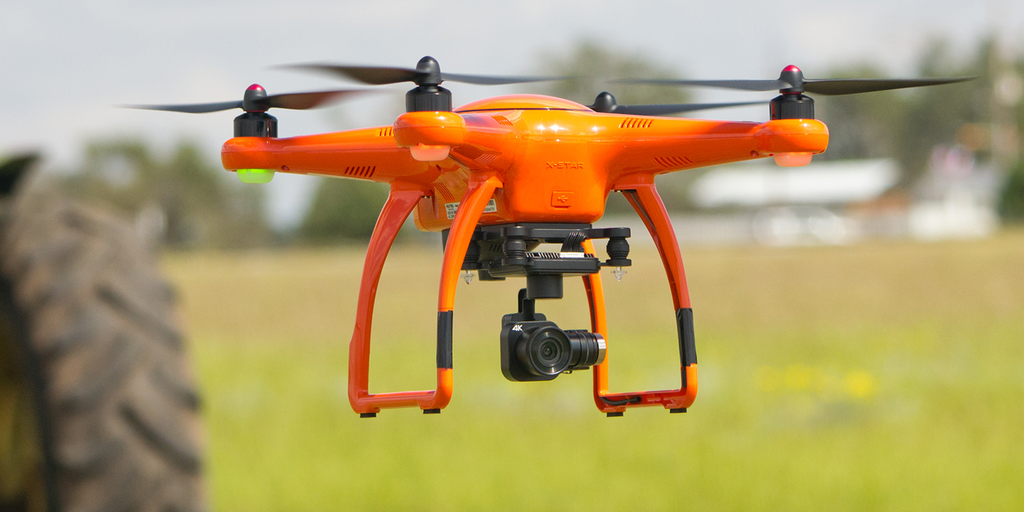 X-Star Premium is a quadcopter designed for aerial imagery. It comes with a 12 Megapixel camera that provides a flight time of 25 minutes. X-Star comes with an autonomous flight features available through an app, that allows it to fly along waypoints, and in follow-me and orbit mode.
DJI: Inspire 2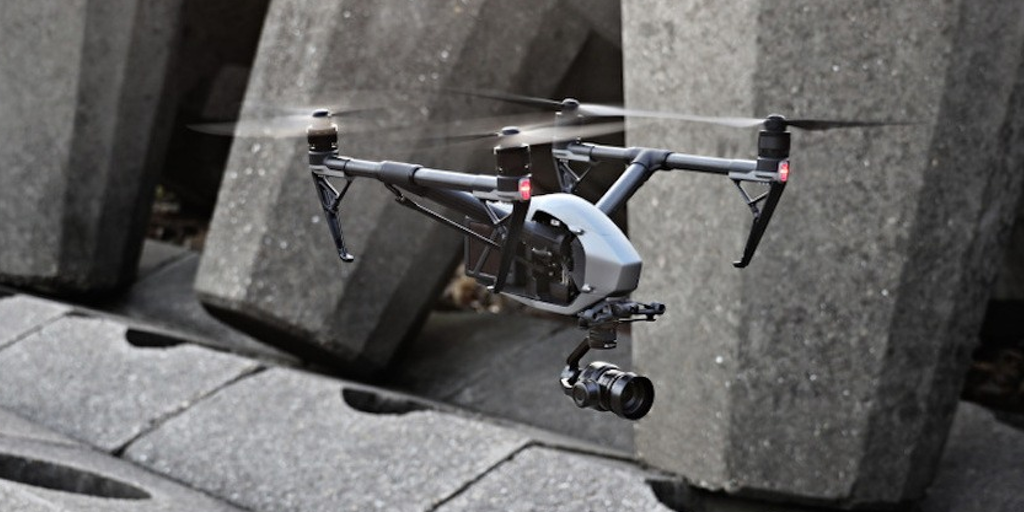 DJI Inspire 2 comes with a dual battery system that provides a flight time to of 27 minutes. This comes with a TapFly mode that will automatically fly along that route automatically avoiding obstacles, leaving the pilot to focus on gimbal movement. Forward and downward vision systems allow it to create a real-time map of its flight route as it flies. If the video transmission system signal is lost and Smart Return Home is enabled, it is able to fly home along its original route.
Hexagon AB: Aibot X6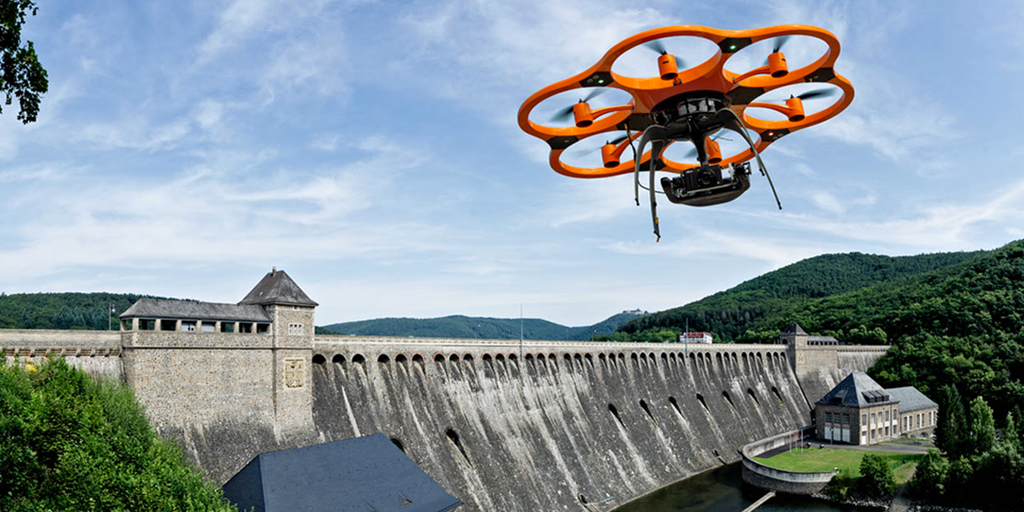 Aibot X6 is an autonomously flying hexacopter from Hexagon AB. The Aibot X6 V2 can proceed an automatic take-off, climb to the desired altitude, complete its waypoint flight and land automatically for a scenario such as a mine survey to take orthophotos. When the "Coming Home" function is activated, the Aibot X6 V2 returns to its starting point automatically at the end of each mission. Currently, the drone supports a flight time up to 20 minutes.
Intel: The Intel® Falcon™ 8+ drone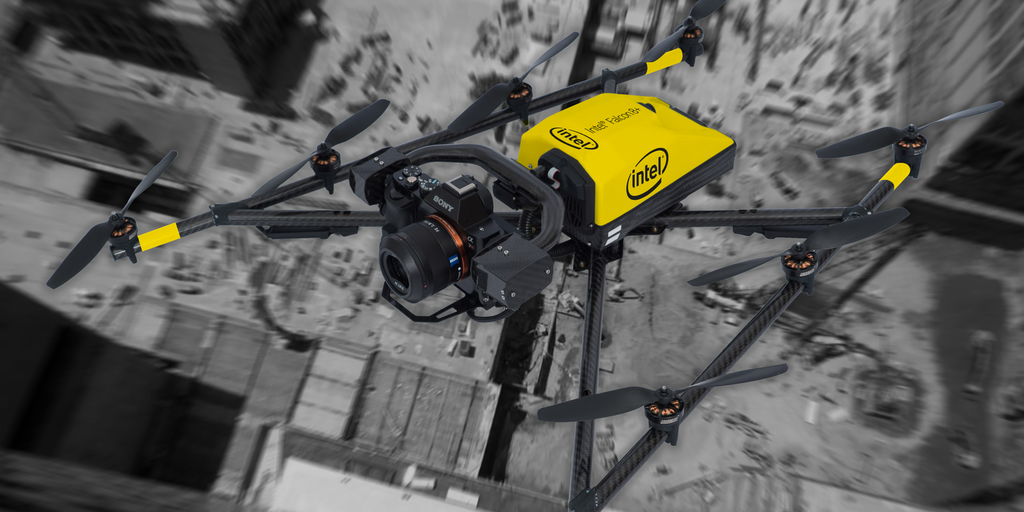 The Intel® Falcon™ 8+ drone is an advanced, ready-to-fly Unmanned Aerial System (UAS) with waypoint automation that enables exactly reproducible flights for valuable structural analysis. The UAV is powered by a redundant autopilot system, with triple redundant inertial measurement units, is designed for resistance to electromagnetic fields disturbances and strong winds.  This drone can go up to an altitude of 4000m above MSL and can fly between 16-26 minutes depending on payload.
Microdrones: MD4-3000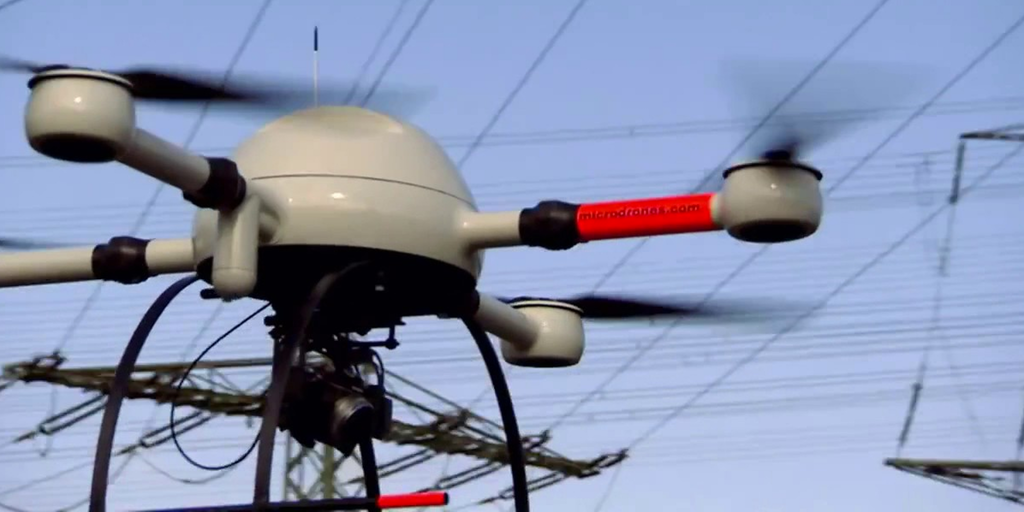 The md4-3000 is the largest aircraft from Microdrones can handle heavy LiDAR sensors, professional mapping grade cameras, multiple sensors, and more. It can stay in the air for up to 45 minutes and can fly to heights up to 4,000 meters. Tough and rugged, md4-3000 can fly in wind, rain, and snow. This comes with a flexible user-friendly flight planning module helps you to prepare and carry out automated flights.
senseFly: eBee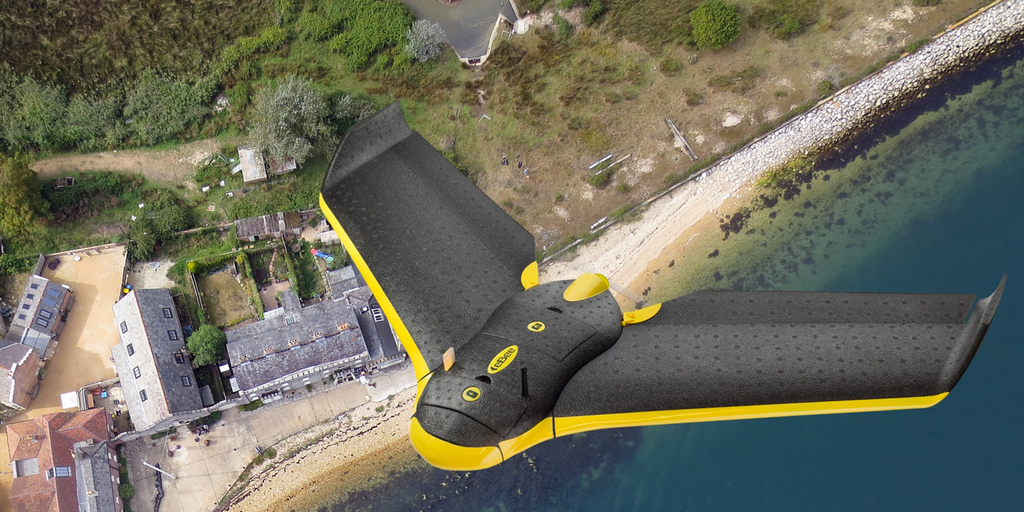 senseFly, a Parrot company produces eBee, a fully autonomous drone to capture high-resolution aerial photos that you can transform into accurate orthomosaics & 3D models. The eBee can cover up to 12 km2 (4.6 mi2) in a single automated flight. eBee comes with eMotion software that automatically generates a full flight plan, based on GPS waypoints, calculates the eBee's required altitude and displays its projected trajectory.
Yuneec International: Tornado H920 PLUS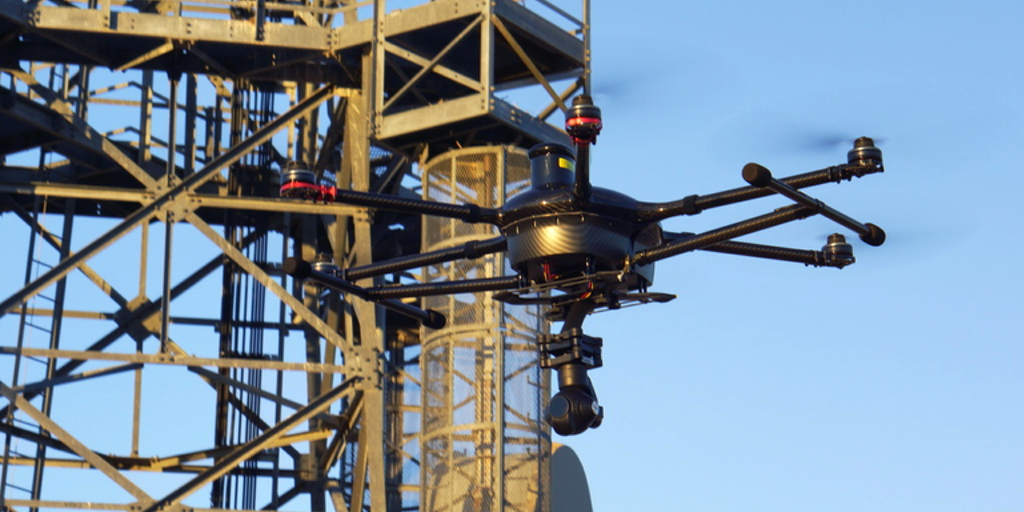 Tornado H920 PLUS is a multirotor aerial photography and videography platform. This comes with the sensor CGO4 which is developed in close cooperation with Panasonic®. This drone comes with multiple autonomous flight modes such as Way Points, Point of Interest, Curve Cable Cam and Return home modes. This drone has a flight time of 24 minutes with a maximum flying altitude of 4000m.
What is the way forward for Autonomous Drones?
The question here is, when is the tipping point by when autonomous drones would be fully autonomous? Can we see this to be happening by 2025? By the time, the drones should not only achieve a full level of autonomy but also have a good endurance.
In the immediate future as drone technology improves, we will see the professional drones with longer flight times, which can fly with stability in all-weather condition, have redundant sensors to avoid hardware failures, and would be fully acceptable in the market and also drone laws will recognize the need for them to fly with complete autonomy.
What do you think of this? Did we miss any drones that can form a part of this list? We will be glad to update it. Did you like this article? Please share your comments!
Join Geospatial World Forum 2018 for great discussions and insights on fourth industrial revolution, automation and more!