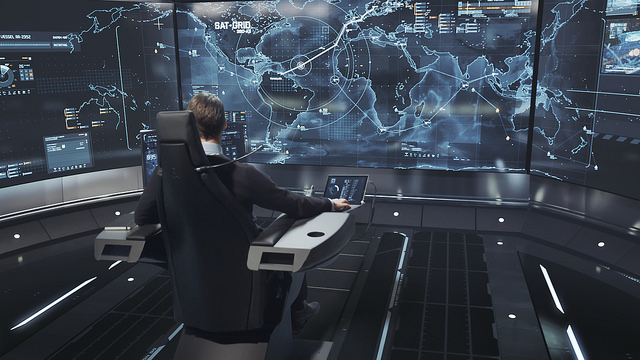 What is remote and autonomous shipping?
Remote and autonomous shipping is similar to the concept of an autonomous car, where the ship can be navigated remotely by a human operator or allow the ship to autonomously navigate the seas.
According to Mikael Makinen,President of Rolls-Royce, "Remote and autonomous shipping is the future of the maritime industry. As disruptive as the smartphone, the smart ship will revolutionise the landscape of ship design and operations"
Are Remote and Autonomous Ships there for real?
No, there is no physical remote and autonomous ship for real at this point of time. The Advanced Autonomous Waterborne Applications Initiative (AAWA) project is testing sensor arrays in a range of operating and climatic conditions in Finland and has created a simulated autonomous ship control system which allows the behaviour of the complete communication system to be explored. You will only be able to see a remote controlled ship in commercial use by the end of the decade.
How do Remote and Autonomous Ships work?
As Unmanned and remote-controlled vessels are becoming reality, says Rolls-Royce, let us understand how remote and autonomous ships will work in the future. For that watch this video – Rolls-Royce future shore control centre.
Also Rolls-Royce has released a vision paper of the future of remote and autonomous shipping. And before we fully understand what autonomous shipping means to the geospatial industry, and to satellite navigation, mapping and UAVs in particular, let us understand how they work.
How can an autonomous ship navigate in the future?
Navigation in the open seas by the ship can be completely autonomous, where some parts of the voyage it will require close super vision and decision making,or full tele-operation from human operators.
A scenario of autonomous voyage planning and initiation
Voyage planning

Which legs shall be operated in remote control and which are executed autonomously
Navigational strategies along with fall backs at each leg

Unmooring and maneuvering out of harbour

For unmooring in fully autonomous or semi-automatic mode, the situational awareness, and the information on type of dock side infrastructure and docking systems is needed
When maneuvering out of congested harbour areas supervisory teleoperation can be done.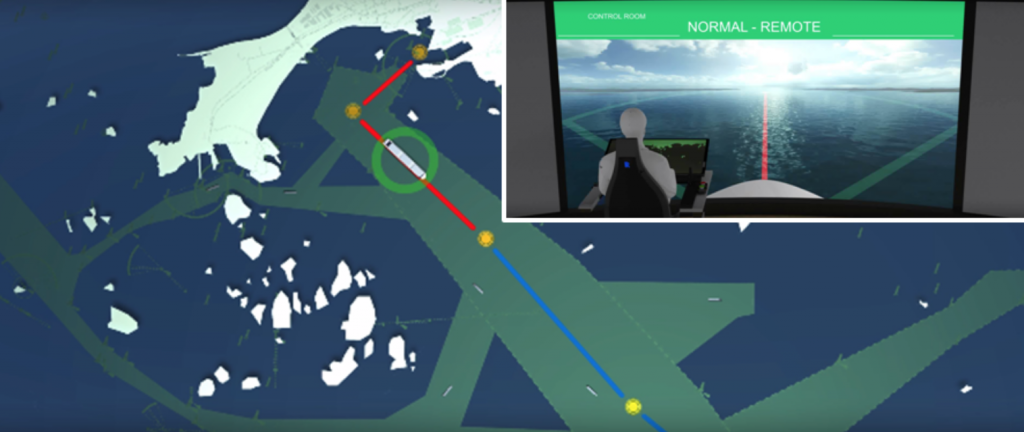 Technologies needed for marine situational awareness an autonomous navigation
According to the paper, the technologies already exist for realising remote and autonomous ships and says the key lies in sensor fusion, as no one sensor can completely aid in the autonomous management of the ship.
The technology developments in autonomous cars are being applied, when it comes to developing through AAWA. Here is the comparison.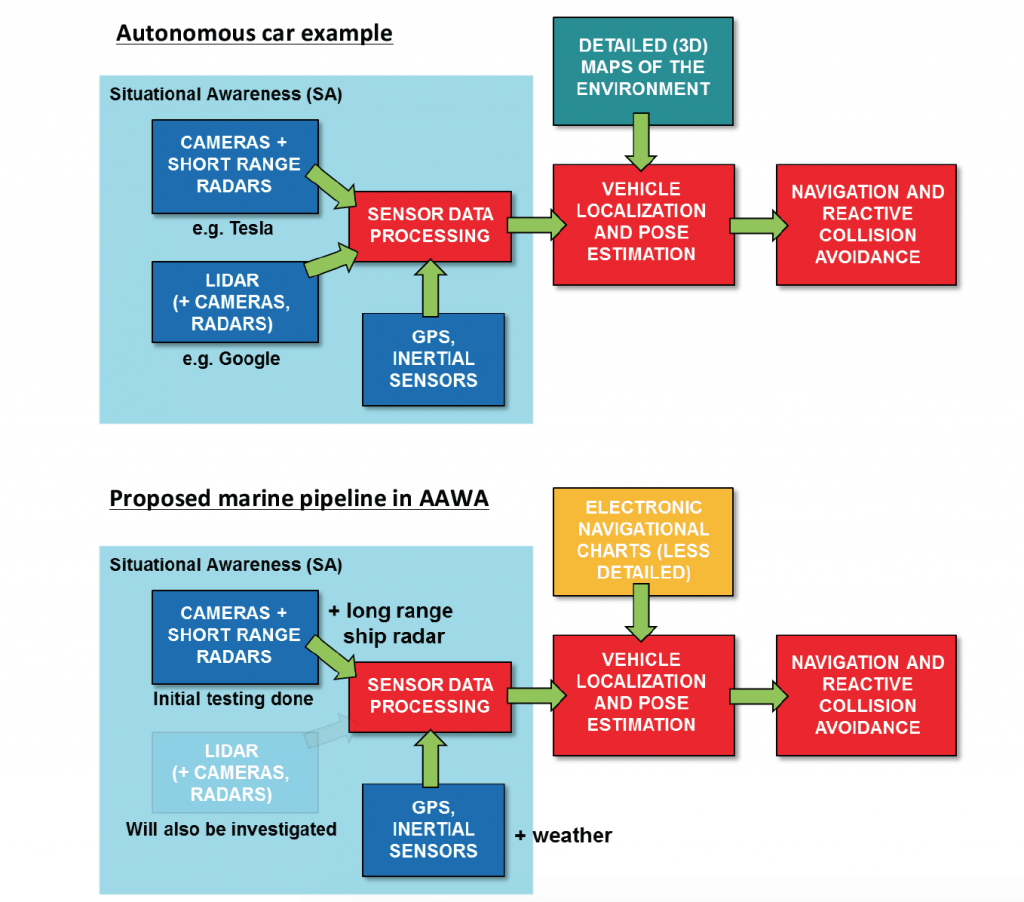 Future of Autonomous Navigation System (ANS)
The Autonomous Navigation System is a integration of various positioning, navigation and situational awareness systems, and Rolls-Royce Dynamic Positioning (DP) is a part of this system, which relies on a combination of GNSS, IMU and wind sensors for positioning and navigation. Here is the architecture of ANS.

Route planning is possible through a software module based on the electronic navigational charts, along with ship lanes information.
Collision avoidance module is responsible for safe and collision free navigation.
Situational awareness module is connected to various sensors from ships external environment. Dynamic obstacles are tracked and mapped by this system. An array of drones are also form part of the situational awareness and monitoring missions as required.
How will geospatial technologies evolve for remote and autonomous shipping?
LiDAR – As we have seen in the autonomous world, where LiDAR data forms the core of situational awareness and in understanding environments, use of LiDAR is limited due to range, weather conditions, light etc.
Positioning – Rolls-Royce Dynamic Positioning (DP) seems to be a native technology being evolved for positioning where GNSS & IMU is playing a key role.
Navigation – Is made possible through route planning module
Drones – Drone are being used for situational awareness, monitoring and inspections
Maps data – The use of electronic navigational charts is there, but the dynamic aspects such as obstacles are being rendered real time.
At this point if time, it is still not clear on what changes geospatial technologies will undergo, how will the technologies evolve and get ready for autonomous shipping. So, we will need to wait and watch on how the industry comes up with unique products and solutions for this area of remote and autonomous ships.