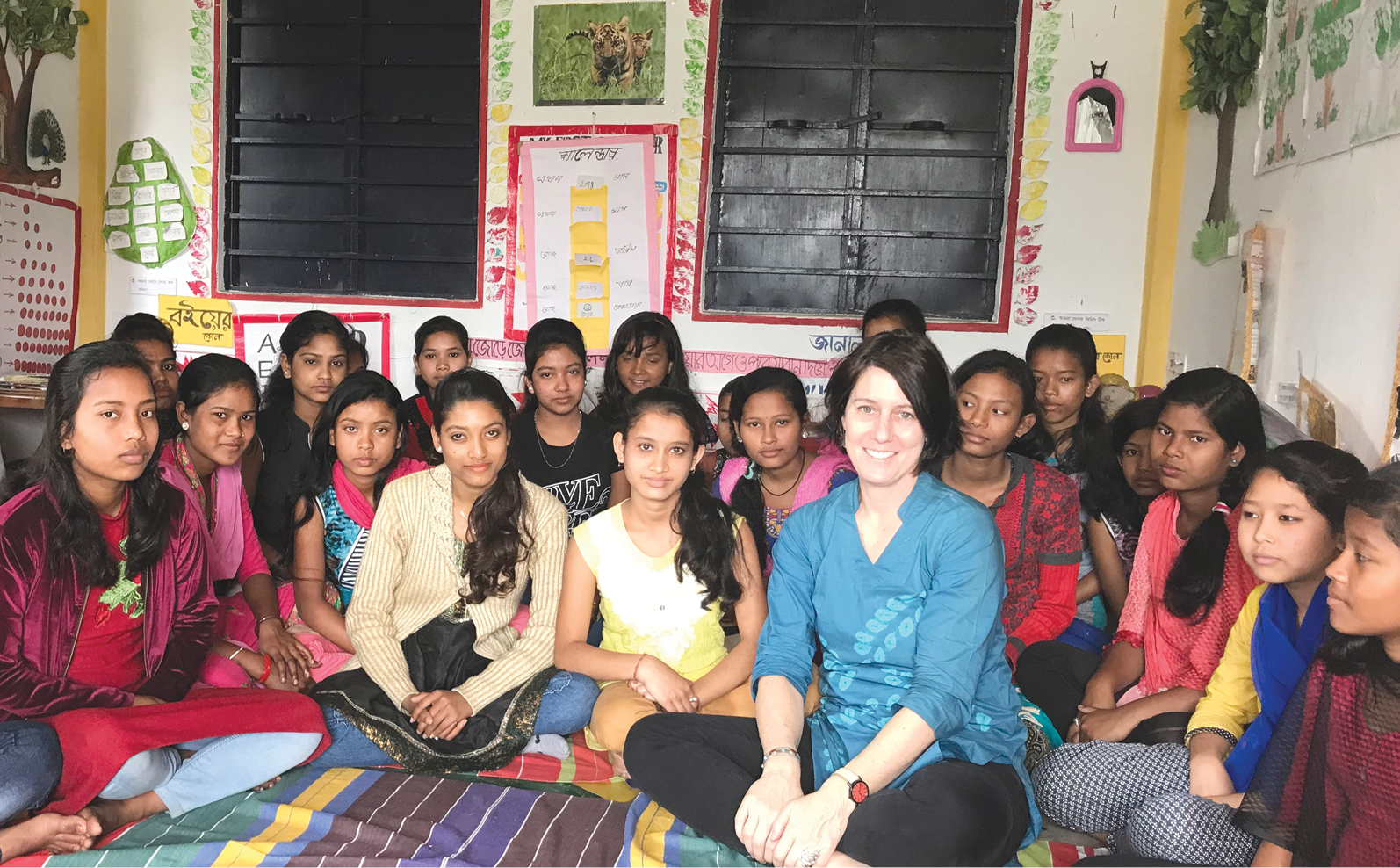 Discriminatory social norms continue to stand in the way of gender equality. The Stand for Her Land Campaign was founded to build a global movement to close the gap between laws and what actually happens on the ground in communities and countries, emphasizes Jennifer Abrahamson, Chief of Advocacy and Communications, Landesa
Why are women's land rights important for economic growth and social wellbeing?
Land is the foundation — both literally and figuratively — for economic growth and social well-being. Without the right to land, it is difficult to grow crops for food and to generate an income. It is difficult to secure loans and credit needed to invest and grow farming businesses. In rural areas and urban settlements alike, land rights are needed for securing shelter and housing. When women don't have equal rights to own, inherit, manage and use land, their decision-making power in the household is diminished and their dignity is denied. Without inheritance rights, women and their children are often left to fend for themselves, compromising their health, nutrition, education, safety and their futures.
Also, Read an exclusive interview of Javier De La Torre on how spatial modeling will become fundamental to business decisions 
Can you quote some statistics on the current status of women's land rights around the globe?
We know that in half the countries of the world, women are still unable to realize their equal rights to land — even in countries where laws exist that protect those rights.  Discriminatory social norms from time immemorial continue to stand in the way, along with other structural barriers that prevent women from accessing their legal rights.
Although a legal gender gap persists, great progress has been made in recent years in many countries across the world, including countries like India, Kenya, Liberia and others. Even then, implementation and enforcement of those laws is altogether a different story.
What is the Stand for Her Land campaign all about?
The Stand for Her Land Campaign was founded to build a global movement to close the persistent gap between laws and what actually happens on the ground in communities and countries.
The vision of the campaign's founding partners is to support and sustain the activities of the real change makers:  civil society groups and other non-governmental advocates working on the ground. We will support them as they take up the mantle of the campaign and work collectively to identify and tackle the barriers in their own communities and countries. We aim to build a global network of country coalitions and integrate the campaign's mission into the existing ones — that can share effective strategies and approaches.  In the pilot phase, which runs through 2020, we hope to get the campaign off the ground in 5-7 countries worldwide.  And ultimately, we envision the campaign to expand to 40 more countries over the next decade.
What qualitative or quantitative changes you wish to see through the campaign? How will you measure success?
We have intentionally aligned the campaign with what's known as the 2030 Agenda — the lifespan of the UN Sustainable Development Goals — of which women's land rights are a part.  Although we have not set precise targets yet, we are in the process of conceptualizing the design for a rigorous impact assessment framework that will draw the linkages between the campaign and data collected around women's land rights in countries. Ultimately, we aim to empower millions of women around the world to be able to fulfil their land rights in their lives, not just in law.
What is the role of each partner?
Right now there are five founding partners — Landesa, Habitat for Humanity, Huairou Commission, the World Bank and UN Habitat's Global Land Tool Network. This group will work in service to the campaign, coordinate activities, provide a global platform for country coalitions and build out global communication and advocacy tools.
We envision the campaign expanding greatly at the global level and at the country level. New partners will represent a diversity of issue areas impacted by women's land rights: groups that work on women's rights and empowerment; development and poverty alleviation; food security; indigenous rights; health and nutrition; climate justice; and many more. Each partner will bring unique added value to the larger effort.
But in the end, we envision a chorus of voices coming together to speak as one to effect sustainable change. Together, these voices will have a great chance to shift age-old social norms and structural barriers that prevent women from realizing their land rights across different continents, countries and cultures.
What role do you see for the mapping or geospatial community here?
We see a significant and singular role for the mapping and geospatial industry.  Unfortunately, there is enormous work that could be done to strengthen the country coalitions.  For example, these tools could help measure changes within communities where campaign coalitions are working.  Mapping or geospatial technologies could bolster the campaign by identifying land that is owned, controlled and managed by women in the earlier stages of the campaign, and help measure change as the campaign progresses.
Also Read: WRI's data platform to monitor the planet's pulse