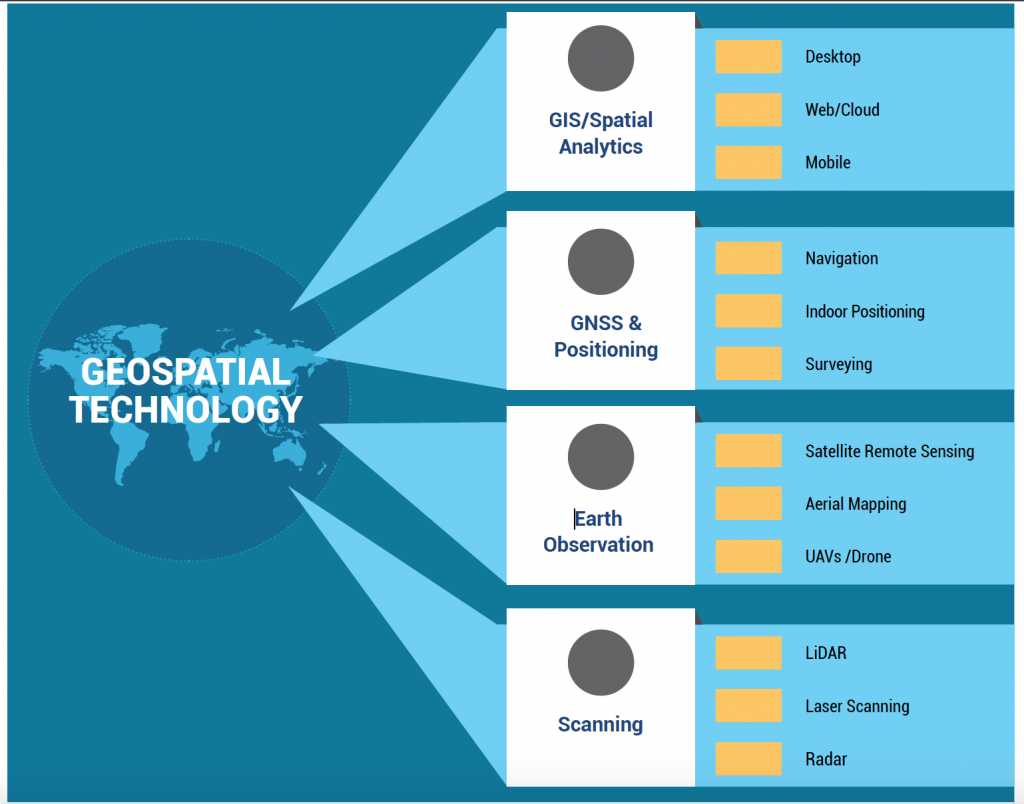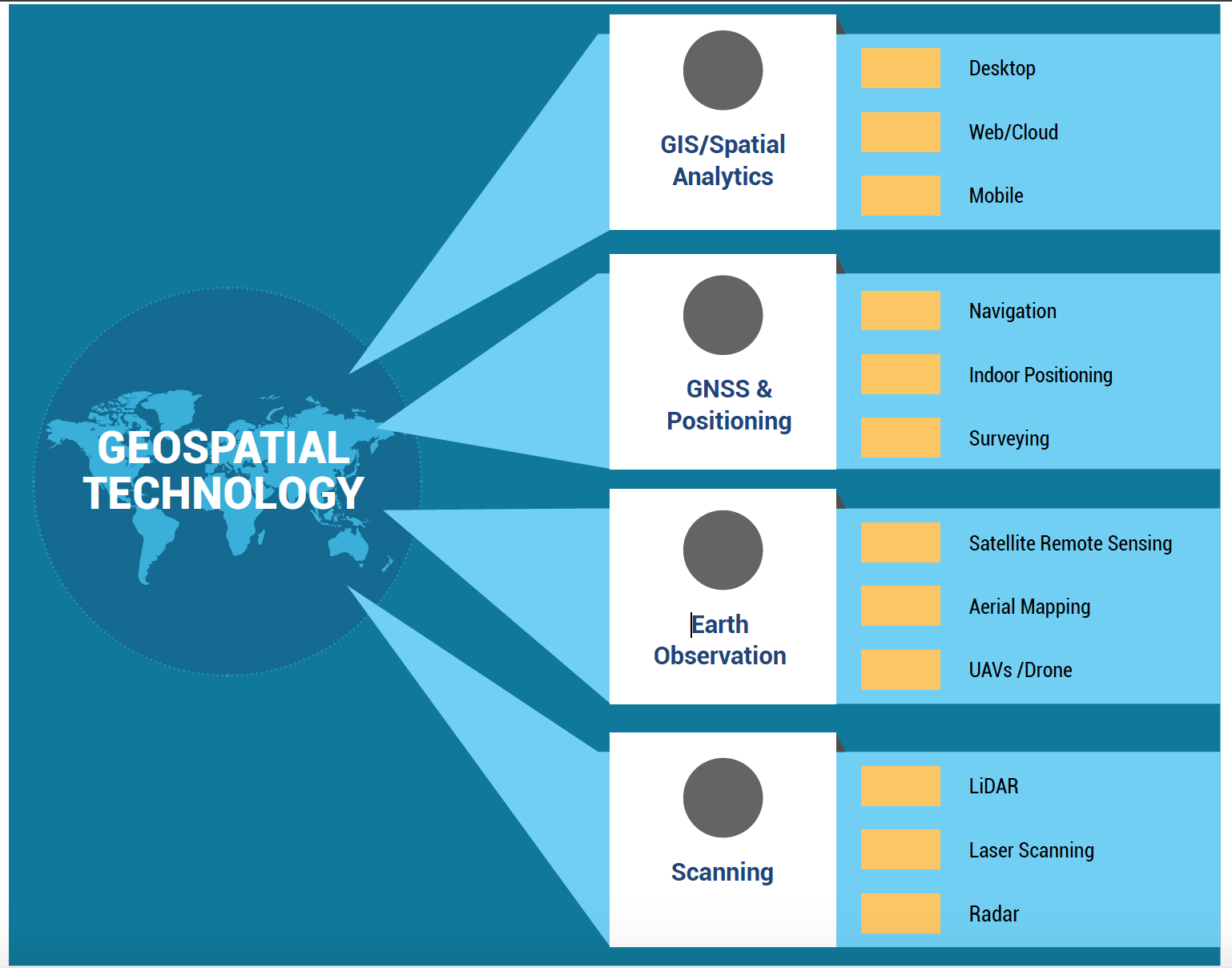 What is geospatial industry, is your question? Read this article to know more!
The geospatial industry comprises of government organizations, private companies, non-profit organizations, and academic and research institutions that develop, manufacture, research and employ geospatial technology. They are involved in gathering, storing, processing, integrating, managing, mapping, analyzing and distributing data tied to a particular location on Earth.
Geospatial technologies include Geographic Information System (GIS)/Spatial Analytics, Global Navigation Satellite System (GNSS) & Positioning, Earth Observation, and Scanning.
GIS /Spatial Analytics
The use of GIS/Spatial Analytics by various industries is only expected to go up in a market driven by increasing global demand for geographically correlated information. GIS can primarily be categorized into three types:
Desktop GIS: Software is installed onto and runs on a personal computer
Web/Cloud GIS: A desktop or mobile application allows the user to connect with the GIS server on the Internet. Running GIS software on Cloud allows a user to leverage the flexibility of the Cloud environment for data capture, visualization, analysis and sharing
Mobile GIS: Takes GIS technology out of the office and into the field on a mobile device like a smartphone or a tablet
GNSS & Positioning
GNSS or Global Navigation Satellite Systems has become such an integral part of our daily lives that it is almost impossible to do without them. Be it surveying, navigation or indoor positioning, GNSS is the backbone of it all. Everything from businesses and banking, to defense and aviation, is heavily dependent on GNSS and positioning services.
Regional systems operate on the same technology as GNSS, but instead of being global, their coverage is limited to a certain region. Satellite-Based Augmented System (SBAS) is an improvement of the positioning service of the satellite navigation system and is primarily meant for aircraft navigation. Meanwhile, major synergies are also developing in terms of wireless mobile terminals with a navigation capability.
The newest kid on the geospatial block, indoor positioning, is a still-evolving field. It combines the power of GPS and precise mapping to the place where human beings spend 70% of their time – indoors. Indoor Positioning can be broadly classified into magnetic positioning, radio waves, mobile sensors, RFID. However, it must be mentioned that there is no standard way to build an IPS. A company may use WiFi triangulation, Bluetooth, beacons, Near Field Communication (NFC), infrared, indoor mapping, sensors or even acoustic analysis LED lighting, and 'pedestrian dead reckoning,' among others to determine a person's position in a building.
Earth Observation
Earth Observation, or remote sensing from space to surface, includes technologies like satellites in space, aerial photography (manned as well as unmanned flying vehicles). Over the next decade, 419 satellites are expected to be launched generating $35.5 billion in manufacturing revenues5. In the meantime, small, mini and nanosatellites have shaken up the traditional earth observation market.
And while aerial remote sensing, which involves flying a piloted plane to collect data, has been widely used in areas like land surveying, mining, and agriculture, it was always regarded as an expensive task. Enter unmanned aerial vehicles, or drones, which are expected to boost the aerial photography industry by 12.9% over the next six years6.
Scanning
The scanning market comprises of Laser, LiDAR, Radar and Point Cloud from images – non-contact technologies that can digitally capture the shape of physical objects. 3D laser scanners create "point clouds" of data from the surface of an object or data about the surroundings.
While the government sector will continue to lead the demands in scanning technology, increased penetration in areas like wind energy, transportation, urban data acquisition, are expected to be big growth drivers. Meanwhile, factors such as technological superiority, encouragement from government, and various applications of LiDAR, such as engineering projects and large magnitude set are key drivers for the growth of LiDAR market.
Further, the radar sensor ecosystem, made up of chip designer companies, component manufacturers, technology providers and system integrators, is expected to touch $30.67 billion by 2022 from $19.29 billion in 2015 growing at a CAGR of 6.94% between 2016 and 20227.
---
Read More
Geospatial- A golden thread in Fourth Industrial revolution