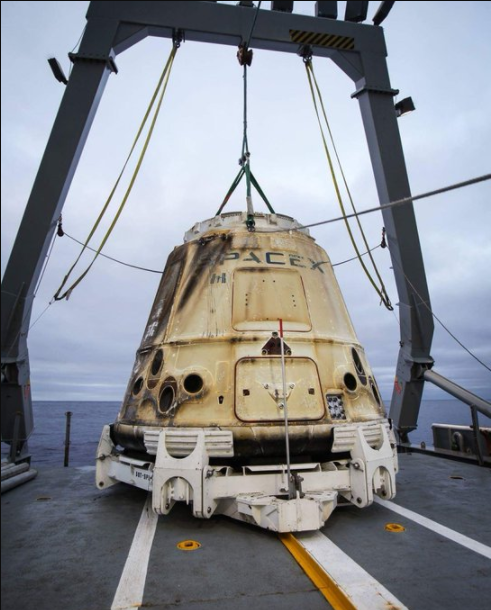 All Dragon cargo ships to be used by SpaceX for its missions to the International Space Station after a liftoff next month will be recycled ones. At least for some time now, till the new refurbished model of the Dragon is not ready.
This means the liftoff scheduled from Florida next month would be the last of the first stock of Dragon cargo capsules from SpaceX. SpaceX will launch one of its Falcon 9 rockets carrying the Dragon CRS-12 cargo craft to the space station from Cape Canaveral Air Force Station in Florida sometime around August 14. The company had clarified earlier that it expects the upcoming automated logistics mission will be the last to fly with a new Dragon spacecraft.
SpaceX flew a recycled Dragon cargo ship on its supply mission ISS in June, a first for a re-furbished vehicle to make it to ISS and come back. While SpaceX has been returning the Dragon capsules routinely back on Earth via splashdowns in the ocean, no non-SpaceX spacecraft has visited the ISS and returned; they are designed to burn up in the atmosphere after a single flight.
SpaceX has a contract with NASA for 20 commercial resupply launches through 2019, followed by at least six more Dragon cargo missions through 2024 under a separate follow-on agreement.
An update from NASA on July 26, said that its Commercial Crew Program has confirmed SpaceX's current schedule for its first launches of Dragon 2 in February and June of 2018. NASA has also contracted with Orbital ATK and Sierra Nevada Corp. for the station's cargo needs.
What is Dragon 2
SpaceX is developing another model of the Dragon, albeit with significant changes. The first unpiloted orbital demonstration flight of the spaceship – populary known as Dragon 2 or Crew Dragon — has been shifted to February 2018 from later this year. A subsequent mission with crew is expected to fly in the second quarter of 2018. SpaceX is currently contracted to perform an average of four Dragon 2 missions to the ISS per year, three carrying cargo and one carrying crew.
A simpler version of the Dragon 2 ship will take over its current cargo delivery duties to the space station. Its not clear when the switchover to the new Dragon will happen, but it is not likely until SpaceX begins flying missions under its second cargo contract in late 2019 or early 2020, or sooner.
Dragon 2 will be a human-rated vehicle capable of making a terrestrial soft landing. It includes a set of four side-mounted thruster pods with two SuperDraco engines each, which can serve as a launch escape system (or launch abort system (LAS)) or potentially be used for propulsive landings. Also, it has much larger windows, new flight computers and avionics, and redesigned solar arrays, and a modified outer mold line from the initial cargo Dragon that has been flying for several years.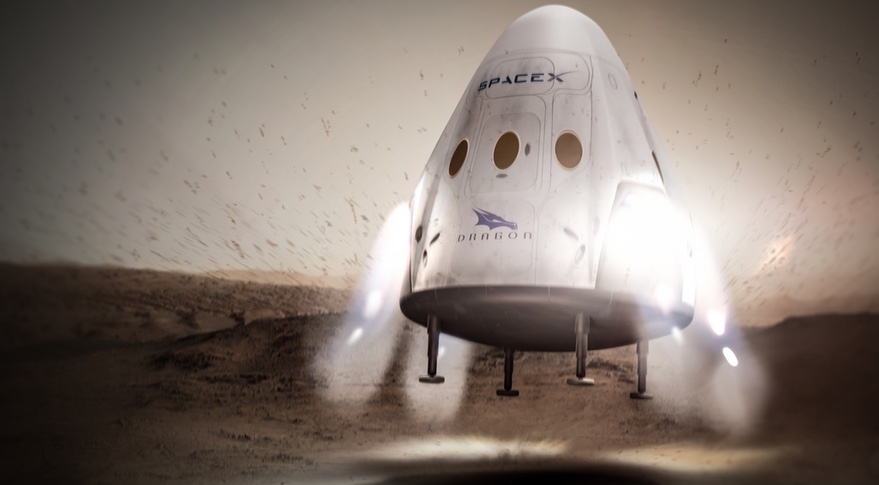 Speaking at the International Space Station Research and Development Conference on July 19, SpaceX CEO Elon Musk had said the next-generation Dragon will not have the capability for powered landings, as originally intended, instead returning to splashdowns at sea, a move that may have implications for the company's long-term Mars plans.