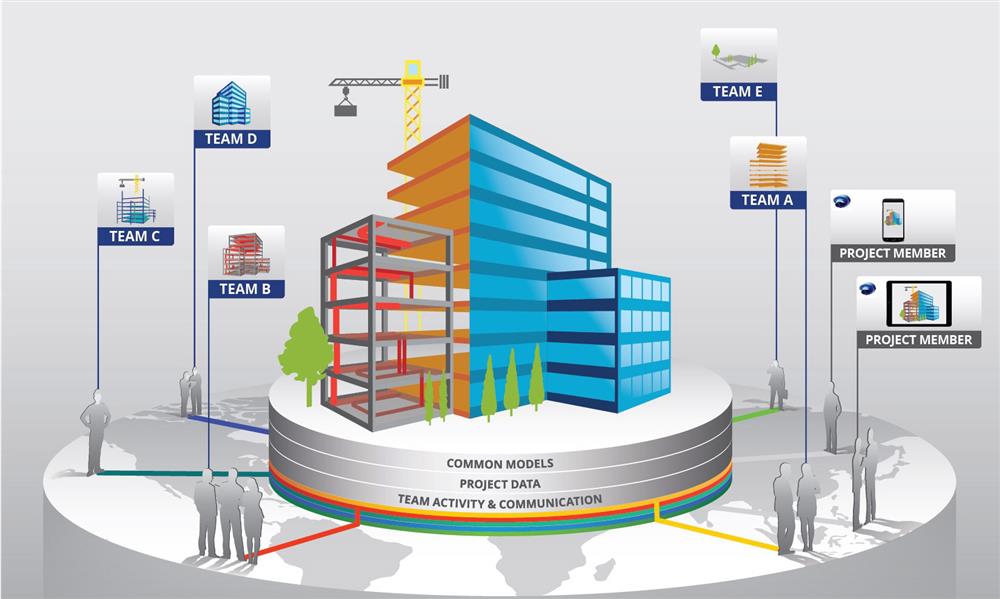 Building Information Modeling is now concerned as an essential part of building design and implementation. Urban areas are typically the crowded areas where BIM lays its advantages that are driven by industry design tools such as AutoCAD and Revit for the Architects.
Analyzing the Architectural Construction Detail Drawings for understanding the functional and physical attributes before construction of a project begins is affordable rather than reworking on it later. By using BIM, you can understand more about the physiological outcome of occupants living, MEP design, and visual aesthetics of the building site.
Utilizing BIM for Construction by professionals allows them to view the model of the project and extensive virtual tour to know the impact it lays in the surroundings. It helps in the planning stage to construction process stage and prevents measures to harmless building effect.
With the application of BIM in an urban environment can help in analyzing the building concepts, energy analysis, fabrication routes, and logistics of how buildings in urban areas would interact with each other. Urban areas have taller building sites which create vast consequences on the surrounding environment and specific issues such as increased wind speed through ventilation effect, flood analysis, etc. to look into and solve them through proper measures.
Also Read: Benefits of digitalizing construction industry
With accurate data and information about the model, all the proposed plan on the system can be worked upon easily as urban construction involves harmful effects to the construction industry that needs to be eliminated or minimized for which advent of BIM is very important to track and measure the construction process.
Factors those are important and measurable in urban areas in connection with BIM
BIM allows information to be used by any disciplines involved in the project to analyze any parts of the urban environment. By conducting a detailed study of the building model to map out the physical attributes of an area that includes an increase in traffic, noises, electricity gas, water system, ventilation, and so on.
Smarter Cities: – Automation through sensory input and the level of data available from numerous associated sources of BIM provides a measurement of material available and floats information for future developments. Earlier, information flow in digital mode was not possible, but with the adoption of new technologies, it is getting easier to access the information and use it back in future designs. City modeling is concerned with living experience in spite of just living in it. Smart cities will now effectively use renewables and use the energy supplied more logically. It also includes automatic lighting systems, climate control serving the occupants and environment in a better way.
Healthier Cities: – Buildings are healthier and simpler construction where people live in or do business in and are found to impact the moods and health of people and area they live in. They are made by environment-friendly building materials that take care of the building span and sustainability. All the Building Sickness Syndrome factors such as increased window footage, reduction of retained surfaces, or increase in the HVAC system with BIM, it can provide planning along with detailed analysis in the architectural design stage.  BIM helps in identifying issues and making accurate design as required.
Resilient Cities: – Designing in BIM software helps to detect carbon footprint and check its compliances before proceeding for building work. Urban building development compromises of 70% energy and carbon emissions consumption to prevent the building by reducing it. BIM data can also be used for the drainage system, the possibility of floods and watercourses before commencing any building work.
Living Cities: – In urban building development site, number of factors from the allocation of services such as waste, water, and energy analysis of the building around in it. City workers need smarter building and reliable building to live in, so the developer needs to make the most out of the requirements.
Conclusion
Therefore, BIM technology helps the urban development of buildings designers to plan and design more reasonable, meet green building standards at the beginning of the design. Any of the project data with risk management factor in it and by BIM, visualization and integration of project data is conducted. 3D BIM Model helps to analyze the building site under the urban environment to resolve any issues at the design stage. All the factors affecting the sustainability of the building is analyzed, design and building material are produced accordingly. Thus, BIM is very useful for urban construction and can make the building survive in an urban environment for a longer time span.
Note: This is a guest blog by Vishakha Jadhav, Content Writer at Tesla Outsourcing Services.