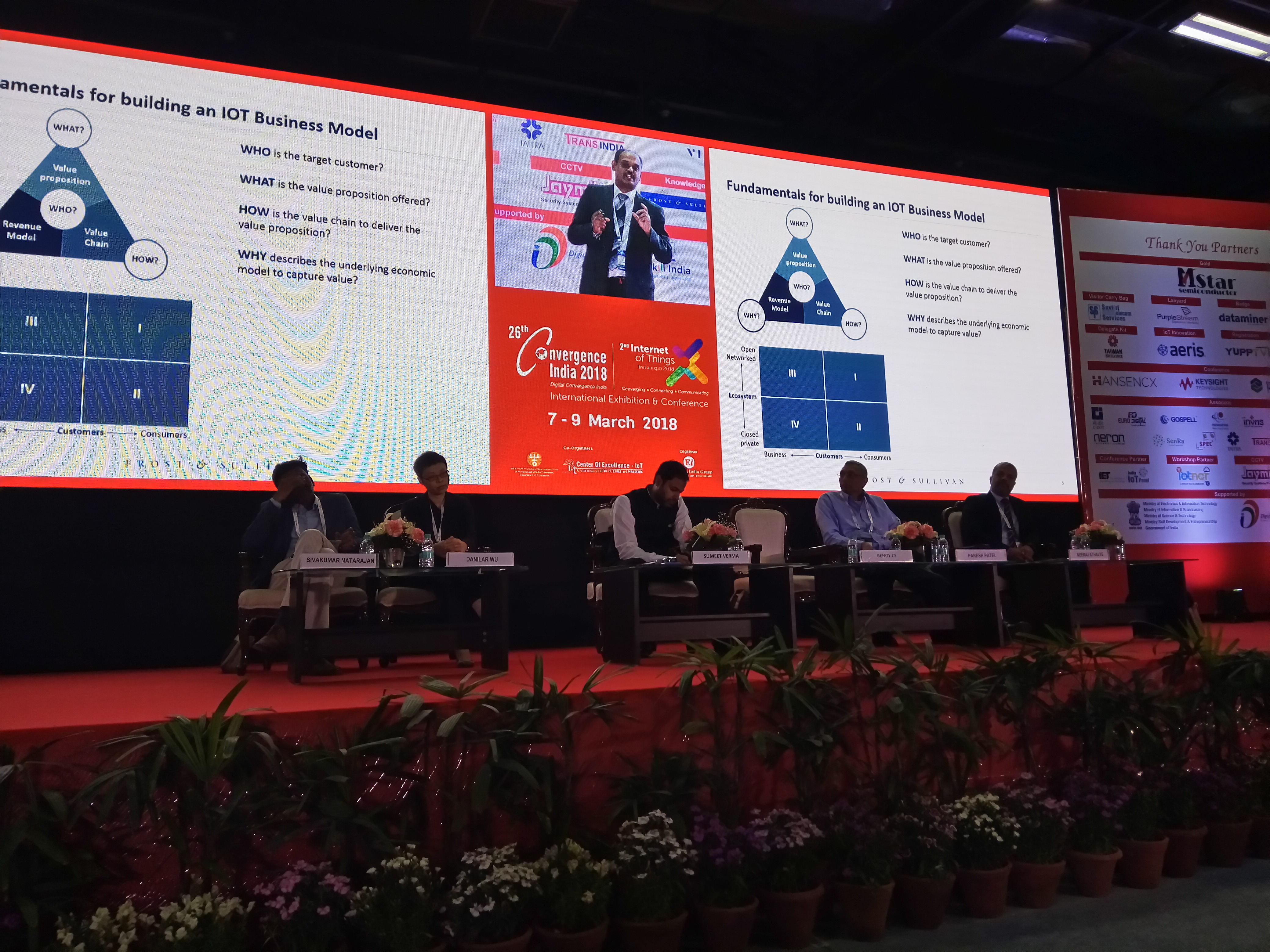 The world is on the cusp of 4IR which is leading to new business models, revenue models and new set of applications for the geospatial industry and other related sectors. A key driver which is all the more paving the way to 4IR is the Internet of Things (IoT). This technology is changing the world rapidly in a connecting manner and the world is getting smaller and smaller by connecting things. There is no business in the world which is untouched by the IoT wave of connectivity. The 26th Convergence India 2018 conference being held in New Delhi pondered over how to usher in IoT in India.
India remains no different. IoT has penetrated in various sectors in India, thus bringing the country closer to Industry 4.0 or 4IR.
IoT in India
According to Sivakumar Natarajan, Practice Head – Digital, Manufacturing, Technology  Business Unit, Wipro, "Rise in exponential data, rise in analytics and human-machine integration are the key drivers of Industry 4.0."
New technologies and innovations are merging the physical, digital and biological worlds in ways that will fundamentally transform mankind. The ability of machines, devices, sensors, and people to connect and communicate with each other is creating a level of interoperability, information transparency, technical assistance, and decentralized decision making that is driving this revolution.
How is India fairing?
India is now the hotspot of most industrial activities made possible by our IT stronghold. India today is prepared for connectivity, since it is very well known as IT-hub for the world. Indian IT-companies and Indian based subsidies of global IT-players produce smart software solutions for the world.
Another interesting fact is that India is urbanizing at the rate of 50,000 a day. That means there is a huge opportunity. While we see tier I cities in India more ready for 4IR, the tier II cities are fast catching up.
In order to reach the Tier III cities, there is a need to indigenize technologies. Agreeing on this Paresh Patel, President and CEO, sSystem Level Solutions, USA says, "There is a major requirement to indigenize technology so that it can be used at grassroot level."
Which huge amount of data produced from various sources like drones, sensors, etc. there is a need to leverage the data to the optimum level. Some of the sectors where IoT,  AI, Big Data analytics, etc. has made a major mark are agriculture, manufacturing, insurance, health care etc.
What India requires?
There is a sudden rise of mainstream companies either moving to IT services or acquiring companies who have IT capabilities. People are looking at monetizing data at the optimum level. What is required is to have intelligent collaboration between robots and workers. Effective partnerships between solution providers and solution users is integral to give a thrust to the revolution. Thinking innovatively is crucial and it is time to innovate locally and use local skillsets in order to bring more technological advancements in India and reach the grass root level.
ALSO READ
Digital Convergence: The future of breathtaking socio-economic developments