In a rapidly transforming world, the seamless interconnection, integration and convergence of various technologies is heralding great developments and playing a pivotal role in enabling new research and impacting societies.
Along these lines, the 26th Convergence India 2018 conference being held in New Delhi shed light on the imminent need of digital convergence for fostering technological growth as well as betterment of the citizens.
In the past few years India has taken great leaps ahead in the field of digital convergence of different technologies so that they can lead to advancements in future technologies like Artificial Intelligence, Internet of Things, blockchain and help in gauging the public responsiveness, infrastructural preparedness and the readiness to undergo an overhauling transformation.
In this regard, India can gain invaluable insights as well as adapt working guidelines, strategies and roadmaps from the Baltic nation of Estonia, which has carved a niche for itself as among the most technologically advanced nation in the world and a pioneer in digitalization of government services and delivering utilities to the public.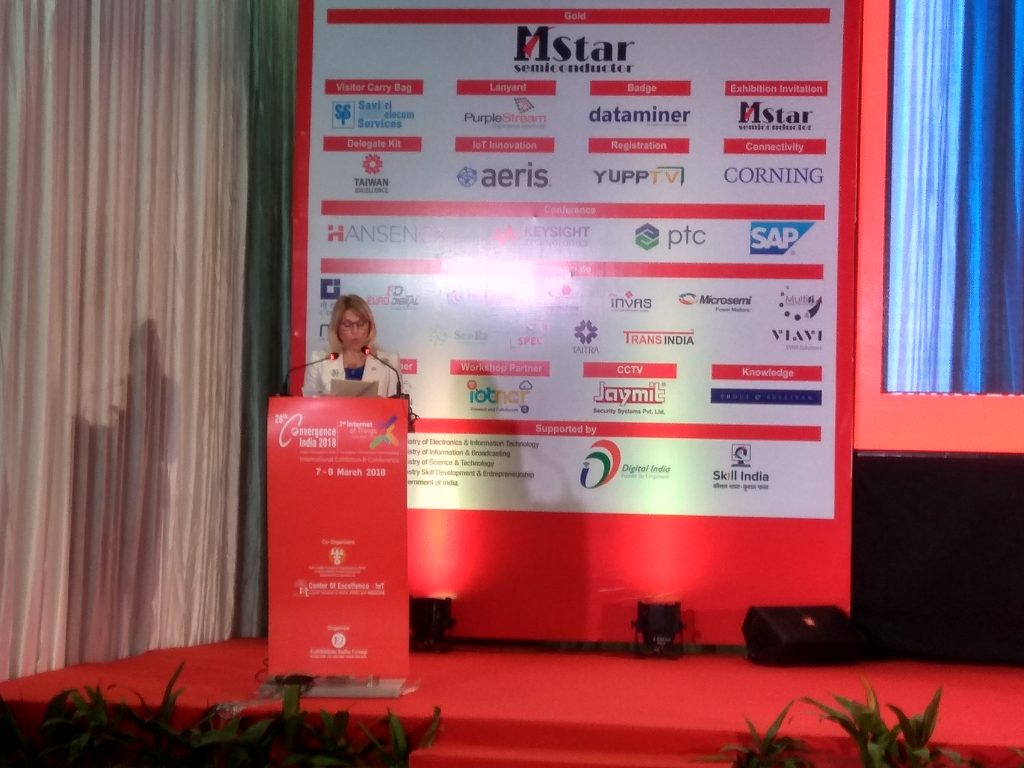 Emphasizing the role of government in facilitation of digital transformation and providing opportunities, Urve Palo, the Minister for Entrepreurship and Information Technology, Estonia, said "There has to be political will. There has to be leadership to take risks and try different solutions. Also to make sure that it delivers benefits to the citizens".
She added that the digitization of almost all aspects of government services in Estonia not only more people friendly but also slashes government budgetary allocation significantly. "Since 2002, digital signature has been made equivalent to physical signature in Estonia. The digital signature saves 2% of GDP" she said.
In his address, R.S. Sharma, the chairman of TRAI (Telecom Regulatory Authority of India), said the progress that India has made in the field of telecommunications, particularly in the segment of smartphones, is unparalleled and phenomenal.
In an India-specific scenario, the proliferation of smart phone technology would evolve in the next phase and lead to multiple sectors reaping the benefits with the interoperability of new technologies like AI.
"We need frugal yet robust technology architecture. People must have confidence and it must be cost effective without compromising on robustness" said RS Sharma describing what is to be done in India to overcome operational constraints.
BVR Mohan Reddy, Executive Chairman, Cyient, said "If you look at digital convergence at this point of time, all the forces are at interplay. There has been an exponential acceleration in digital convergence and there is also an amplification factor. People are more and more comfortable in embracing new technology".
He also added that "As technology is being globalized, therefore convergence is real and a lot of new disruptive technologies are impacting vertical industry segments".
Succinctly explaining the need and utility of digitalization, he further added "Digital solutions are no more an option; it is an imperative".
India has a great opportunity to progess using digital infrastructure. We should be ahead on the curve in social and economic transformations.
In order to expand digitalization and technological convergence, India needs a paradigm shift in regulatory frameworks and overcoming bottlenecks.