In an exclusive conversation, Ola Rollen highlights the power of automation and smart technologies in building a more sustainable world.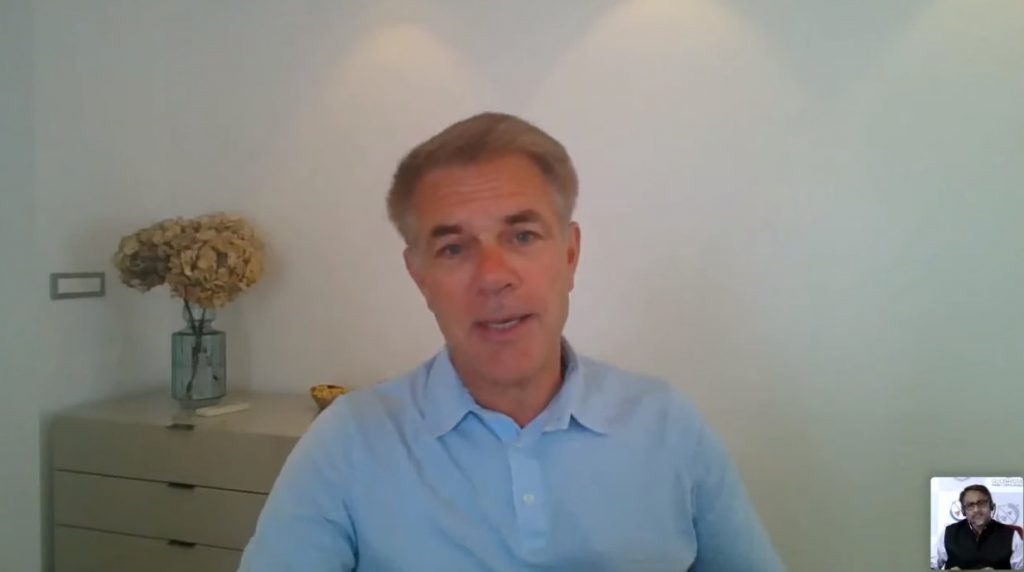 "Mankind has created a lot of innovative things, but it's the mankind which has destroyed a lot of things on the Planet."
If you didn't know, you could mistake this coming from a thought leader from the sustainability community. But this was Ola Rollen, President & CEO, Hexagon AB. And if you have read or heard him in the recent times, you would know where he is coming from. For an industry leader who comes across as a person who deeply cares for the environment and sustainability, in the recent years Rollen has actively pushed the concept of smart technologies in building a more sustainable world.
"The more we automate, the less we pollute and geospatial has a super important role to play in automation. For instance, if we introduce automation in transportation, we can reduce CO2 levels by coordinated flow of vehicles. The end result would be less traffic jams, thus bringing down the emissions," he said while  speaking at a Virtual Summit on Geospatial and Earth Observation Industrial Policy for India, organized by Geospatial Media on June 18.
ALSO READ: Your data can save the world: Ola Rollen explains how
"It is important what we can do with technology especially in automation – mixing geospatial with sensors," he said while underlining the role of geospatial data and technologies in this automation process. "To that extent, I see geospatial industry will move away from traditional technologies and applications to become a 3D tool to help us navigate everyday life."
On Artificial Intelligence
"AI is a maturing technology. However, AI can't help us do everything. It is only as good as the data it gets. So, what AI can do is help us analyze Big Data, and better our work processes and decision-making," he emphasized, while adding that AI is getting smarter and smarter.
Giving example of how Hexagon is driving this change, he said while automation is increasing efficiency and productivity in our workflows, but machines with only fixed, automated functions are not capable of dealing with changing real-world situations. In the autonomous future Hexagon is empowering, tasks, work processes, and even entire industries will be able to adapt intelligently and autonomously. Hexagon is continuing to develop technologies that push the boundaries in fields of reality capture, analysis and visualization that will put data to work for better results — from travel and transport, to construction sites to infrastructure projects to making our cities smarter.
On doing business in India
"I have always benchmarked India with China. But while China grew tremendously in the past few years, India still has a lot of untapped opportunities. I believe India will grow in the next 5-10 years," he said.
However, Rollen also expressed disappointment at the existing bureaucracy and red-tapism in India that he felt was hindering its true potential. "India is not one country — there are a lot of states with different rules, and tender processes can be cumbersome for a company. There is a need to facilitate change."
Rollen, however, seemed enthusiastic about working in partnership with the various governments in implementing some of the national development projects. "PPP model is very important for a country. Governments have the vision and funds, and Hexagon has the equipment and the resources. It is always a great idea to have government as a partner in the content program," he said, while responding to a query by Lt Gen Girish Kumar, Surveyor General of India.
Hexagon's India arm has been involved in some of the major development projects in India, including the Digital India Land Records Modernization program and the smart cities projects where its contribution has been building mission-critical, safe city-ready components that advance a city's capabilities.
However, when asked if Hexagon will further consider setting up manufacturing base in India given that in the post-COVID situation, the Government of India is now actively encouraging foreign companies to set up major operations in the country, Rollen was of the view that this would be long process as currently there was not enough market to motivate local manufacturing. "There is a lot of volume, but there need to be concrete targets maybe set by one of the players in a PPP model. Sometimes you invest to create demand; sometimes the demand is there for you to invest. India has great potential as a market and we will surely look into it."
EXCLUSIVES FROM OLA ROLLEN
Autonomous future for sustainable living