Hexagon has continually been shaping smart change with its innovative solutions, and the Indian arm of the conglomerate thinks no differently.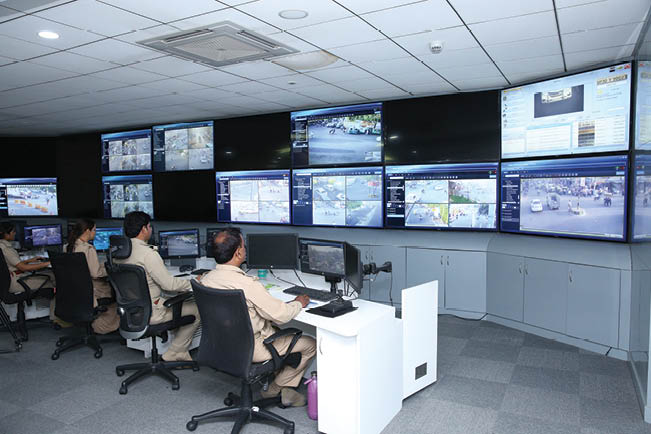 The dream of 'Digital India' is fast becoming a reality and the record allocation of INR 5,970 billion for infrastructure spending in India reinforces the grit. Meeting the expectations of the citizens and the economists, the government is placing huge emphasis on railways, roadways, defence and connectivity infrastructure. Additionally, the ambitious 'Smart City' mission has reached closer to its target of 100 smart cities with an allocation of INR 2,040 billion.
As Juergen Dold, President, Hexagon's Geosystems Division, puts it, "For India there are many possibilities. There is a huge opportunity because of the massive plans to build new infrastructure, new roads, and with the smart city initiatives, there are quite some opportunities to make cities more attractive for people to live in and also to make them safer."
Nevertheless, execution of such large scale projects is a mammoth task, while being a fantastic opportunity to create employment and bring in technologies that companies like Hexagon has to offer.
Hexagon India is excited to be a part of this positive transition as the words of Pramod Kaushik, President, Hexagon India, reinforce, "Hexagon India aspires to play a leading role in the efforts to solve the challenges faced by our nation by providing ground-breaking information technologies that make a positive and lasting impact."
Making a difference
Hexagon is committed to leveraging digital solutions to fundamentally change the way business is done. With the intent to create a connected ecosystem, Hexagon India has been incessantly widening its horizon, engaging with some of the top development projects in India. The major headways include: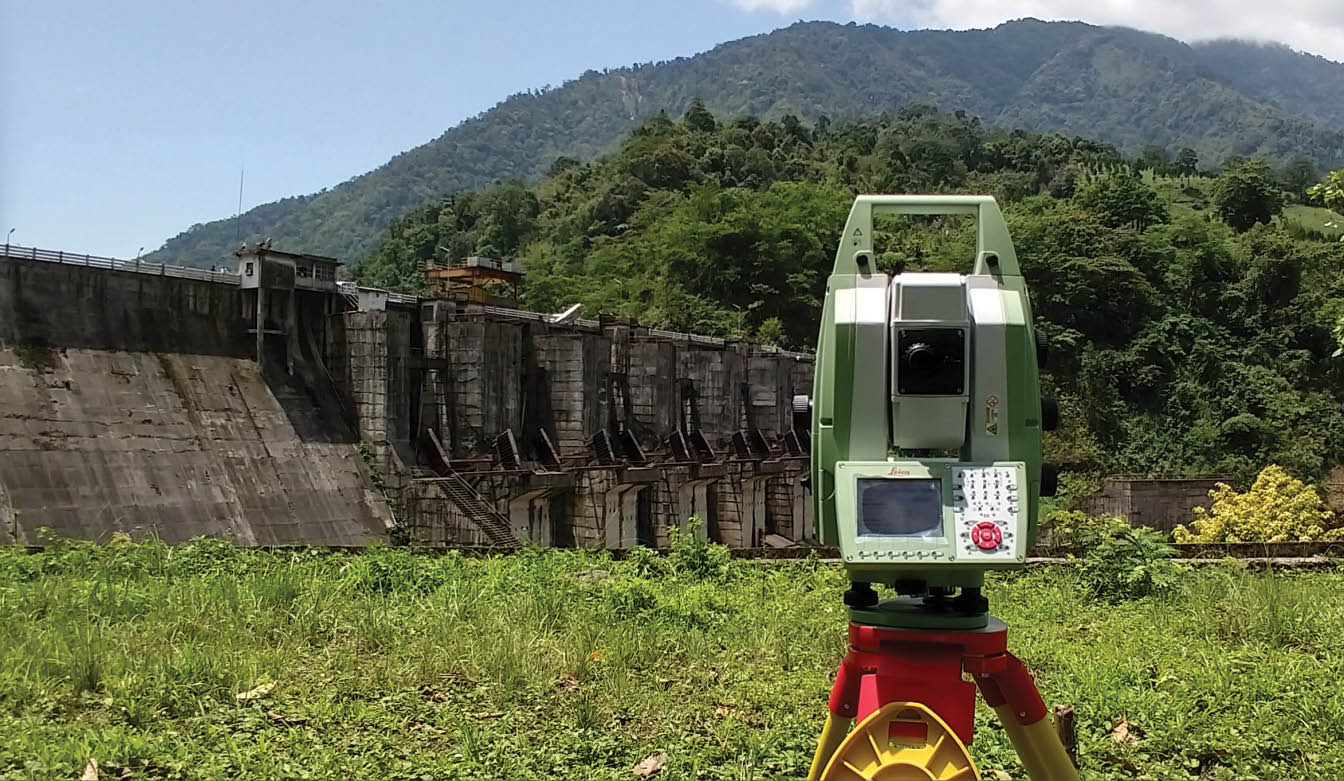 Dam Safety and Monitoring: The dams in North East are part of run of the river. These concrete gravity and rock filled dams have been commissioned more than 20 years ago. As the concerned states are in the area of seismic activity, these dams pose threat to the civilization there. Moreover, when the spillway is opened, flow from some of these dams effects the downstream areas, like causing floods. Additionally, the geo-technical equipment installed during the erection of these dams are non-functional and no analysis information of structural characteristics of these dams are available.
To combat these issues, Hexagon developed a Dam Safety Monitoring System, a first of its kind in India. The system combined multiple technologies with geodetic technologies to become an effective monitoring application. Under the Government's DRIP (Dam Rehabilitation and Implementation Program), Hexagon became a front runner for a dynamic dam safety monitoring solution.
Land Records Management: This is done through Hexagon's Digital India Land Records Modernization program. Hexagon conducted PAN India training as a capacity building initiative of Department of Land Resources. It is closely associated with the Department for Land Records Management, Survey/Resurvey, Mapping & Updating Land Parcel and Management of Land Records.
Utility detection: Technological solution from Hexagon is enabling detection of underground utility facilities.
Mine management: Integrates planning, operations and safety solutions for the mining industry. The technology integrates the data processes from these solutions and the customer is better informed to make an intelligent decision. Currently, it is catering to 5 mines of Coal India.
Hydrography solution: Hexagon has provided a solution to the Survey of India, for mapping assets and resources for hydrography, both in 2D and 3D. This is done through Hexagon's IMAGINE Suite including photogrammetry module.
'Mahabhumi' project of Maharashtra Remote Sensing Application Centre: This project by Hexagon's Geospatial Division incorporates large scale mapping of the whole state.
Smart cities need a special mention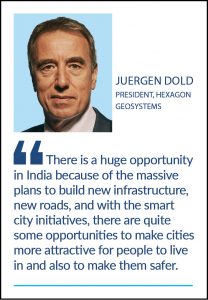 Hexagon's Safety and Infrastructure segment has an extensive portfolio of end to end solutions and domain expertise for orchestration of vital public services that are uniquely positioned to realize safe city strategies. Its Safe City Framework includes mission-critical, safe city-ready components that advance a city's capabilities; some of which are:
Data mining and analytics: Identifying and mitigating risks and improving resource management and operational efficiency.
Sensor and video intelligence: Improving operational capability to detect, assess, and respond to incidents.
Citizen reporting: Improving the ease and speed with which citizens can request assistance and provide information.
Next-gen call taking and dispatching: Managing communications from multi-media sources and coordinating and tracking resources and situations in real time.
Multi-agency resource management: Providing information and capabilities to optimize resources across services and jurisdictions.
Infrastructure management & operations: Gaining better understanding of the condition of network assets, minimizing service disruption, and expediting recovery.
Incident command: Collaborating for faster, efficient, and effective incident planning, response, recovery, and mitigation.
Mobile working: Empowering personnel and increase situational awareness, while enhancing efficiency and service delivery.
Digital records and evidence: Collecting and managing information about incidents and events to aid investigations and decision-making.
Dashboards and reporting: Making information accessible, interactive, and fact-based for greater insight, visibility, and engagement.
Kaushik shares, "We believe that for cities to be smart, they need to be essentially safe and digital. Safety in cities depends on multiple services working with singular purpose to achieve common objectives. We are participating in major projects in mining, road & highways, and smart cities by deploying technologies and building an autonomous ecosystem."
A successful tryst in public safety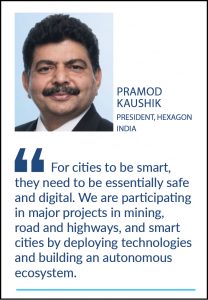 "We are extremely proud to have successfully executed the Dial 100 project (popularly known as UP100) for Uttar Pradesh Police, in partnership with Mahindra Defence Systems This project is a centrally managed system to facilitate a quick response in emergency situations such as road accidents and crime-related incidents," shares Kaushik.
As part of the system, 250 call-takers, 150 dispatchers and thousands of field officers use I/CAD applications to respond to citizen needs. Before UP 100, the police received around 3,500 calls per day across the entire state. In the initial stages only, the event volume rose to about 15,000 per day and call volume is more than 100,000 per day, and the number keeps on rising as the system becomes more familiar to citizens.
When Kaushik says, "We envision to replicate this success to other states of India and I believe that this is one initiative that can nationwide enhance the safety of the common man," the benefits of the solution get rightly reinforced.
'Leaders evolve through working for the greater good,' and Hexagon India, through its innovative accomplishments is proving the point. Hexagon is making investments in India to make it a strong facilitator of digital transformation. "We are investing in India to make all the technologies available that we have here. We have invested in our own organizations to help foster growth of different business models, whether that's our industrial division or our public safety division or the Geosystems division, to set them up here in the country to be there with local people and support the local developments," echoes Dold.
Also Read