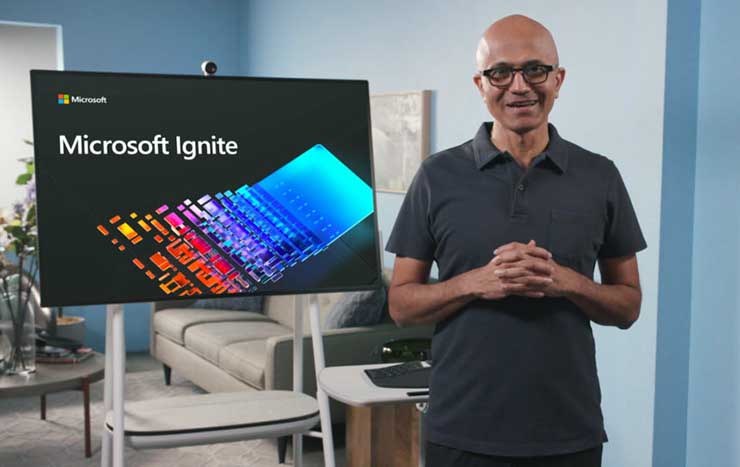 After Amazon, Microsoft now getting into ground station as a service business with Azure Orbital. On September 22, the software giant announced a preview of the business that enables satellite operators to communicate to and control their satellites, process data, and scale operations with Microsoft Azure Cloud. The service, which begins as a "private preview" for a select group of Microsoft customers, is direct competition to Amazon Web Services which launched ground station services about two year's ago. Since then, Amazon has followed it up by launching a dedicated business unit focused on aerospace and satellite solutions. Amazon and Microsoft are two largest cloud infrastructure providers in the world, with data centers across the word.
"We are extending Azure from under the sea to outer space. With Azure Orbital, we are now taking our infrastructure to space, enabling anyone to access satellite data and capabilities from Azure," Microsoft CEO Satya Nadella announced during his opening keynote at the Microsoft Ignite 2020 conference.
With Azure Orbital, the ground segment, including the ground stations, network, and procedures, becomes a digital platform now integrated into Azure and complemented by partners such as Amergint, Kratos, KSAT, Kubos, Viasat and US Electrodynamics Inc.
ALSO READ: How many satellites orbit Earth and why space traffic management is crucial
Earth observation
"Microsoft is well-positioned to support customer needs in gathering, transporting, and processing of geospatial data. With our intelligent Cloud and edge strategy currently extending over 60 announced cloud regions, advanced analytics, and AI capabilities coupled with one of the fastest and most resilient networks in the world — security and innovation are at the core of everything we do," Yves Pitsch Principal Program Manager, Azure Networking, wrote in a blog post on Tuesday.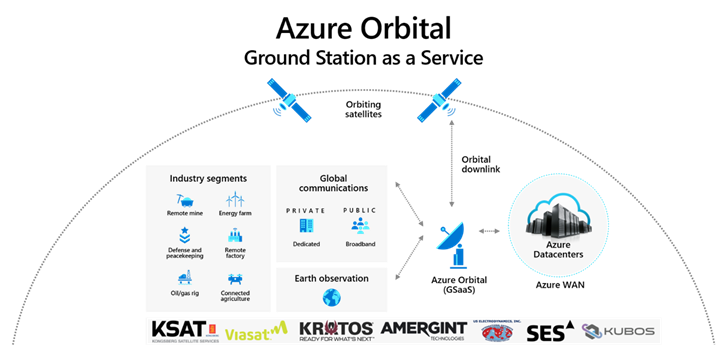 The service will enable satellite operators to schedule contacts with their spacecraft and directly downlink data into their virtual network in Azure Cloud. With the satellite data directly getting onto Azure Orbital, it can get immediately processed with geospatial and other analytical tools, Machine Learning, and Azure AI services. Clients can also get contact scheduling for Microsoft owned and operated ground stations in X, S, and UHF band frequencies via shared high gain antennas. Further, Microsoft is also directly interconnecting its own global network with that of its our partners' ground station networks for easy scheduling.
With the number of satellites expected to grow significantly over the next five years,
quick data processing is getting increasingly important as businesses and government agencies tap into a growing world of commercial imaging and IoT services.

Global communications
The service will come handy for communication providers too as by leveraging Azure Orbital, satellite operators can go beyond selling network capacity with the accelerated building of managed services.
SES has already selected Microsoft Azure to collocate the ground stations (including telemetry, tracking, and command systems) of their next-generation SES O3b mPOWER communication system. SES has designed a cloud-scale operational environment and will leverage Azure Orbital as a core platform to scale and build managed services and streamline order and service delivery management processes.
"In the last 12 to 18 months, our focus has been to accelerate our customers' Cloud adoption plans. We are pleased to have found an ideal partner in Microsoft with its new Azure Orbital system," J.P. Hemingway, CEO of SES Network said.
The partnership leverages the cutting edge technologies offered by both companies — SES's experience in satellite infrastructure and Microsoft's Cloud expertise — and is building blocks in developing new and innovative solutions for the future." "We are thrilled that we will be co-locating, deploying and operating our next-generation O3b mPOWER gateways alongside Microsoft's data centers. This one-hop connectivity to the cloud from remote sites will enable our MEO customers to enhance their cloud application performance, optimize business operations with much flexibility and agility needed to expand new markets," Hemingway added.
Earlier in August, Microsoft had filed documents with the Federal Communications Commission outlining its intent to build a network of ground stations and connecting satellite operators to its Azure cloud. On September 2, the FCC authorized Microsoft to perform proof-of-concept demonstrations of the service, which comes with a six-month license allowing for data downloads from Urthecast's Deimos-2 Earth observation satellite.