Interactive maps are not just informative but are great tools to transform complex data to simple visualizations. Like in the case of Cyclocare. This cyclone and hurricane tracking interactive map shows the current and probable positions in detail.
With the Atlantic storm season passing off, the map looks pretty clean. Earlier destructive hurricanes like Irma, Jose and Maria had created a havoc over the region. At present the map highlights the active cyclone area over western part of India called as Ockhi cyclone.
Also Read: Do you know how hurricanes are named?
The cyclone after emerging from Bay of Bengal has now travelled to Arabian Sea. It has already created havoc in the Indian Union Territory Lakshadweep Island and affecting parts of Southern Indian states Tamil Nadu and Kerala. Ockhi is now going to make a landfall in south Gujarat and adjoining north Maharashtra coasts near Surat as a deep depression by mid-night of December 5. The cyclone may cause heavy rains in several parts of the states during the next two days.
Other than this area, the map shows no other parts under distress.
Other features
Tropical Disturbances: Spaghetti models or spaghetti plots is the nickname given to the computer models that show potential tropical cyclone paths. When shown together, the individual model tracks can somewhat resemble strands of spaghetti gives you a way to see where a tropical storm or hurricane may head. It can also give insight into whether the models are in agreement on the path of the storm (for instance, all models show Florida in the path of a hurricane) or if there is a wide differing opinion on where the storm may go. For instance, in the case of Tropical Storm Debby, the original NHC storm path had her going straight west to Texas, but if you viewed the spaghetti models at that time, you would have had a glimpse into just how uncertain Debby's path was. Debby's spaghetti models had her making landfall from anywhere from Texas to Florida to everywhere in between.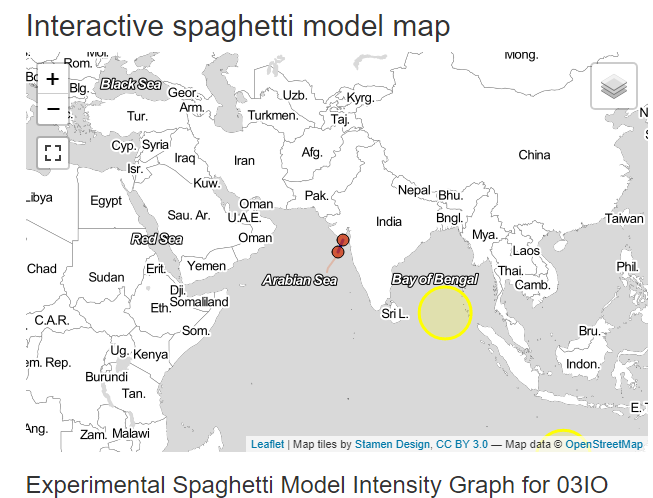 Probability Areas: At present the map indicates chance of tropical storm formation in this region as none. The same can be found in Eastern Pacific region. However, the tropical cyclone development potential can be found in the Indian Ocean and West Pacific and South Pacific regions.
Other than this, there is a feature of Cyclone / Typhoon / Hurricane Season. Currently basins that are in a tropical storm season are:
Northwest Pacific (year round)
North Indian (year round)
South Indian (year round)
Eastern Pacific (May 15 – November 30)
North Atlantic (June 1 – November 30)
Central Pacific (June 1 – November 30)
Basins that are NOT in a tropical cyclone season (storms are unlikely but not impossible):
South Pacific / Australia (November 1 – April 30)
South Atlantic (no official season because storms are so rare, but unofficially November – April)
So, with a click of a button this interactive map can widen your horizon to the world of cyclone, hurricanes or typhoons.  All you have to do is just clicking on the options to know more and may get inspired to pitch in and make a difference.