Drones are increasingly being deployed in myriad fields and the list is ever expanding but there is one more area where drones have the potential to play crucial roles, but are not noticeable enough – and mainly because they operate underground. Underground drones have the potential to be extensively used in mining, tunnel construction and other lines of operation where visibility is restricted. Often they have settings that are more complex than over-ground drones.
Underground drone technology
Underground settings, also called subterranean settings, are exerting and have unfavourable and risky working conditions. The current hazards of subterranean environment vary from setting to setting, but usually there is a high level of unpredictability as these environments can degrade or change over time and pose a huge risk to human life. Encountering this difficulty, drones are being used to map underground areas.
DARPA is working efficiently on how with advanced technology drones can operate in underground scenarios. The agency believes that with the extensive utilization of drones it could be a massive help for military and civilian first responders to operate more effectively in subterranean settings such as tunnels, urban underground and cave networks.  But still there are lot of barriers in the path and full implementation is an uphill task. So, in order to overcome these barriers, DARPA has launched the Subterranean or "SubT "challenge.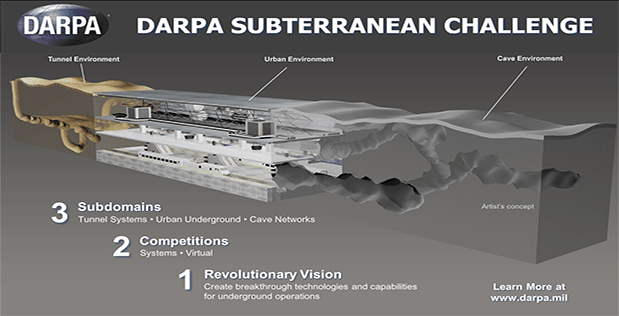 Subterranean challenge
The Subterranean challenge is gaining a new approach towards mapping, navigation and searching underground environments during time-sensitive combat operations and disaster response scenarios.
Flyability has teamed with the Autonomous Robots Lab at the University of Nevada, the Robotic Systems Lab of ETH Zurich, the Autonomous System Lab of ETH Zurich, and the HiPeR Lab of U.C. Berkeley, and Sierra Nevada Corporation for the challenge. The association is called CERBERUS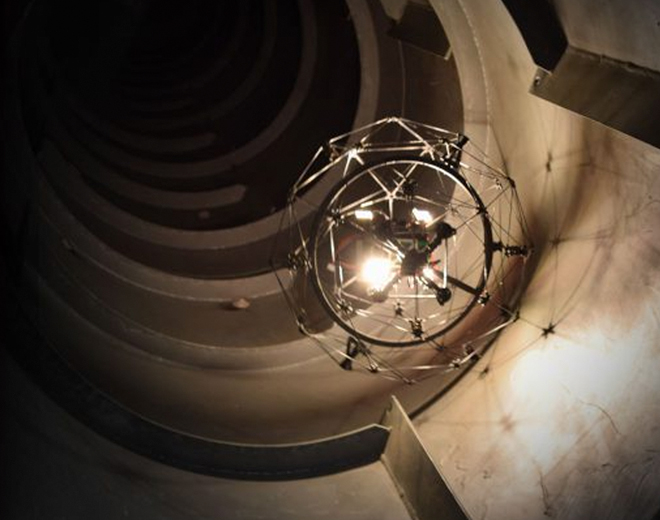 For subterranean deployments team CERBERUS visualizes the robotic solution through the collaboration of walking and flying robots. With the combination of best products and research projects, it will provide field experts with an autonomous, robust, and reliable way to fulfil their mission even in an unpredictable and adverse situation.
"The environments where the challenge is taking place have a lot in common with those where our customers are deploying Elios daily. Taking part in the prestigious Subterranean DARPA challenge is an opportunity to collaborate with university laboratories and companies which are the best in their R&D fields." Stated Adrien Briod, CTO of Flyability.
For the SubT challenge Team CERBERUS developed a walking and flying robots concepts.
Also read: Major challenges faced while selecting drones for mapping
Events and Schedule
The challenge has three preliminary circuit events and one final event. Teams have to compete in one or both of two complementary research tracks: the Systems track, and/or the Virtual track.
Teams that compete in the Systems track have to demonstrate physical systems to compete in live competitions on physical, representative subterranean courses, and focus on advancing and evaluating new physical solutions in realistic world whereas, Teams that compete in the Virtual track have to develop software and algorithms using virtual models of systems, environments to compete . Team CERBERUS has elected to compete in both tracks.
Teams will get enough time to design and test their system as well as software since they got a long three years in their hands from 2018 till 2021. But by the end of the time that is on 2021 they have to prove that their system have the capability to survive in the hostile situation. The winner of the systems competition will get a $2 million prize, while the winner of the virtual competition will earn a $750,000 prize.
There are three circuit event and each covers a different domain namely:
Tunnel System
Urban Underground
Cave Networks.
Also read: Innovating drone technology in India for a vibrant economy and sustainable development