When it comes to drone technology, the public focus in India apparently seems to be on either amateur photography drones or military applications of drones. But between these two ends of the spectrum, lies practically the whole gamut of drone technology.
The drone startup sector is nascent in India and is still to make its mark. But its prospects are promising and under the right set of policies and an able vision, drones can contribute a lot to the economy as well as help in solving many social and ecological problems plaguing us. The fast-adoption of drone technology would give added advantage to India particularly in the sector of agriculture. It would further provide an impetus to other mega projects of the future, for instance, smart cities.
iCreate is one of the pioneering companies at the forefront of nurturing and popularizing drone technology in India and exploring its multifarious uses that will add value to the Indian economy and improve the lives of the masses as well.
In an exclusive interview with Geospatial World, Anupam Jalote, CEO, iCreate, speaks candidly about the drone technology ecosystem of India and what could be done to promote it, make it more competitive, vibrant, and of immense utility to the citizens.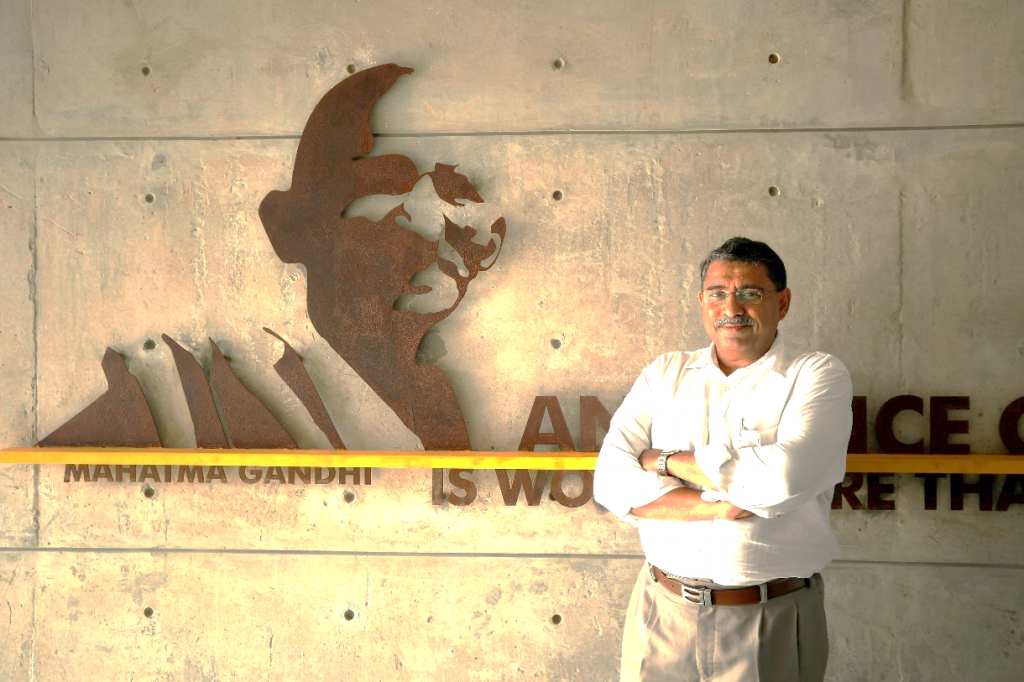 What was the motivation behind creating 'iCreate'? Where do you see it positioned in the near future?
iCreate's reason for existence is converting NextGen innovators into successful businesses and promote the growth of entrepreneurial capital which leverages innovations and technology. iCreate's world-class, state-of-the-art infrastructure offers office space, laboratories, residential facilities, mentors and market access, as well as seed capital for the projects it incubates. iCreate is sector-agnostic but leans towards IoT, embedded systems, Machine Learning (ML)/Artificial Intelligence (AI) based products or applications, that solve developmental needs of India. It has its own rapid-prototyping labs as well as tie-ups with design and fabrication agencies to help its projects customize their products. It has a tremendous focus on market penetration.
It partners with powerful international as well as national organizations in order to deliver best in class mentorship, exposure and technology awareness to its incubates.
In the coming years, iCreate aims to be the place to be for start-ups. It will have international as well as domestic startups and would have spun off over 100 successful companies. Aiming to grow as a powerhouse in the embedded system; IoT based product space, creating world-class companies in the Electric Vehicle, Agritech, Water tech and medical devices space. It will have created successful companies in the fintech and Blockchain space, and be delivering autonomous solutions. iCreate aims to be a melting pot of international start-ups, working to create products not only for the Indian market but truly for the Global Citizen.
What do you think are the future prospects of drone technology in India and would it match the level of the western countries in reach, ingenuity, and innovation?
Successful applications are always ones that meet a need. Indian society is at a very different point in its evolutionary journey than in the west. Therefore the applications that will find traction here might well be radically different from ones there.
We are definitely not lagging in ingenuity and innovative capability. Let me give you an example. AUVSI (Association for Unmanned Vehicle Systems International) recently conducted its annual "Buildathon", The XBuild at Denver and simultaneously at iCreate Campus, Ahmedabad, India.
The challenge was to create solutions that use drones and unmanned vehicles for the good of society. One of iCreate's projects proposed a solution for using drones for rapid response to medical emergencies. Now in the West, the civic systems are already so well developed that a well-equipped ambulance will be at your doorstep within 8 minutes. However, in India, this is not so. Therefore, the proposal was to station a swarm of drones so that the first response drone equipped with a camera and conferencing facilities would reach within the first 3 to 4 minutes, and help a remote medical professional to access the kind of help needed. Then a second drone would follow in the next few minutes, equipped with some emergency diagnostics/air even as an ambulance made its way to the patient.
If designed and deployed well, this solution has the power to transform emergency aid in Indian urban clusters, but its suitability in the west would not be there. Therefore there are many applications for drones in India (and not only to deliver pizza faster 🙂).
The above-mentioned solution won the first prize, defeating 15 US contestants and 4 other Indian ones. So to conclude, yes – our innovators have the capability to be world beaters.
What role are start-ups playing in promoting the use of drones in varied sectors? How is iCreate supporting them? 
iCreate has an established competence in supporting projects using embedded systems, sensors, IoT (Internet of Things) and cloud computing. Drones, as well as ground-based autonomous vehicles, are areas where we are supporting projects so that cutting edge, innovative services can be deployed in the service of our people.
At a time when resources are depleting and sustainability is not only a buzzword but also the dire need of the hour, how can drone technology be utilized for ensuring sustainability?
One powerful driver of sustainability is resource optimization. Drones are particularly good at remote sensing for optimizing the use of water in farming, of photogrammetry to detect soil erosion, illegal mining, regeneration of forests, flooding of areas, tracking of crop burning, generation of air pollution etc.
What is needed is the will to implement these solutions in the service of preserving our planet for future generations – the technology and capabilities are all here.
At the grassroots level, particularly in rural and semi-urban India how can drone technology make a significant difference in the lives of the people?
There are several sensors that when mounted on drones, can help predict healthy growth of crops as well as orchards. There are drones that can be used to selectively spray high treetops as well as fruit trees on hillsides and mountains. Then there is special drone deployable medical services, ranging from urgent delivery of life-saving drugs to remote medical consultation and conveyance of blood samples for testing. These are not pies in the sky – with some development; they can be converted into affordable services that benefit rural India.
Is the private sector in India equipped to be the mainstay of drone technology? Or does it need government support?
Regulation is the most important support that the Government needs to provide so that the safety/security aspects are not compromised and innovative services are enabled. With clear regulation in place, there is enough knowledge and traction to be able to deploy very useful services.
Apart from events like Hackathon, what else could be done for popularizing the technology, dispelling myths and skepticism, and boosting public confidence?
The masses are slowly warming to the benefits of the technology especially the drone technology. While there are still areas that we can look at to boosting public confidence, launching a one or two services with visibility so that people get used to this new service delivery platform.
Do Indian companies need to collaborate with companies abroad for technology sharing and keeping abreast with the latest trends? Or should the focus be on more indigenization of technology
An awareness of what is happening globally is critical. But collaboration for development might not be such a key need. One must understand that a drone is just a platform. Once the platform has been made stable, with a specific range and payload carrying as well as navigation capability, then what really matters is the sort of sensors or payloads that are mounted on this platform.
Innovators at iCreate are working to create their own systems for controlling drone flight, geo-fencing, image processing as well as location locked sensor data tagging. I'm sure that there are other teams across the countries that are on a similar journey. Therefore our innovators are ensuring that they create drone platforms that are price competitive as well as technologically competitive and designed as well as made in India. So all that remains is knowledge of and access to best in class sensors – then our drone base services will be as good as any in the world.
Any particular sector which, in your reckoning, is the most profitable and lucrative for drones?
 Inspection, compliance and safety inspection of remote installations is definitely a low hanging fruit. Then there are photogrammetry applications that do three-dimensional measurements of land and volumes. Fault detection in large-scale outdoor installations as well as specialized agricultural services to high-value crops.
Anything that needs to be done to improve safety and security standards and to avoid accidents or mishaps involving drones?
Definitely, much work needs to be done in this space – from an airplane like identification to proximity warning, collision avoidance to emergency override grounding of drones in case of perceived risks are some of the protections that will help to make them mainstream.