Smart cities would not only be about interconnected technological systems, futuristic constructions, automation and advanced mobility but also equally about a smart living experience and wellbeing of the residents. At the heart of the smart city ecosystem would be citizen safety, security and providing a holistic citizen satisfaction. Technologies like Artificial Intelligence and Internet of Things (IoT) would be deployed so as to make smart cities citizen-centric and primarily develop them to provide more comfort to citizens. 'Citizen First' has almost become a cornerstone of smart city development.
Citizens before technology
Taking into account this citizen-centric approach, McKinsey has released a new report titled 'Smart Cities: Digital Solutions for a More Livable Future', which asses the development of smart cities across the globe.
The report highlights that for the transition to a smart city, cities need to follow a methodic approach and focus on building a sustainable framework. Evolving into a smart city is not an end goal but a continuous process. Recognizing the needs and aspirations of the citizens and working on them effectively and dynamically is an important factor that needs to be considered. While invariably every nation wants to move ahead and develop cities in the best possible manner, the roadmap needs to focus more on the human-related facet.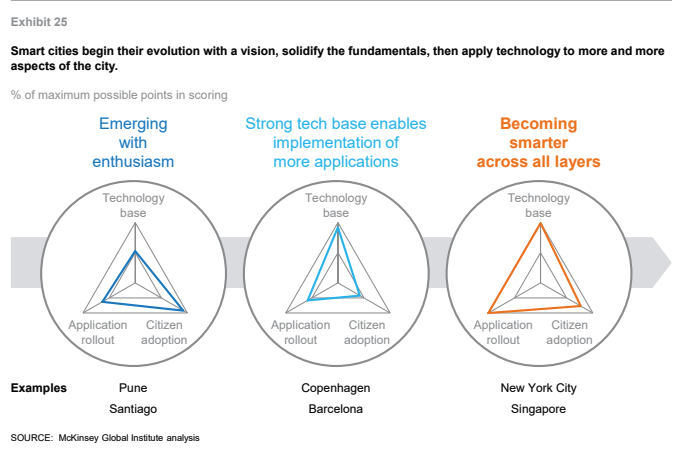 After more than a decade of research on smart urban planning, policymakers have understood that technology is mainly a facilitator, enabler and resource optimizer in smart cities. But at the heart of the smart city story are humans, their interaction with technology and the dynamism and vibrancy that a smart living experience would add to one's life.
The three pillars
The report also identifies three crucial layers that need to work together to make a smart city hub. First, cities need a layer of sensors and devices throughout the physical environment. Smartphones are an important element, as they act as mobile sensors and allow the users to interact with applications.
For the second layer, cities need efficient communication networks. These include broadband and mobile networks with high down- and upload speed, as well as low latency. Another aspect for residents and visitors is free public Wi-Fi coverage.
Thirdly, open data portals also play a big role in promoting research and innovations. Democratization of data and its transparency is extremely important for developing a smart city. Cities globally store a vast amount of data about everything ranging from crime statistics to public school enrollment and dropout rate and health inspection reports of localities. Making this data easily accessible would assist in faster development of specific solutions and precise analytics. This would also encourage the culture of accountability and genuine citizen participation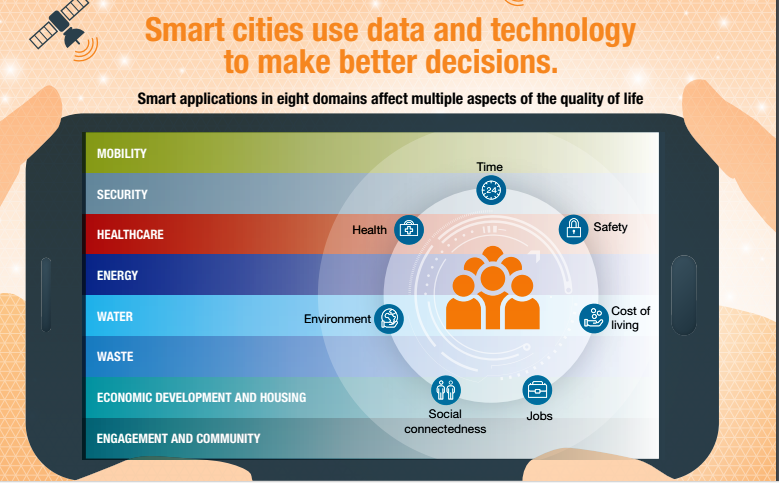 In order to be ranked as a leading smart city, all of these criterions have to be fulfilled.
Big Apple at the top
The report ranks New York as the top smart city in the world, adding that "One standout is New York City. Its tech base includes a very high rollout of low-power wide-area networks (LPWAN) technologies, water quality sensors, and smart water meters. Its new civic tech program, NYCx, will transform Governors Island into a test bed for 5G and other advanced connectivity technologies. The city's excellent open data portal makes a vast amount of data available on many different metrics; its ease of access for developers has produced a flourishing mobile app ecosystem.
Also Read: Convergence of technologies undergird the Smart City revolution and paves way for a smarter future
New York is one of the cities with the greatest number of applications deployed overall, and it has notable activity in health and in government, community, and housing. The city has also achieved relatively high public awareness, usage, and satisfaction."
Though notwithstanding this appraisal and the level of preparedness, New York city has its own set of issues, including traffic congestion and overcrowded streets. Before the arrival of autonomous vehicles and smart parking, the New York authorities are trying to solve this problem by capping the number of vehicles driving for Uber and other ride-hailing services as part of an aggressive move.
But this move is a sort of intervention that would have negatives as well. And in the absence of well-developed and efficient transportation systems, the pace at which New York is reaching its goal would eventually slow down.
Also, contrary to the common perception, it's not the public sector but the private which has to initially earmark resources for the smart city. This doesn't mean that the role of public sector is peripheral but that we need to realign our thinking towards greater involvement of private sector.
Also Read