A city is characterized as smart city "when investments in human and social capital and traditional (transport) and modern (ICT) communication infrastructure fuel sustainable economic development and a high quality of life, with a wise management of natural resources, through participatory action."
Smart cities would not be only more happening, livable and offer a better quality of life than normal cities but would also have the latest state-of-the-art infrastructure and technological connectivity that would make living more fulfilling for all the denizens, increase sustainability and reduce the risk of the damage wrought during hazards.
The integration of information technology along with emerging future technologies – AI, IoT, autonomous vehicles etc. – would play a pivotal role in the designing of smart cities and provide intelligent solutions to the medley travails of urban dwellers.
Top 3 smart cities
Philips Lighting, along with SmartCitiesWorld, published a report that compiled a list of top smart cities after thorough research on more than 150 parameters that impact urban planning across the world. These are crucial determining factors in smart cities as well.
Open data/sharing of data; citizen engagement; and enhanced services for citizens are three top parameters for smart cities.
The report mentions Singapore, London, and Barcelona as the world's best smart cities, demonstrating that management, government policies, and leadership would play a key role in smart city programs.
The top 3 smart cities have been ranked for totally different reasons.
Singapore occupies the top slot its futuristic infrastructure design and utilization of urban spaces. London was lauded for its focus on communities when implementing the technology. Barcelona came into the spotlight for its praiseworthy governmental initiatives that are providing the impetus for progress and redefining smart cities.
Singapore scores over other cities in public discipline, transparency and the government very efficiently regulating many aspects of everyday life, including public transportation and housing.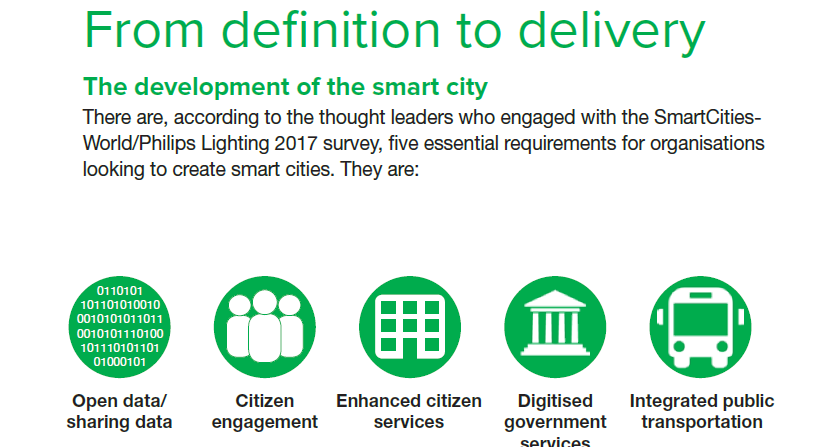 As a nation whose polity has been dominated by a single party -People's Action Party- since independence in 1965, Singapore can move swiftly towards innovation and systematic adoption of new technologies without the usual hurdles. The level of data monitoring and surveillance that Singapore envisions in its next smart city policy would definitely raise eyebrows and concerns over privacy in other parts of the world.
London received praise for its green spaces – at the last count, there were more than 3,000 of them, covering around 47 percent of the city. London is not on a par with Singapore as a testing ground for IoT technologies but it is experimenting with innovative technologies in its own unique way.
Barcelona has undertaken smart initiatives like meters that monitor and optimize energy consumption, parking apps and integrated them into a coherent vision of the city's future.
It underscores the fact that able leadership, framing enabling policies and swift execution of those policies without regulatory hassles and institutional bottlenecks would fasten the pace of development and encourage active collaboration between various stakeholders. This will also infuse confidence among the private players and enhance vibrancy in the market.
An excellent example of using emerging technologies to boost employment is Barcelona which has created 47,000 jobs through the implementation of Internet of Things (IoT) systems and generated an extra €36.5 million a year through smart parking.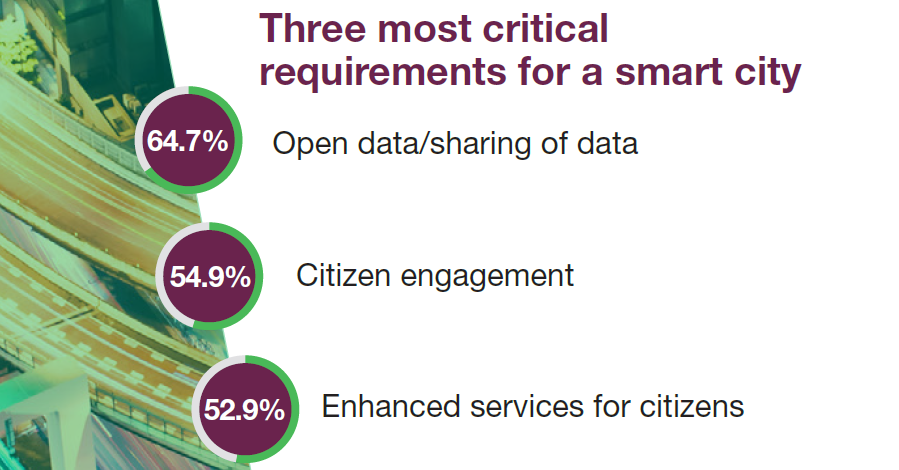 The level of preparedness
There are many cities that lack adequate preparedness and are bound by either monetary, infrastructural constraint, lack of decisive leadership or snail-paced implementation.
The most common factors stymying the development of smart cities, as per the report, are budget limitations (23%) and the need for more supporting infrastructure (19%).
But the report says that even if the cities look at the targets incrementally and fulfill short-term goals, they will eventually edge closer to long-term goals. For Instance, telco-integrated street lighting in San Jose and smart LED streetlights in Los Angeles, which deliver annual cost savings of USD 9 million.
The role of IOT & saving energy the smart way
At a time of dwindling resources and additional strain for power generation due to increasing population, it is imperative to invent ways to save energy. As per estimates, cities eat up more than 70% of total energy.
For monitoring energy usage, cities need to buckle up and lay emphasis on administration and policies pertaining to communications and energy usage.
The report also expatiates on the key role that IoT has to play in the success of smart cities.
Revolutionizing the collection of data (35%), revolutionizing communication for accurate service delivery (15%) and managing the strain on urban resources (13%) were ranked as the top three areas where the IoT would be most effective in cities.
However, the report makes it clear that a smart city strategy would have to be custom-made for each city, in accordance with its potential and existing state of infrastructure, accessibility, connectivity and other factors.