BIM (Building Information Modeling) and GIS (Geographic Information System) are two critical technologies, whose integration can bring exemplary results into digital construction. However, there remains a point of contention in this integration. While a group is stuck with the thought of BIM vs GIS, things are looking up with many experts following a more progressive thought of integrating the two.
So, BIM vs GIS OR BIM and GIS – Why are we still in doubt?
BIM vs GIS
Thankfully, there are only a few who still prefer to put the two highly useful technologies, BIM and GIS in competition with each other rather than in coordination. As per them, while BIM offers detailed 3D visualization and the ability to organize huge volumes of data related to buildings, a GIS is highly customizable, well equipped for analysis, and ideal for projects in a campus or multi-site environment. While BIM is best suited for managing data related to the building itself, GIS is more applicable for everything outside buildings.
They feel that CAD in a GIS system is more useful in analyzing construction data, primarily because 3D design programs don't yet have the ability to easily transfer data directly into a GIS model. As expected, BIM evangelists strongly oppose such thoughts. According to them, the BIM model can encompass an entire subdivision. It is not just about an individual building but about the behavior of an entire subdivision or campus. BIM is a newer concept and anybody who is designing infrastructure or buildings will have to embrace the BIM process in the same way others have embraced GIS. With more advancement in technology, BIM will get consumed easily into GIS.
This positive thought has paved way for a much-needed integration – the togetherness of BIM and GIS, a change that is proving beneficial for many.
BIM and GIS 
Thanks to firms like Bentley Systems and Autodesk, which develop both BIM and GIS applications, it is getting widely believed that the two technologies (BIM and GIS) aren't competitive but rather complementary. Numerous industry experts now believe that it's not BIM vs. GIS but BIM and GIS that will bring highly productive outcomes in digital construction.
If infrastructure project stakeholders want to manage the infrastructure of different classes, they must be able to operate on GIS and BIM as a continuum. It all depends on the type of information they need.
In the lifecycle of a construction project, BIM adoption brings a plethora of benefits; an important one among them is to make digital information a part of the deliverables for each stage. With the stakeholders being able to share the information among them more easily, they are able to take more coordinated and informed decisions at each stage.
Geographic information is an important component of the entire decision-making process in construction and nothing else than a GIS can enable everyone involved to become spatially aware most effectively. Using GIS enables people from different segments of the construction lifecycle to share a common picture of the project, provided by the GIS-generated maps. GIS must necessarily become the common visualization tool in the development sites.
GIS extends the value of digital BIM through visualization. Integration of BIM and GIS with time information, allows project participants to better understand the impacts of decisions before, during and after the construction of a project.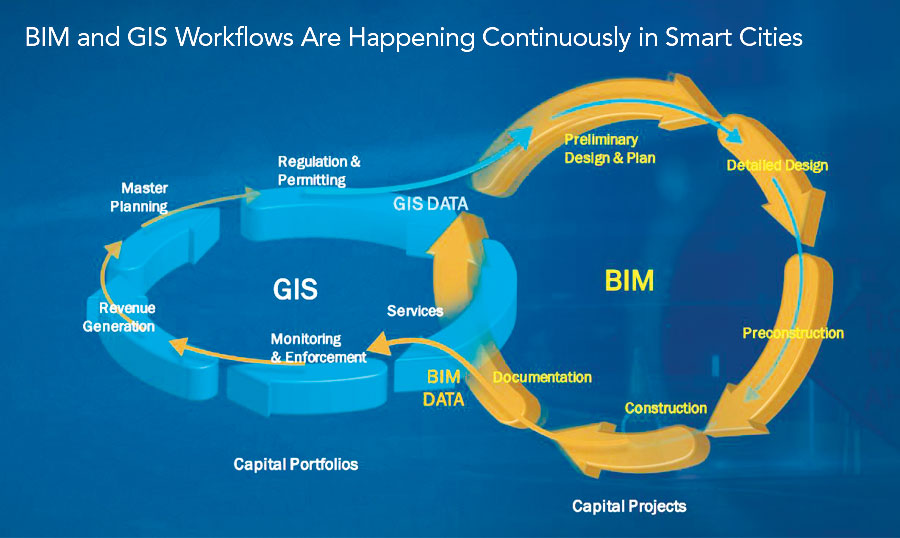 GIS in BIM
In the world of GIS world, the term 'GeoDesign' is used to refer to a scenario-based planning process that applies decision making to spatial problems in the context of local and regional features and characteristics.  GIS is widely used for integrating, visualizing and analyzing information about real-world assets, such as buildings and transportation infrastructure, with surrounding context that may include environmental, demographic, structural, and scientific information.  Maps that integrate GIS and engineering information are used to convey plans and status frequently in the initial stages of projects and during regular project updates.
The Web GIS approach allows the stakeholders to achieve a higher level of integration, wherein information from a variety of sources can get easily aggregated. This kind of integration offers a perfect way to capitalize on BIM data and synthesize it with other business systems such as asset management, space management at the campus or city scale.
Integration of BIM and GIS enables users to unlock the value in diverse data sets to enable applications including citizen engagement, sustainability analysis, disaster preparedness, and much more operational and management uses.
Keeping in view the developments taking place in the realm of BIM, especially around 3D modeling, the GIS capabilities also need to mature to better adapt and handle BIM 3D content, visualizations, and analysis. These enhancements will help the GIS platforms to more completely address the key needs of the stakeholders in construction projects who want to realize more value from the data in which they have already invested to better manage the full lifecycle of their projects and assets.
The world of construction has historically limited itself to CAD and has not been concerned about georeferenced infrastructure. However, the scenario is changing since GIS can create data models that support both geometric and hierarchical needs which can address inside and outside infrastructure. Clients are demanding that the final as-built design is delivered digitally and georeferenced as this facilitates long-term maintenance of sites. Before building designs are created, GIS can play an important role in the selection of sites and integration of data throughout the process. GeoDesign has the potential to enable the stakeholders in a construction project make the best possible decisions that support the maximum infrastructure lifecycle at the least cost. Neither CAD nor GIS can do this on their own. In nutshell, digital construction can scale unsurpassable heights with efficient integration of BIM and GIS. We just need a more positive approach!
Also Read