Comfortable working in 3D-stereo with maximum user satisfaction in Geospatial working enviroments – the 3D PluraView stereo monitors unlock excellent ergonomics and productivity through innovative technology and perfect stereo quality. www.pluraview.com
The 3D PluraView family of monitors is the passive 3D-stereo system with the highest user acceptance of any 3D-stereo system currently on the market for all Geospatial workloads. The Plug & Play beam-splitter technology is established for more than 14 years and has become the 3D-stereo display reference with the PluraView 28" stereo monitor at full 4K (UHD) resolution and 10-bit color depth. The high viewing comfort in 3D-stereo and its intuitive operation, significantly increases user motivation, accuracy and productivity. The 3D-stereo representation is unlike any perspective, but still 'flat' 2D display and users can now move freely through the 3D environment. This possibility of real-3D spatial viewing is at the core of innovative functionality in GIS applications and also in 3D CAD-software. Working with the best-practice technology is not only of benefit to companies but also to employees.
Tasks can be implemented faster, more precisely, with higher confidence which significantly increases the motivation of the users. The identification of PluraView users with their tasks and company grows through this leap in capabilities and technology. The successful 4K (UHD) 3D PluraView with 28" screen diagonal further distinguishes Schneider Digital. PluraView 3D-stereo monitors are available in two different assembly sizes (22/24" and 27/28") and three different resolutions (Full-HD, 2.5K and 4K).
The optimized beam-splitter technology with high color fidelity allows extremely ergonomic working on all 3D PluraView variants, thanks to the 170-degree wide viewing angle and guaranteed absence of any display flickering. The two monitor screens effectively double the brightness of the stereo image and 3D-stereo users can therefore work in normal office daylight conditions. The 3D PluraView gives the freedom to completely redesign the stereo workstation environment, making it attractive with high viewing comfort, resulting in a very positive effect on user motivation and productivity.
Working in a team in front of the PluraView gets a whole new meaning! Even with four or five people sitting in front of a stereo application to discuss solutions, everyone involved has a perfect view of the project.
The 3D PluraView monitor from Schneider Digital enables professional users to work comfortably and fatigue-free in a 3D-stereo environment thanks to the proven beam-splitter technology. Innovative, yet reliable technology is the basis for precise, pixel-accurate stereoscopic image analysis with the highest quality, even in office daylight conditions.
The 3D PluraView 3D-stereo monitor has been designed for stereo viewing in a wide variety of Geospatial and surveying industries, such as Photogrammetry, GIS / Mapping, 3D LiDAR, oil & gas prospecting, archeology or BIM & 3D city model visualization. As a plug & play system, it is compatible with all common stereo software applications from leading manufacturers such as Esri, Trimble, Hexagon, Agisoft, DAT/EM, Terrasolid and many more.
Further information and demo-devices under www.pluraview.com
Highlights of the 3D PluraView monitor family
Two assembly designs: 22" and 24" or 27″ / 28″ monitor assemblies
Highest resolution up to 4K (UHD) and 10-bit color for crisp images
Absolutely flicker-free for relaxed 3D-STEREO work
Suitable for office daylight conditions, one monitor per stereo channel and eye
Wide Viewing Angle – Allows group meetings with up to 5 people
Certified among others by Esri, Hexagon, Trimble, Agisoft, DAT/EM, Terrasolid
Premium design & highest quality – Engineered & Made in Germany
Suitability for direct laptop connection – plug & play without special drivers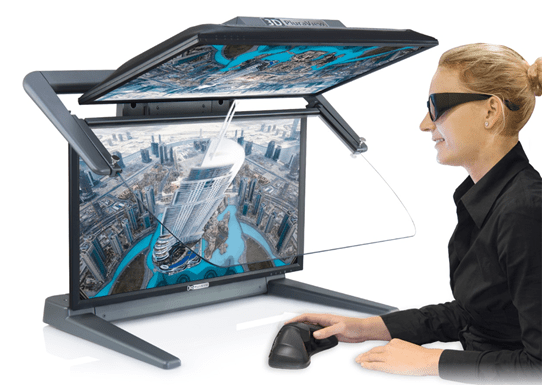 The innovative, passive-stereo 3D PluraView monitor has an extremely wide viewing angle of about 170°, resulting in high viewing comfort in 3D-Stereo.
Schneider Digital – The Enterprise
Schneider Digital is a global, full-service solution provider for professional 3D stereo, 4K and VR / AR hardware. With over 25 years of industry and product experience and strong relationships with leading manufacturers, Schneider Digital offers innovative, mature professional hardware products and bespoke turnkey solutions for professional use. Highly qualified consulting and dedicated after-sales service are an integral part of the company philosophy.
Also Read: Which are the most GEOBIM ready countries in the world?
The Schneider Digital product portfolio includes the optimal, professional hardware solution for every requirement in these areas: High-Resolution 4K monitors (UHD), 3D stereo and touch monitors from 22" to 98", VR / AR solutions from desktop systems to multi-display walls. Schneider Digital is the manufacturer of its own PowerWall solution, the 'SmartVR-Wall' and the passive-stereo monitor 3D PluraView. Performance workstations and professional graphics cards from AMD and NVIDIA, as well as innovative hardware peripherals (VR tracking, input devices etc.), complete the offer. Most items are in stock, which guarantees fast delivery and rapid project realization.
Thanks to its excellent contacts with leading hardware and software manufacturers, Schneider Digital has extensive know-how and detailed knowledge for the conception of individual solutions, meeting diverse requirements. Schneider Digital is an authorized service distributor of AMD FirePro / Radeon Pro, PNY / NVIDIA Quadro, 3Dconnexion, Stealth int., Planar and EIZO. Schneider Digital products are primarily used in graphics-intensive computer applications such as CAD / CAM / CAE, FEM, CFD, VR simulation, Photogrammetry, GIS, architecture, medicine and scientific research, gaming design, TV & Movie indistry, animation and digital imaging.
More information at www.schneider-digital.com and www.pluraview.com .