At a time when creepy online games are provoking little minds to commit crimes or worse-'to kill themselves', BBC Travel's GeoGuessr brings a breath of fresh air. The concept, which is based on geospatial technology, presents an exciting challenge for online gamers. The game is a unique blend of geography, geospatial data, satellite imagery and technology. It gives a new dimension to use of geospatial technology.
Google Street View is well-known for its revolutionizing effect on location mapping, and BBC Travel has come up with a unique way of utilizing the technology to make our lives more interesting. With GeoGuessr, it has taken online gaming to a new level. The game is an amazing attempt by BBC to make people, especially children, aware of new locations and fuel their desire to travel and explore more.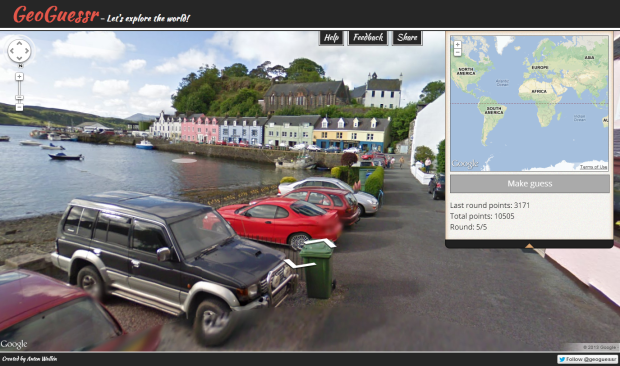 In the game, a Google Street View image is displayed and the player is required to guess the location. The game hooks up the player through its cool features like allowing him to walk through the images to extract clues. Once done through all permutations and combinations, the player needs to click on a location on the small inset map and then submit his best guess by clicking on the "Make a guess" button. The player's geographical knowledge gets tested as the result window displays the linear distance between his guess and the image's actual location. The closer the guess is to the actual location, the higher points the player gets rewarded with. During a game, a player is challenged with five Google Street View images.
Related Links:
While the guessing game is perfect for sole enjoyment, what adds more essence to it is the "challenge a friend" option. By selecting this option, a player can get his friends involved and make the game more exciting. When a player selects the "challenge a friend" option, then a custom URL gets generated and all players are presented with the same five images to guess from. Needless to say, the reward points and consequent morale boosting are directly proportionate to the guess closest to the actual location. What an interesting way to keep the mind challenged! Not only the game enhances the players' knowledge, but also brings geospatial technology closer to human life. Kudos to BBC Travel and Google Street View for putting geospatial data to such a unique use! To enjoy the game click here now!