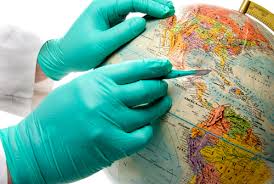 How GIS can help us lead a healthier life? GIS is important for just about everything as everything happens somewhere, and the domain of health is not an exception.
As Este Geraghty, Chief Medical Officer & Health Solutions Director, Esri puts it, "The Science of Where is important for health because we can make use of that information to understand why a disease happens, how it happens and provide access to care. GIS can help us save lives significantly."
Dr Neil Coffee, University of Canberra, corroborates the thought by saying, "Everything occurs in time and space. If we don't understand 'where' the health issues are occurring, we cannot intervene. We can know there is a problem, but if we are not able to gauge where the problem is worse, we cannot target or tailor interventions, we cannot have the best use of the money spent."
Is this new?
Do you know the application of GIS in health began in 400 BC! Hippocrates, the father of medicine, wrote about the connection between health and place in about 400 BC. The importance of place in health has been felt for hundreds of years. Taking a geographic view of health has always helped in developing more effective solutions to mitigate health issues.
Since ancient times, the connection between less income and poor health has been established. Maps have been helping health professionals to judge, within a massive area, where there are people, who are having income below average and where the people are well-off. Once the areas with below average income are identified, these are the places where the need for intervention has been felt more, and accordingly, the efforts have been direct for more productive outcomes.
Dr. Geraghty's words, "People talk about place, location, 'where' all the time. We can use geography and analytics to even get answers to other important questions around 'why' like 'why is it there?' why do we care? 'Where' helps us understand where to allocate our resources and spend our time to solve issues, improve situations. We can be prepared for whatever is coming next," strongly emphasize the power of location in enabling a healthier life.
A favorable trend
The adoption of GIS in health is gaining popularity with every passing day. While the entire world understands the benefits of using visualization for better health outcomes, countries which are showing immense progress in this realm are New Zealand, some states in US and Scandinavian countries.
A flagship undertaking in this area is a new partnership focused on geo-health between the University of Canberra and the Dasman Diabetes Institute (DDI). The aim of the initiative is to tackle a serious public health concern – the disturbing prevalence of type 2 diabetes in Kuwait. Dr. Coffee and his team are building a geo-health data lab in Kuwait, which will help them in studying the variability in the disease's prevalence in the country, and thereby identify and analyze how location contributes to the situation.
GIS helps in identifying locations where specific remedial programs are required. It helps in identifying resources available within the community, identifying gaps and craft out what actions needs to be taken. This kind of application makes GIS invaluable. As Geraghty says, "Do not invest in GIS if it is not giving you any value in terms of money, time or saving lives."
GIS helps in identifying patterns and get insights. It is a platform that gives the health professionals a framework to manage their workflow, everything from data collection, data management to visualization. Accordingly, resources get mobilized most effectively.
The application of GIS brings a plethora of benefits, however, mindset causes hindrance. People are not usually comfortable in sharing health information, this limits research and thus the development of efficient solutions.
Privacy is a concern
Health is personal, and that's why privacy is of utmost concern. Though the value of GIS in solving health-related issues cannot be denied, applications remain limited due to privacy concerns. Most of the people prefer confidentiality over better health and quality of life.
This attitude causes hindrance in carrying out full-fledged efforts in implementing GIS in health and thereby accurately identifying problem areas and taking preventive measures. People need to be able to see the big picture and understand how a small effort from their end can lead to the improvisation of the community's health. Dr. Coffee reinforces this fact by saying, "We understand that privacy is important. But let's consider what is more important in the long term – protecting someone's privacy or ensuring that they have better health and quality of life?"
He feels that there are ways and means which can be adopted to protect confidentially and still find our story. One way could be to have a single framework, a single jurisdiction that allows data collected to be used for research while maintaining confidentiality. People must understand that health professionals are not focusing on the past; they are inclined to use the information to plan out what can be done in future.
Both government and academia have to gear up to play an active role in making GIS in health a more popular concept. While academia can train people to understand GIS in the context of health, the government has to act as an enabler of change by devising stronger policies related to collection and dissemination of health data.
The world is adopting GIS in health, but things need to speed up. The problems are many, but solutions are limited. The mindset needs to change and we definitely need more skilled workforce. We are seeing the application of GIS in public health as well as in social services programs like those related to homelessness. Hospitals and health systems are also using GIS to improve their overall operations and insurance companies are using it to manage risks; the applications are occurring across sectors, but we still have a long way to go!
Also Read