The Bentley Year in Infrastructure last week naturally witnessed a lot of talk about reality modelling and reality mesh. And a lot of times, the terms that came up were virtual reality, augmented reality and mixed reality. Incredibly, these were the terms that even some years back were mainly used in the domains of entertainment and gaming, and today they are important component of the AEC industry!
Three reality modes that are today ruling the world — virtual, augmented and mixed reality — are nothing less than magic. The way these technologies are transporting humans to a virtual world, enabling them to accomplish much more than usual is a world worth exploring. While their application areas remain wide, the transformation they are bringing in the architecture, engineering and construction (AEC) industry is stupendous. Incredibly, these were the terms that few years back were mainly used in the domains of entertainment and gaming, but today are important components of the AEC industry!
So what essentially are augmented reality, virtual reality and mixed reality? Are they the same? Though often used together, and often used interchangeably, there exists some fundamental differences between virtual reality, augmented reality and mixed reality.
All three have one basic thing in common — they fundamentally alter our perception of the surrounding world, or what we are seeing and experiencing. Where they differ is in the extent to which this alteration takes place.
What is Virtual Reality?
As per Wikipedia, "Virtual reality (VR) is a computer technology that uses virtual reality headsets, sometimes in combination with physical spaces or multi-projected environments, to generate realistic images, sounds and other sensations that simulate a user's physical presence in a virtual or imaginary environment. A person using virtual reality equipment is able to 'look around' the artificial world, and with high quality VR move around in it and interact with virtual features or items."
VR replaces your whole worldview with a simulation in some way or another. Usually, the effect is created by VR headsets that consist of head-mounted goggles with a screen in front of the eyes. Facebook's Oculus, Samsung's Gear or Google Cardboard are all VR devices — they involve looking into a headset with lenses that look at a virtual screen. In the simplest of terms, the virtual screen has a stereoscopic view which the eye adjusts to see as a 3D image.
Virtual reality replaces your world with a virtual one — the headset tracks where you are looking and reflects those movements in the virtual display. VR makes you completely immersed in another world and blocks everything else.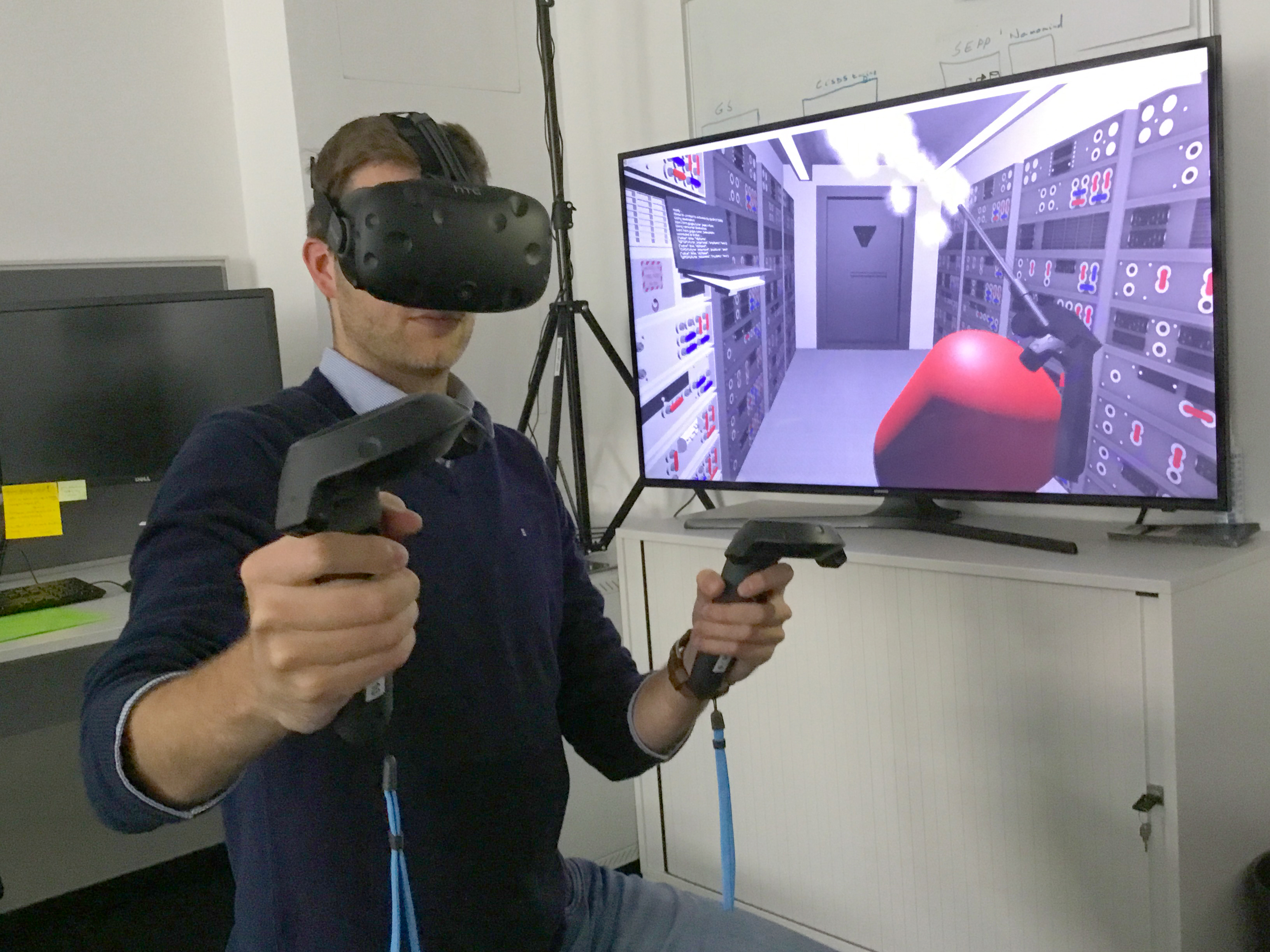 In an interesting case, a team of researchers (Image 1) from the European Space Agency at its mission control center in Darmstadt, Germany, are investigating new concepts for controlling rovers on a planet and satellites in orbit. One approach is to assess the latest developments in augmented and virtual reality and how they can be applied to the stringent operational and safety requirements of spaceflight, both robotic and human. "In one case, we are looking into emerging technologies such as virtual and augmented reality, working together with colleagues from ESA's European Astronaut Centre in Cologne," says Mehran Sarkarati, Head of Applications and Special Projects Section, ESA. The team is developing prototypes in astronaut operations and training while identifying scenarios for interactive spacecraft and robotic control.
The Esri CityEngine released last year allows urban planners, architects, and GIS professionals to quickly create VR experiences on mobile devices. These experiences can be viewed in a free ArcGIS 360 VR app that is available from Esri Labs.
Get to know: Virtual Reality devices – Where They Are Now and Where They're Going
What is Augmented Reality?
Wikipedia description goes: "Augmented reality (AR) is a live direct or indirect view of a physical, real-world environment whose elements are 'augmented' by computer-generated or extracted real-world sensory input such as sound, video, graphics or GPS data. It is related to a more general concept called computer-mediated reality, in which a view of reality is modified (possibly even diminished rather than augmented) by a computer."
Simply speaking, AR supplements your world with digital objects of any sort. Google Glass which is an AR heads, overlays data, 3D objects and video into your vision in some way or another. All this while continuing to let you see the world around you. Airline pilot helmets that display data within the pilot's view as they fly are AR headsets.
Then there are Spatial Augmented Reality (SAR) systems, which are capable of augmenting real-world objects and scenes without the use of special displays such as monitors or head mounted displays. In SAR, digital projectors are used to overlay graphical information onto physical objects, and therefore the display is not linked to the user individually. Because the displays are not associated with each user, SAR allows for collaboration between users.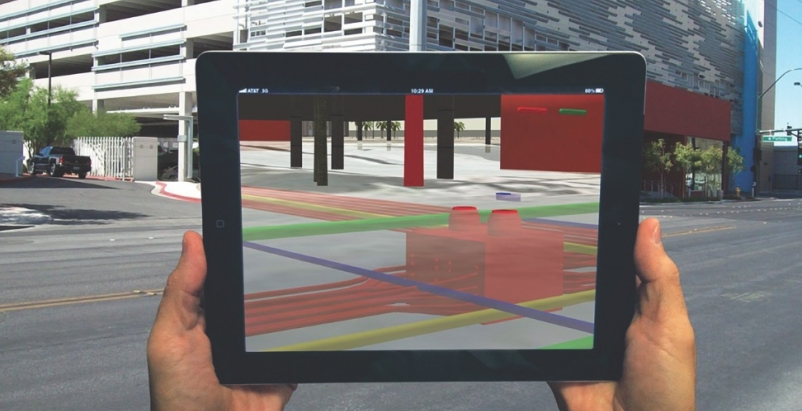 A very interesting example of AR is the Oakland Medical Center Replacement Project (Image 2). To help field personnel quickly access 3D BIM models and other project documents, general contractor McCarthy Building Companies placed hundreds of QR codes throughout the Oakland Medical Center Replacement Project complex. Users simply scan one of the QR codes with a smartphone or tablet computer and instantly immerse themselves in the up-to-date, as-built 3D BIM model or 3D laser scan of that space.Augmented Reality is also transforming the world of education, where content may be accessed by scanning or viewing an image with a mobile device.
What is Mixed Reality?
According to Wikipedia, "Mixed reality (MR), sometimes referred to as hybrid reality, is the merging of real and virtual worlds to produce new environments and visualizations where physical and digital objects co-exist and interact in real time."
Thus, MR integrates digital objects into your world making it look as if they are really there. It is somewhere between AR and VR. Mixed reality takes place not only in the physical or the virtual world, but is a mix of actual reality and virtual reality, encompassing both augmented reality and augmented reality via immersive technology.
MR produces new environments and visualizations where physical and digital objects co-exist and interact in real time. The best example of MR is Microsoft Hololens.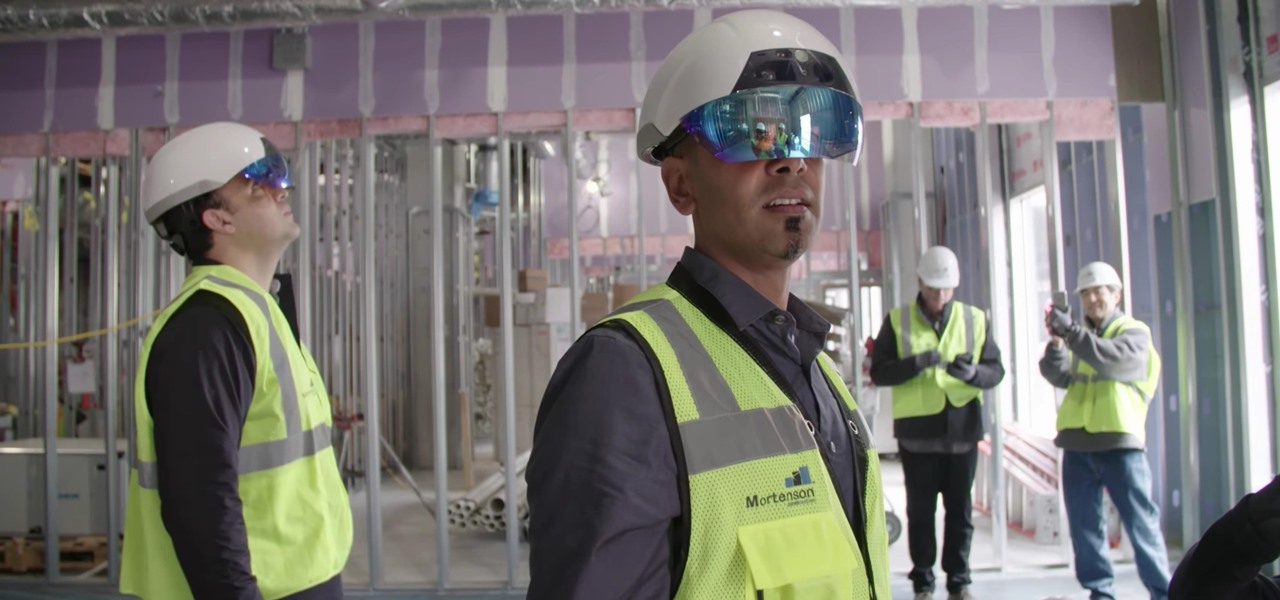 Another interesting example of MR is Trimble's DAQRI Smart Helmet that integrates mixed reality applications to enable companies from architecture, engineering, construction, and operations industries see first-hand how the applications can improve team communication, data interpretation, and collaboration in their work.
The first fully immersive mixed reality system was the Virtual Fixtures platform developed at US Air Force, Armstrong Labs in 1992 to enable human users to control robots in real-world environments that included real physical objects and 3D virtual overlays called fixtures.
Microsoft further escalated the mixed reality battle with the launch of its 'Windows Mixed Reality'. Windows Mixed Reality is available in the Windows 10 Fall Creators Update, and headsets are now available to buy. While Microsoft has called its product 'Mixed Reality', they are only capable of virtual reality experiences right now. Microsoft has picked the Windows Mixed Reality name because it believes the experiences of virtual reality and augmented reality (HoloLens) will eventually blend together. While the existing Windows Mixed Reality headsets don't offer any augmented reality experiences or a passthrough mode like the Gear VR, more headsets will arrive in the future that are more capable.
Of all the realities discussed here, mixed reality seems like the furthest from fruition. Reality-altering terminology gets a little confusing at times as these different technologies definitely overlap. Augmented reality and mixed reality, specifically, share a lot of space and similar use-cases.
While MR devices can be described as AR, MR offers a more specific definition. It can be considered a sub-category of advanced AR, as MR augments the reality one sees but in a far deeper and integrated fashion. While AR provides an added layer on top of reality that one sees, MR mixes everything more seamlessly and provides a greater amount of user interaction.
---
Read More:
World's first Augmented Reality drone flight simulator app launched by Epson
GeoWrap: Australia signs space treaty; What is AR, VR and MR and more