The adoption of BIM is increasing worldwide as the construction industry is becoming largely aware of the benefits it offers.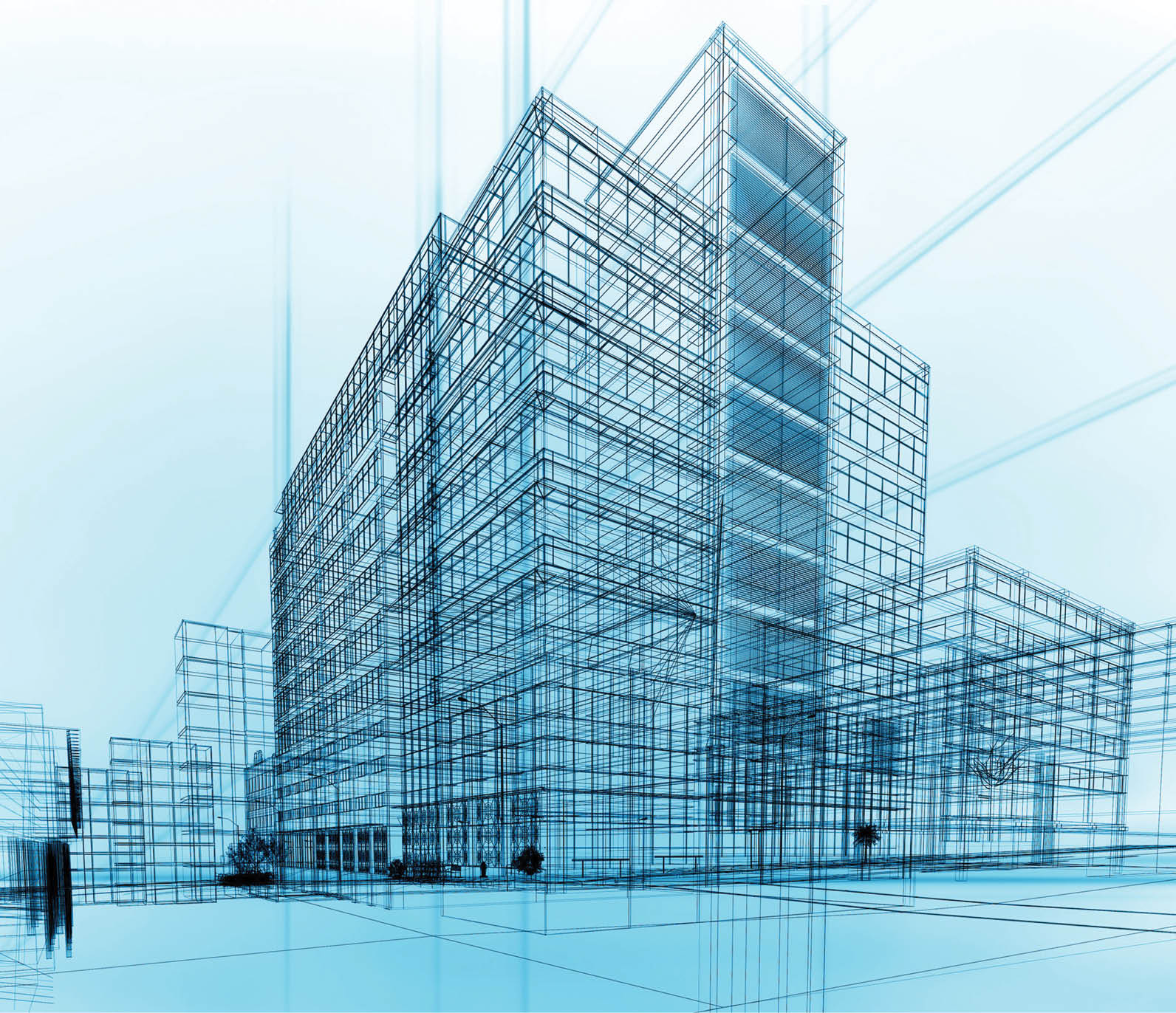 It was 1963 when Ivan Edward Sutherland, an American computer scientist and Internet pioneer, considered as the "father of computer graphics," developed "Sketchpad" the first computer-aided design (CAD) with the graphical user interface. Sketchpads led the way for human-computer interaction but more than that it broke the new ground for modeling programs in the construction industry.
During the '70s and '80s, Sketchpad further established the computational representation of geometry in terms of construction tech that allowed the ability to display and record shape information. With further developments taking place, Robert Aish published a paper in 1986 and documented the word Building Modelling which became Building Information Modelling or BIM that we now know today in a paper "Automation in Construction" published by G.A. Van Nederveen and F. Tolman in December 1992.
Since then the BIM is metamorphosing the construction industry. The world around is taking the technology hand on to get easy on the construction site. With urbanization taking new height every day and everywhere, and smart cities gaining momentum, countries around the world have now started paying more attention to its adoption. Adoption of BIM can make a country rich on the infrastructure side, making it set an example to others.
Let's have a look how different countries around the world are faring in BIM adoption.
United Kingdom
At this time, UK has the most striving and radical BIM strategy in the world that aims to enhance the global image of UK designers, contractors and product manufacture to translate winning new work, growth opportunities and increased employment in the country. If you are not BIM Level 2 complaint, you just cannot get your hands on any government project in the UK. So, just imagine the prominence of BIM in the UK.
The UK has a window of opportunity to capitalize on the success of its domestic program and to take on a global leadership role in BIM exploitation, BIM service provision and BIM standards development.
The government's drive for BIM has accelerated the adoption rate. The UK government mandated BIM in April 2016 in every construction project which requires that all projects funded by central government be delivered with 'fully collaborative 3D BIM'. As the mandate has come into force, there has been a rise in levels of BIM adoption.
According to National BIM Report 2018, 20% of the industry has adopted BIM since 2016 mandate. Almost three-quarters are now using BIM, a 12% increase since last year, which is the highest year-on-year growth since 2014.
BIM is now an important factor for all larger organizations, and this is now sifting down to smaller organizations as well. Smaller practices are less likely to have adopted BIM than others. As per the report, 80% of medium practices (16 to 50 staff) and 78% of large practices (51+ staff) have adopted BIM. Yet two-thirds of smaller practices (with 15 or fewer staff) describe themselves as having adopted BIM. It looks like the benefits of BIM are there for practices of all sizes. Whilst 80% of practices carrying out health or education work have adopted BIM, and 83% of those doing 'mixed-use' work, practices carrying out less complex work use BIM too. 67% of those practices carrying out 'one-off new house, extension, conversion or alteration' have adopted BIM. Here BIM is not just limited to large practices or more complex projects but it is prevalent everywhere.
Singapore
In Singapore, BIM is identified as a key technology that eases its journey towards the smart nation. Thus, the Building and Construction Authority (BCA) and building SMART Singapore has been promoting the use of BIM in the construction industry. In 2010, BCA drafted a BIM Roadmap with the aspiring objective that at least 80% of the construction industry uses BIM by 2015. To make this successful it mandated BIM electronic submission making it compulsory for practitioners to submit architectural or engineering plans in the BIM format for regulatory approval.
In recent years, the government of Singapore, through the BCA, has highlighted productivity in the construction industry and initiated a Construction Productivity Roadmap to transform the construction industry and raise its productivity. Because of the potential to enhance construction productivity, driving BIM adoption has been seen as one strategic thrust.
The BCA came up with the second roadmap which aims to drive BIM collaboration throughout virtual design and construction. Under this, a new training program has been designed at all levels to create exciting and experiential learning for VDC. The roadmap focuses on the use of BIM for Facility Management and Smart City.
Also Read: 3D modeling 2.0: Re-imagining the contours of construction
USA
While actual BIM implementation and utilization of BIM took place in 1990s all around the world, the US started using it since 1970s. But, being an early adopter does not always work. The adoption rate of BIM gradually slowed in the US to a speed that countries that were slower in adoption took lessons from the United States and avoided some of the issues that the country encountered.
Till date there is no mandate from the government side to use BIM. Nonetheless, that doesn't mean the country is not taking the technology seriously. Many government departments have created their own criterion and published them to forums such as the National Institute of Building Sciences, but these standards are created independently with no relationship to one another. The US General Services Administration (GSA) formulated the National 3D-4D-BIM Program way back in 2003. This program established policy mandating BIM adoption for all Public Buildings Service projects.
Wisconsin became the first state to mandate BIM on publicly-funded projects with a budget of over $5 million. Moreover, success stories like the Los Angeles Community College District (LACCD) indicate the potential of BIM adoption.
Slowly but gradually, the US is moving on the right track in BIM adoption. Over the past years, BIM has become an important tool in US Architecture,
Engineering and Construction (AEC) industry. Increased private funding of construction projects and the US government's aim to support investments in infrastructure, opportunities are awaiting companies specializing in BIM.
The US government has recently released a plan that includes $200 billion in federal money over the next decade to spur an additional $1.3 trillion in spending from cities, states and private companies on major infrastructure projects. With expenditure reaching over 1.1 billion US dollars in 2017, the United States is one of the largest construction markets worldwide. Key market characteristics such as a growing urban population and increased government spending pose a great opportunity for companies specializing in the latest technological achievements within the industry.
EU
The road to BIM implementation in Europe is making good progress. Companies, academics, professionals and governmental institutions are showing great interest in the technology. They are zealous to know how other geographies are implementing BIM so that they can have balanced understating of BIM and can also take lessons from them to implement it right in their own country. There are several targets, mandates and national strategies here to influence professionals so that they shift towards digitalization in the industry and have a common language of BIM. Europe understands that collaboration across borders and standardizing common practices is the key to success and the government is playing a good role in it.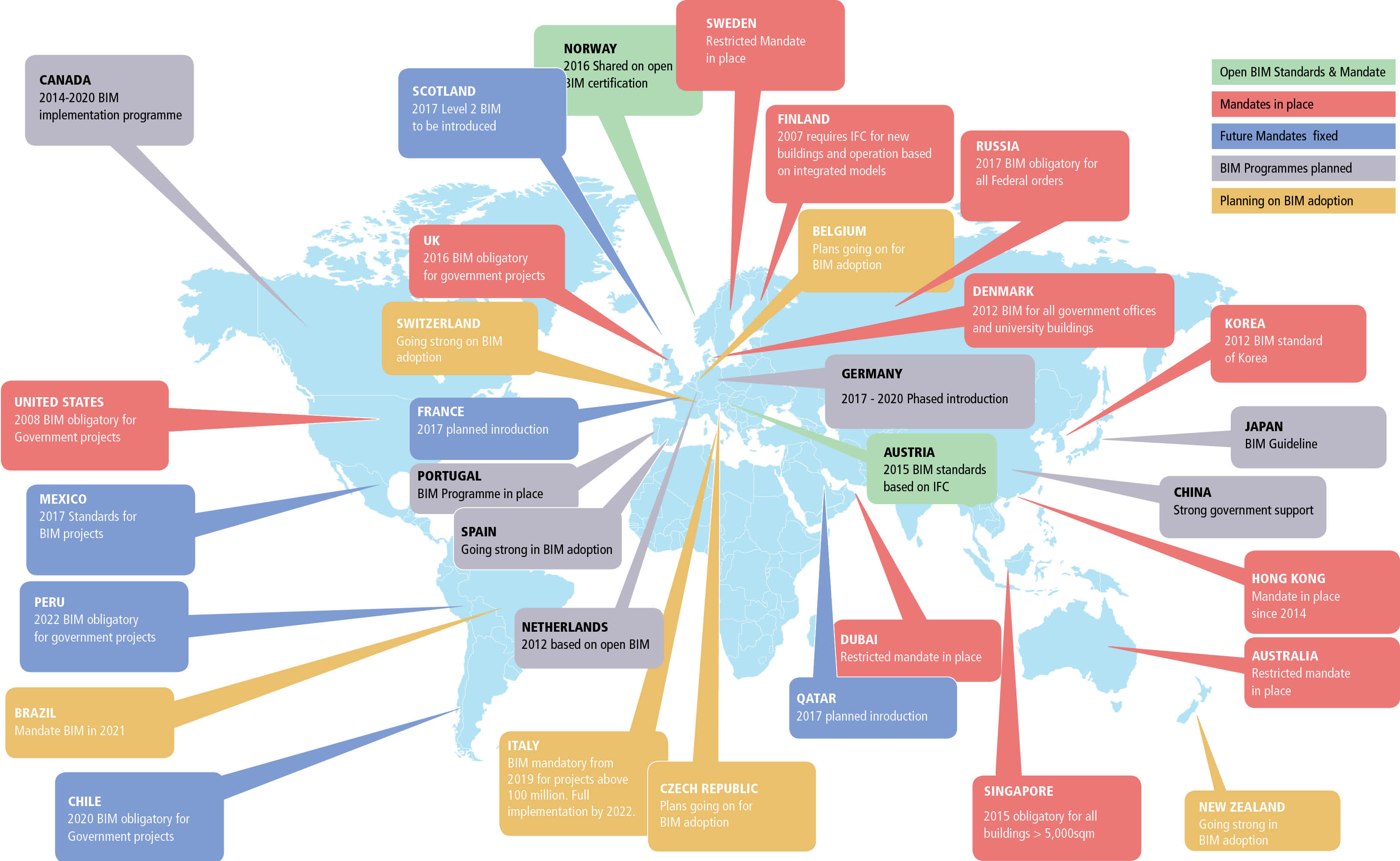 In 2016, the EU BIM Task Group was established with an aim to bring together national efforts into a common aligned European approach so that a world-class digital construction sector could be developed. The task of the EU BIM Task Group was "to deliver a common European network aimed at aligning the use of Building Information Modelling in public works". The formation of the group has brought in exciting developments in the adoption of BIM in the continent. Different countries are moving at different pace.
France
In 2014, the French government launched a research and development project in the construction area called MINnD to develop BIM standards for infrastructure projects. In the same year, the government also decided to develop 500,000 houses using BIM by 2017. In 2015, the government allocated a budget of €20 million to digitize the building industry. The initiative was a part of the government's Digital Transition Plan for the construction industry.
Taking things further, in 2017, France mandated BIM. The official French standardization roadmap was made public in April 2017 as part of the French strategy for digitizing the construction industry. The objectives include improving the quality of exchanged data, deadlines and reducing overall project costs.
Also Read: Geo-BIM data integration: Easier said than done?
Germany
Keeping pace with the changing times, in 2015 the German government announced the formation of the Digital Building Platform — a BIM task group created by several industry-led organizations to develop a national BIM strategy.  The official government statement talked of  "standardizing of process and device descriptions, develop guidelines for digital planning methods and provide sample contracts." The government is playing a great role in BIM promotion and is all set to make it mandatory for public infrastructure projects by 2020.
Denmark
A strong demand for BIM due to the savings and quality of service it can offer is driving increasing BIM adoption in Denmark. Most, if not all, large-scale projects are increasingly using BIM in Denmark. Even municipalities are moving their portfolios over to digital platforms. The government has been a leading player in requiring BIM. Semi-government bodies set the standards and play a leading role in raising the bar to workable solutions. Classification systems are promoted, which sets the criteria for cross-disciplinary projects to flourish. Denmark is seen as an early adopter in BIM, VDC and prefabrication.
The Netherlands
BIM has seen an unprecedented uptake in the Dutch AEC industry. Fostered by large public clients (such as the Central Government Real Estate Agency), which prescribed the use of BIM, the Netherlands has one of the highest BIM adoption rates in the world. A number of open protocols (or standards) for processes, data formats and/or semantics are in use that support the extent to which BIM systems can exchange, interpret and share data. VISI is a Dutch standard that forms the basis of communication and information exchange between building parties. COINS (Constructive Objects and the INtegration of processes and Systems) refers to a Dutch integrated, complementary standard for exchanging digital information and with support for Systems Engineering. CB-NL is a Dutch standard that connects object libraries for objects and spaces in the built environment.
As one of the biggest public clients in Europe and leader in BIM implementation today, Rijkswaterstaat, the Dutch General Directorate for Public Works and Water Management is responsible for design, construction, management and maintenance of the main infrastructure facilities in the Netherlands. Having defined BIM as 'Better Information Management', the government agency is paving the road for using openBIM standards on all infrastructure projects in Europe.
Spain
BIM is not yet mandatory in Spain. However, the Spanish construction industry has also been subject to EU Directive 2014/24/UE.  Since 2014, according to this directive, the member states are invited to encourage and require the use of BIM in construction projects financed by EU public funds as of 2016.
In 2015, the Ministerio de Fomento (Ministry of Development) created the "BIM Commision" with the main mission to establish a roadmap for the BIM methodology implementation in Spain. A strategic timetable for BIM implementation has been set. BIM use is supposed to be mandatory in public construction projects from December 2018 and in infrastructure projects by July 2019.
Austria
Austria started with BIM standards in 2015, and over the last years ASI (Austrian standards) has developed a series of standards for the implementation of BIM. The latest product is A 6241‐2 introducing BIM Level 3 to the Austrian market. However, the adoption is not happening at the desired pace. Not many contractors are there who are able to work with BIM and not enough BIM coordinators are available today.
Norway
Norway has been one of the early adopters. Public sector BIM standards or requirements are already in place for Norway. It has been a partner in the development of openBIM standards and has worked with the 3D part of BIM on public projects for at least a decade. The Nordics are also making progress on Singapore-style systems to automate building approvals and planning permission.
Italy
The Italian Ministry of Infrastructure has introduced an initial plan for making BIM mandatory from 2019. But this would apply solely to projects above 100 million. Following this initial plan, the country is likely to see a full implementation by 2022. This is when BIM will become mandatory for all public procurement projects. However, smaller projects, such as residential buildings without special security requirements, will continue to be executed using traditional methods.
Overall, BIM adoption is picking up in the EU. Many groups are driving a digital agenda for infrastructure. For having a future enabled construction sector within the respective country, some of them are even seeking UK's support.
China
There is enthusiasm in China about BIM but they still have a long way to go. China began its expedition of BIM information in the year 2001 when the Ministry of Construction, the predecessor of Ministry of Housing and Urban-Rural Development, MOHURD proposed Basic Points of Informatization Work in Construction Field in its 12th Five-Year plan. However, this was just a suggestion rather than mandate so the level of take-up in the early stages was slight. Since then MOHURD has delivered its thirteenth Five-Year Plan which runs from 2016 to 2020. According to the plan, by the end of 2020, a survey and design unit, premium and class building construction enterprise should master and realize BIM's integrated application with enterprise management system and other information technologies.
However, Hong Kong is a way ahead in BIM adoption. Many government departments here are now focusing on UK Level 2 Standards and providing training for the same.
Japan
Although the use of BIM has been spreading over past years, the progress of formal BIM implementation in Japan is slow. The Ministry of Land, Transport and Tourism (MLIT) is the Japanese government agency for building and construction. MLIT announced BIM pilot projects in 2010. It issued the BIM guideline in March 2014, which is the only national BIM Protocol by 2017. This MLIT BIM guideline is applied to the public projects when a contractor (architect or builder) implements BIM by his own decision, or when proposal-based technical studies are needed. The use of BIM is not mandatory as per this protocol.
The Japan Institute of Architects (JIA) issued a BIM guideline in July 2012. This protocol focuses on the concept and potential use of BIM. JIA BIM guideline provides much more extensive coverage than the MLIT guideline. Another BIM Protocol is the Standard Process Map for BIM Project issued by Architectural Institute of Japan in 2015.
Japan Federation of Construction Contractors (JFCC) has been working on centralizing the knowledge on BIM implementation by contractors and builders. After multiple publications for construction BIM, the summary of construction BIM in Japan was made available on November 2017 as "Encouragement of Construction BIM — a startup guide". The summary provides concrete examples on how to implement BIM in construction projects.
Even though multiple BIM Protocols are available in Japan, the adoption remains slow. To grow BIM adoption in construction, it is necessary to develop an industry-wide BIM Protocol based upon active information exchange.
UAE
In 2013, the Dubai Municipality issued circular (196), which mandated the use of BIM (Building Information Modelling) for architectural and MEP work on certain projects. This was subsequently widened by circular (207) in 2015 to include architectural and mechanical works for buildings that are above 20 floors, buildings, facilities and compounds with areas larger than 200 thousand square foot, buildings and special facilities like hospitals and universities, governmental projects, and projects by foreign offices. However, till date, few standards have been developed for the use of BIM in the UAE.
Keeping in view the benefits, the construction industry in the UAE is increasingly adopting BIM. A survey conducted in Herriot-Watt University in 2015 of over 500 AEC professionals working on UAE construction projects, revealed that 87% had used BIM in their organizations and 62% had used BIM for more than one project. 52% believed that BIM is going to be used commonly in the UAE in less than 5 years.
This progress has not, however, been accompanied with a standardization of the BIM process across the UAE construction industry. A lot remains to be done to enable higher adoption.
Australia
The BIM initiative in Australia is highly infrastructure-driven, with transport and infrastructure bodies coining the term 'digital engineering'. The level of BIM adoption here is wide-ranging and fragmented at the same time. The small continent is looking at detailed approaches to BIM in a very technologically savvy way. Some private sector clients are adopting BIM as 'business as usual' and are implementing technology at faster rates. In the public sector, standards, such as PAS1192-2 are being used as a basis for adoption. However, lack of skill and work in isolation is fragmenting the adoption.
In this, Australian government departments are playing a role too. Each department has its own process and strategy, working in isolation from other departments. This causes confusion in the supply chain, with companies left struggling to understand different approaches, processes and information requirements for each department and state. There is no consistent methodology to measure the level of maturity here, and thus both public and private sector clients are looking to the UK for support and guidance to leapfrog.
Brazil
Following a BIM roadmap, Brazil is going to mandate BIM in 2021.The Strategic Committee for the Implementation of BIM (CE-BIM) and a Technical Support Group (CAT-BIM) were established in Brazil in June 2017. The committee comprised of six ad hoc groups dealing with subjects of regulation and standardization, technological infrastructure, BIM platform, public purchases, training of human resources and communication.
Although BIM is not yet mandated at any level, industry reports such as "The Business Value of BIM for Construction in Major Global Markets", published by McGraw Gill Construction in 2013 and a study conducted by a local BIM consultant, show that BIM adoption is very advanced among contractors in Brazil (34 or 85% of the respondents from a total of 40 contractors). The same industry report shows that as opposed to other countries, the use of BIM in Brazil is focused more on cost control at the construction phase rather than on collaboration with owners.
Also Read: Software developers provide new opportunities to construction industry
India
Better late than never, this proverb fits rightly for India when it comes to BIM adoption.
The Architecture, Engineering, Construction, and Operation, (AECO) industry is the second largest industry in the country. To make it successful, slowly but gradually India is focusing on BIM. The country comprehends that BIM can be a very effective and cost-cutting technology, but it is still implementing it at the design level. Both the public and private sectors are very enthusiastic about BIM. In the public sector, Nagpur Metro Rail project is the best example that adopted 5D BIM technology for the successful completion of the project.
Today, the understanding about BIM has increased in the country. Clients and the construction industry are aware that BIM can provide them with the minutest information involved in the construction of a building. However, the country needs to work on the awareness level. The majority of the users are limited to design and engineering organizations.
Just a matter of time
Keeping in view the tremendous benefits in terms of reduced cost, time and efficiency, the adoption of BIM brings to construction projects, almost every part of the world is readily embracing the technology. It's just a matter of time when BIM techniques will completely replace the traditional methods of construction, world over. We are now even moving towards adoption of AI in the construction industry!
Watch more
What are the benefits of BIM and GIS assimilation?
Digital Construction: Uses and Applications