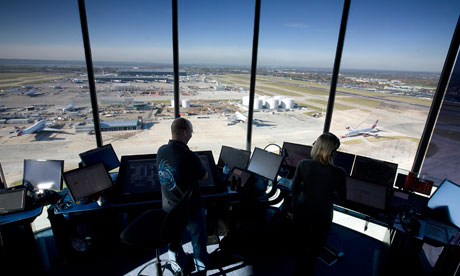 UK: The National Air Traffic Services (NATS) of the UK is willing to become a partner in India's Air Navigation Services, which the government is planning to hive off as a part of the civil aviation ministry's restructuring plan to set up a specialist entity to running air navigation operations.
Niall Greenwood, managing director, Asia Pacific of NATS said the company will like to be a part of the operations what with India being the fastest growing aviation market in the world. Greenwood said that rather than 100 percent ownership, the company intends to form a joint venture or partnership with an Indian public or private entity to provide training and technological inputs.
"We will certainly look at it as we will like to be part of the operation. I think the strength will be in collaborating with an Indian business that will be interested in the service. We will be interested in some form of joint venture, bringing in technology inputs, and training services," Greenwood said in an interview with Business Standard.
NATS currently held by joint ownership of the UK government (49%), airlines and private players was one of the first ANS service to privatise itself. The company provides air traffic navigation services to aircraft flying through UK controlled airspace and at numerous UK and international airport. With the London airspace being one of the busiest in the world, it handles around 6,000 flights per day.
"We handle around 60 flights per hour which means the frequency is less than a minute, we have particular experience to handle high impact operations especially in Indian airspace," Greenwood said.
With 20 percent growth India has become the fastest growing aviation market in the world due to cheaper fuel leading to affordable ticket prices. Anticipating surge in traffic, Indian airlines have put in sizable aircraft orders which when delivered will put more pressure on air traffic services. IndiGo and GoAir has 430 and 144 Airbus A-320 on order.
This has led to the government restarting the process of examining the necessity to hive off ANS services from AAI. Air traffic services in the country are so far the sole domain of airport regulator Airports Authority of India (AAI) and the largest source of that agency's revenues. AAI earned Rs 2581 crores from ANS services in FY 16- 23 percent out of its total revenue of Rs 10,824 crore.
In June the government has set up a two-member expert panel, led by former civil aviation secretary Ashok Chawla to explore ways to hive off air navigation services into a separate entity. Over concerns, that privatising air navigation services may lead to rise in charges, Greenwood said that the government can play a role in fixing an optimum charge.