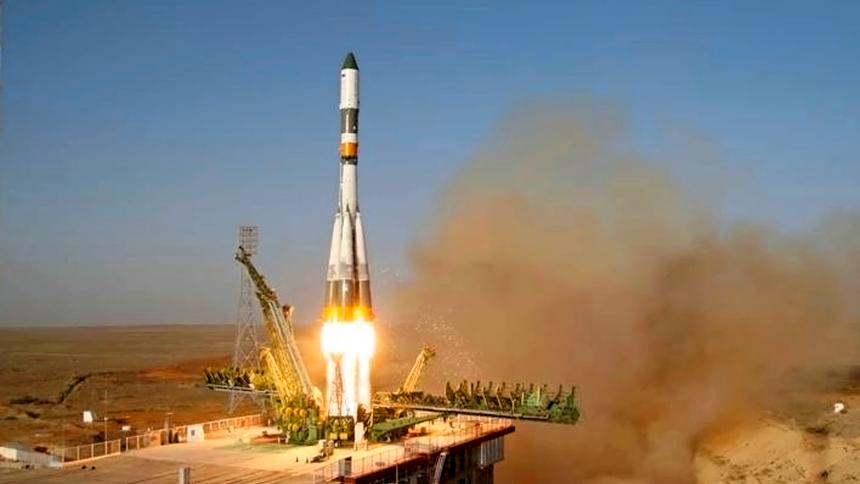 Russia: On Friday, Russian Soyuz rocket thundered into clear skies over the Baikonur Cosmodrome, embarking on all 73 payloads of Russia, the U.S., Japan, Germany, Norway and Canada. The satellites launched a range of satellites from Earth-imaging & ship-tracking satellites to technical demonstrations and an 'orbital lighthouse' that could become the brightest artificial object in the sky.
The Soyuz 2-1A rocket lifted off from Kazakh Cosmodrome at 06:36:49 UTC. Powering away from Earth, Soyuz dropped its four liquid-fueled boosters two minutes after its landing and deployed all its satellites into the targeted orbits.
Friday's mission marked the biggest cluster mission in Soyuz's five-decade service history but did not come close to the world record for the most satellites launched in one go, set by India's PSLV this February when it launched 104 satellites, which include 101 CubeSats.
The secondary payload rideshare opportunity was managed by Glavkosmos, a subsidiary of Roscosmos State Corporation established to commercialize Russian space technology. Glavkosmos hopes to become a major player on the commercial launch market by offering low-cost launch opportunities for small satellite operators on Russia's reliable Soyuz launch system.
The company cites its ability to flexibly manifest payloads on different Soyuz missions, deploy satellites to optimized operating orbits and a competitive launch price as its major selling points as well as the reliability record of the venerable Soyuz booster.
Up to 120 secondary payloads are manifested by Glavkosmos in 2017 – the majority of which lifted off on Friday with another two launches planned from the Vostochny Cosmodrome toward the end of the year. The company hopes to continue at a cadence of three missions per year with at least one headed into Sun Synchronous Orbit, the preferred destination of the world's imaging and ship-tracking satellites.
Glavkosmos bets on cutting out the middle man – directly working with small satellite operators to manifest missions instead of going through a launch broker that collects small satellite missions and contracts rideshare packages to a launch provider. The company says this will allow for individual payloads to be flexibly moved between Soyuz missions as needed by the customer and create a more competitive launch price.