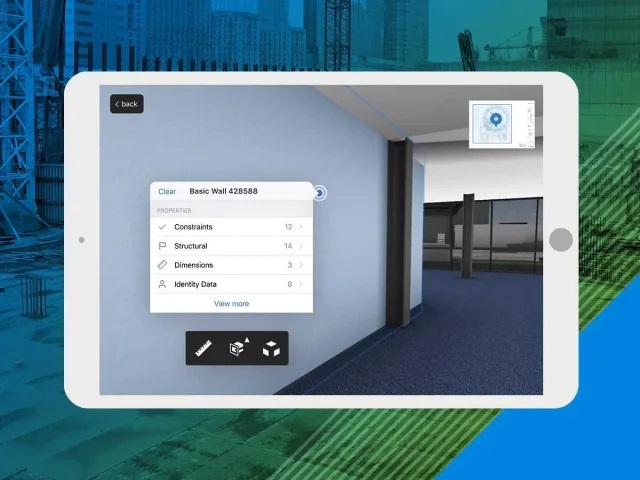 USA:  PlanGrid has released a new integration with Autodesk: PlanGrid BIM, which lets users open BIM models inside of PlanGrid on their phones and tablets. The announcement is the first after Autodesk acquired PlanGrid last year.
PlanGrid was created in 2011 with the goal of giving users more convenient access to construction paperwork, making blueprints, punch lists and submittals available on the cloud. The reason for cloud storage was twofold: allowing users to access paperwork on mobile, and ensuring that project groups could know they were all accessing the same version of the documents. Earlier PlanGrid software collected PDFs and photos, and now the latest product allows it to access BIM models.
Users have two options to access rich material data like height and material type: either open a 2D view of the model, or directly open the model in 3D (see above image).In keeping with PlanGrid's impressive offline offerings, the platform lets users transition to a 3D view of a specific object, even when offline. According to Autodesk, the switching capability is "basically like going from a 2D Google map view to a 3D street view."
PlanGrid BIM is the company's first major announcement since they were acquired by Autodesk in late 2018 for $875 million. Since the acquisition, the company has continued to exist as a semi-independent entity, led by former CEO Tracey Young. In the new software, the collaboration between the two companies has allowed for a direct Revit integration, letting users publish sheets and models directly into PlanGrid.
As of PlanGrid BIM's release, both companies still find the semi-independent partnership useful. "This joint initiative, the first of many following our acquisition of PlanGrid, will help Autodesk fulfill our mission to deliver a comprehensive, integrated platform that seamlessly connects the office, the trailer and the field," Jim Lynch, vice president and general manager, said.