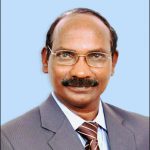 Bengaluru: K. Sivan took charge as the new Secretary, Department of Space, Chairman of the Indian Space Research Organisation and the Space Commission on January 15. On this occasion, Dr. Sivan said that he took charge from the former ISRO chairman A.S. Kiran Kumar at a low-key event.
"I plan to work from Thiruvananthapuram for a few more days to clear important files, and will move to the headquarters on January 22," Dr. Sivan said.
A Ph.D in aeronautical engineering, Dr. Sivan is the ninth head of the space establishment.