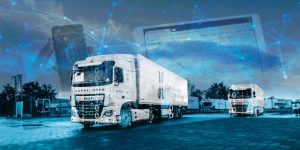 US: Intel and Simacan* are working together to enable so-called "digital corridors" for truck platoons along the highly congested "Tulip Corridor" routes that connect North Sea shipping ports to Germany's industrial Ruhr Valley. The platoons are enabled by Simacan Control Tower,* a cloud-based logistics solution that uses Intel® Xeon® Scalable processors to analyse huge amounts of real-time data.
In truck platoons, a collection of trucks equipped with state-of-the-art driving support systems follow each other in close formation. The trucks include smart technology and are communicating among one another, as well as to the drivers, to enable them to stay in close formation.
Intel-powered Simacan Control Tower software delivers a detailed operational picture featuring vehicles of multiple carriers. It includes traffic and vehicle condition updates, predicted arrival times, and automatic geofence detection. Based on this information, Simacan shares real-time notifications on planning, routing and arrival times, and delivers post-trip analyses based on the data gathered.
"With the Simacan Transport Cloud and Simacan Control Tower, we constantly merge and analyse millions of data points out of logistic planning systems, onboard vehicle systems and intelligent traffic management systems in real time," said Rob Schuurbiers, CEO of Simacan. "With the support of Intel's extremely high-performance technology, we succeed in meeting and surpassing our customers' expectations."
Results from the initial trials have already indicated the potential benefits of the platooning approach. Traffic flow for the platoons was improved by 10 to 17 percent. Applied to the working lifespan of a truck of 175,000 kilometres, this equates to a saving of 6,000 litres of diesel per truck, beneficial for the operators and for the environment.