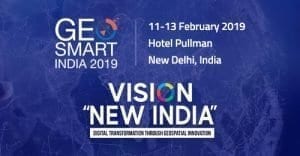 India: Geospatial Media and Communications has announced that 'FARO', the world's most trusted source for 3D measurements, imaging and realization technology as a Gold Sponsor at GeoSmart India 2019 scheduled from 11th-13th February'19 at Hotel Pullman, New Delhi. FARO possess decades of experience in the manufacture and marketing of laser measurement and 3D imaging solutions which can build a smarter and more sustainable urban world.
GeoSmart India with its futuristic themes is considered to be the most prominent stakeholder event of the Indian geospatial ecosystem. Moreover, it demonstrates the collective and shared vision of the Indian geospatial community. GeoSmart India uses geospatial technologies as a backbone to set up systems that are efficient, comprehensive and inclusive. This will give rise to a digital world where efficient and smart systems will enable a clean, healthy, educated, complete, able and secure India.
"FARO is very pleased to support Geospatial Media and Communications and GeoSmart India has been an excellent platform that brings together the geospatial community to share, exchange ideas and network with the goal of fulfilling a common vision of a smart and efficient digital world in the future", stated Beng Chieh Quah, Head of Marketing, APAC, FARO.
"I am honoured to have FARO as a Gold Sponsor for GeoSmart India 2019 as they can enable mankind to easily and accurately connect the physical world to the virtual world by providing 3D solutions which holds significant importance in fulfilling our vision of creating "New India", said Anamika Das, Vice President, Outreach and Business Development.