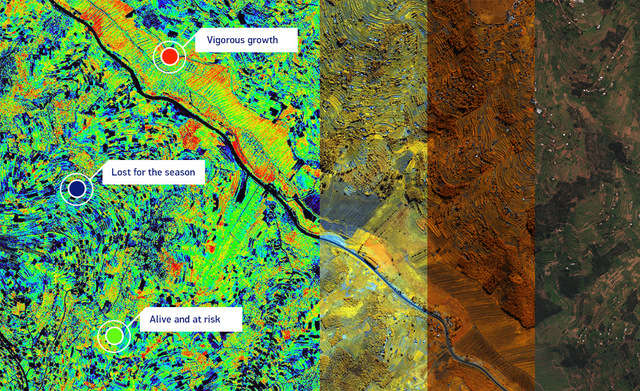 US: CGIAR's geospatial scientists will mine DigitalGlobe's 100 petabyte imagery library using machine learning and the computational power of GBDX to create more sophisticated baseline datasets in agriculture, plan new projects and monitor crop health, crop yield and the environmental impacts of farming. In addition, GBDX will fuel CGIAR's research and development efforts to improve agricultural information products and create new ones.
With the support of CGIAR's Platform for Big Data in Agriculture, the scientists are leveraging GBDX to examine:
1.Land tenure: By finding and identifying parcel delineation, the scientists will aid families in securing property rights and helping communities mature and prosper. The group will initially examine India, Ethiopia and West Africa.
2. Crop yield estimation and crop production estimation: By predicting and measuring the availability of food, particularly staple crops like rice, the scientists will help regions move away from food insecurity.
3. Water resource conservation: The scientists will model water use and quality of watersheds. The resulting outputs will be paired with high-resolution imagery to inform farmers of the right times to irrigate their fields in South Asia.
4. Pest and disease monitoring: The scientists will predict the spread of crop pests and disease to develop early interventions. They will initially focus on the spread of the fall armyworm insect in sub-Saharan Africa, which has affected a dozen countries in one year.
"By combining DigitalGlobe's best-in-class imagery and our GBDX machine learning platform with CGIAR's global footprint and domain expertise, we will collaborate to create technical breakthroughs for farmers around the globe," said Amy Minnick, DigitalGlobe Senior Vice President and General Manager of Commercial. "Together with CGIAR, we'll design machine learning solutions that will change the lives of farmers, their communities, and therefore, the planet, helping us all see a better world."
"Partnering with DigitalGlobe delivers a clearer picture than ever before of land use, natural resources, crop lands and much more, which we need to develop the strategies to build lasting food security worldwide," said Brian King, Coordinator for the CGIAR Platform for Big Data in Agriculture. "We are confident our work in GBDX will unlock the creative and innovative minds of CGIAR's researchers and help them catalyze digital agriculture, leading to a better quality of life across the developing world."