"You go away for a long time and return a different person – you never come all the way back."
― Paul Theroux
Journeys that compel us to introspect and leave us stunned are not beatific odysseys or intrepid sagas peppered with swashbuckling antics, but there is unvarnished truth-telling that emerges from them.
Certain travels are meant to challenge the way we perceive things, give us a fresh outlook on the stark reality and the 'many worlds' that coexist, albeit in isolation from one another, yet locked in an inexplicable interdependence.
One such journey was undertaken by me when I decided to visit villages in the states of Odisha and Gujarat to document the impact of land rights on women.
Having lived all my life in urban spheres –and currently based in Noida, an urban conurbation of India's capital, New Delhi – I had a faint idea of what life in India's hinterlands would actually be like. What all I had heard or read about Indian villages invariably oscillated between stereotypes about the idyllic romanticization of some quasi mimic Gandhian fad of the yore or villages being hotbeds of squalor, decrepitude, poverty and exploitation.
Socio-economic constraints, policy bottlenecks and the glaring disparities in the country aside, the situation of women in villages is a study in contradictions and unmatched determination.
Because of our urban-centric approach, lots of pressing issues concerning women are either airbrushed or get relegated to footnotes, making it all the more difficult to understand the situation of a woman in a disadvantaged situation and relate with her without rose-tinted ideological lenses, or constricting blinkers.
Pitaladhua – a story that needs to be heard aloud
On a sweltering summer day in the mid of April, I started from Noida and reached Bhubaneshwar in the night. Next morning, I had to start early to reach the village.
Anticipating whether the village would fit in the vague image I had in my mind, I started off from Bhubaneshwar with rising mercury level and the unbearable humidity. My destination was an obscure village called Pittaladhua whose name I was hearing for the first time.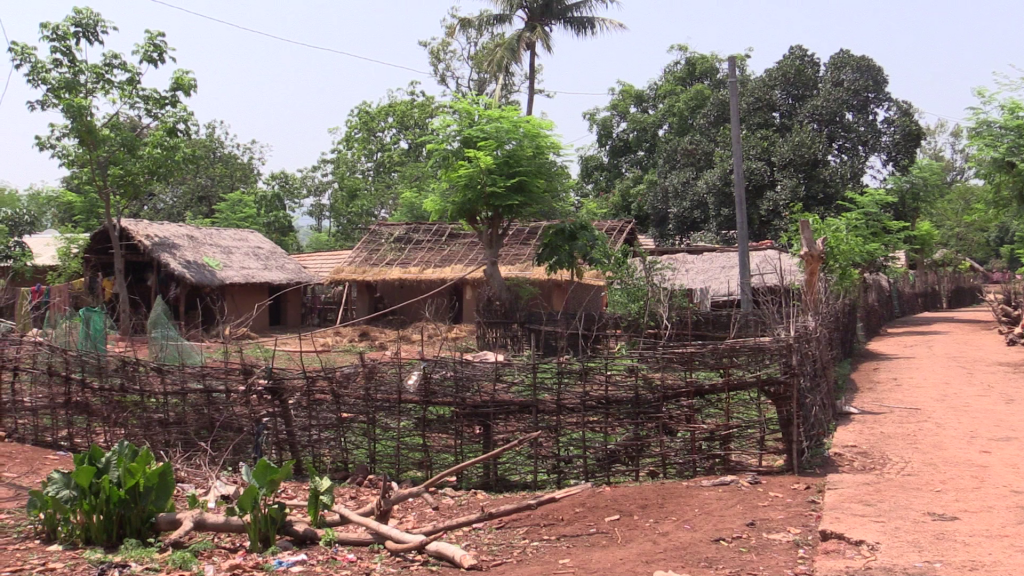 Pitaladhua village in Dhenkanal district, Odisha, is a cluster of tiny hamlets, which seems to be a self-contained world in itself, with no outward trappings of urbanization or the squalor that we usually associate with expanding villages. At around 4 hours' drive from Bhubaneshwar, the state capital, the place is not easy to reach because of the absence of milestones. Without a local guide, it would be next to impossible to locate Peetaldhua, which is nestled between a dense forest cover.
Around 80 families, mostly tribal, live in Pitaladhua, which has a population of 600. Pitaladhua is situated adjacent to Sukinda Chromite Mining Valley, which is Asia's largest chromite deposit. Despite this proximity to a mineral resource, time seems to freeze there. For an outsider, the village would look insignificant just like thousands of villages that dot the Indian landscape. But the story of Pitaladhua is a story of social transformation, empowerment, and dignity.
Till about two decades ago, there was no road to reach Pitaladhua and the villagers led a wretched existence. On the contrary, it is now a village that is bustling with life. The change has been possible only because the villagers got land rights. This not only put an end to harassment by forest officials but also ended the possibility of being evicted and dispossessed of the land.
When we reached Pitaladhua at around 12 PM in the sweltering heat, the villagers were preoccupied with their daily chores. Women were washing clothes or preparing the fermented brew called Hadiya, a locally made rice beer, which is a popular tribal drink. Some men were playing cards while others were resting on a cot underneath a tree.
After they got land rights in 2009, villagers have been able to build houses on the homestead land. Though most of the houses still have thatched roofs, pucca ghars are now being made; thanks to successive government schemes like Indira Awaas Yojana, PM Awaas Yojana, or Odisha governments Biju Pucca Ghar scheme for socially marginalized and those ostracized from the community. Pitaladhua is also a fully electrified village now.
Access to land has given them a sense of identity and dignity as well, and also added to their incomes. Women of Pitaladhua are happy that they are now joint owners of the land along with their husbands. Although the tribal setup of Pitaladhua has been fairly respectful towards the womenfolk, the grant of land tenure has considerably improved the lives of women.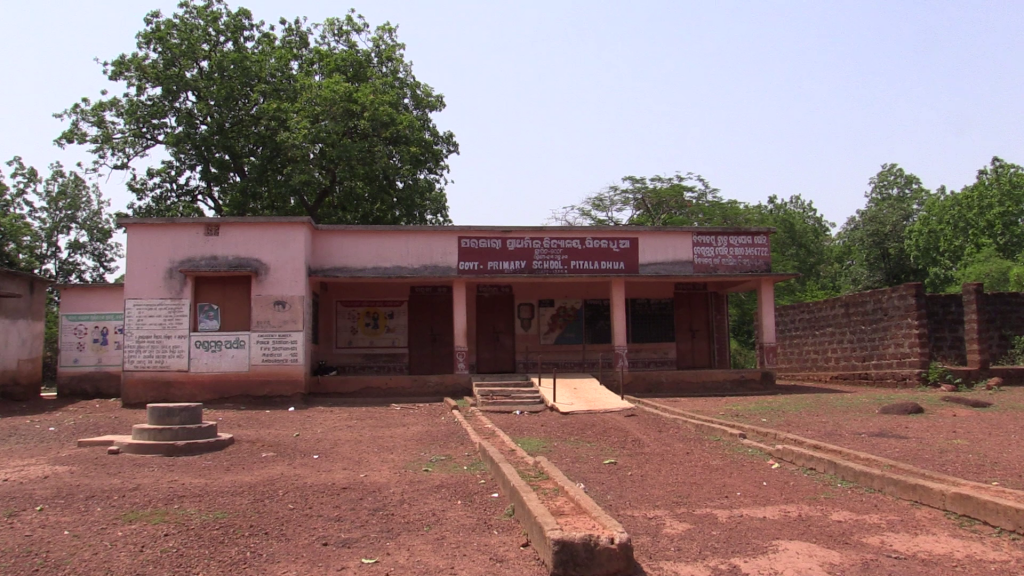 With the stability of land tenure and the confidence that the land belongs to them, the villagers have taken to subsistence farming and they grow a wide variety of crops.
Budhiraman, a 60-year-old affable man, now cultivates cashews on 60 acres of land. He smiles contently, giving us a glimpse of his paan-stained teeth, and says that this has only been possible due to land rights.
Swarna Lakshmi, a 30-year-old married woman, who is quite vocal, tells us that there has been a direct bearing of land tenure on children's education. When they didn't have land access, there could get neither a caste certificate nor a residence certificate. There was no record on-paper that they existed and this was a big hurdle in getting children enrolled in schools.
Most women of the village were reticent, but when asked from their husbands or a few vocal women in the village, it became clear that they are quite content with the opening of a primary school in the village and with valid proofs of land tenure, most of their children are now attending school.
Nandini Sardar, a 35-year-old woman who is originally from a village in Jharkhand but got married in Pitaladhua, was quite upbeat about the transformation in the village, particularly in primary education for children and better cultivation.
The village still has several issues and not everything has been resolved by access to land rights, but a lot has been achieved. There is at least a glimmer of hope in their eyes now. Being traditionally dependent on forests for livelihood and sustenance, they are overwhelmed that their immutable right over land has been recognized – even though they don't state it in obvious terms, it can be felt from the optimism they radiate.
The experience of Pitaldhua taught me that no matter how insurmountable the hardships and bleak the vision of the future, the spirit of human endurance can do wonders. What's also noteworthy is the fact that what we take for granted is more than a luxury for the toiling and the teeming masses of the country.
On the way back to Bhubaneshwar, en route Cuttack, I couldn't help but ponder on the plight of other Pitaladhuas that have not been so fortunate and the realization dawned on me that real social progress would remain elusive unless there is a social transformation in India's villages. Mahatma Gandhi said it in the last century that vast multitudes constituting the soul of India reside in the villages. His words rang true like an alarm bell, as I reclined on the back seat of Toyota Innova, jaded after a tiring day and eager to reach Bhubaneshwar and get some good sleep.
To Ahmedabad en route Calcutta
Upon reaching Bhubaneshwar, at somewhere around 8:30 PM in the night, I hastily ordered a meal and dozed off to prepare for the next day. Planning the itinerary of Gujarat, India's westernmost state, over a cup of coffee and a filling breakfast of Idli and Sambhar, I wondered how the East-West divide, a minor part of which I was about to witness, would play out.
Gujarat is a state whose people are known for their entrepreneurial knack, and which is often portrayed as a model Indian state in terms of high-octane economic growth and industrial development.
Heading to the Bhubaneshwar Airport for my flight to Ahmedabad, the biggest city of Gujarat and a large industrial center, which the BBC journalist and writer Mark Tully called the strangest of India's megacities in the early 90s, I reflected on the experience of Odisha and whether Odisha and Gujarat would reinforce each other or would be Dickensian studies in contrast – A tale of two cities retold!
After a brief stopover at Calcutta Airport, where we had to board a different flight to Ahmedabad, the second part of the journey continued with steady enthusiasm – though with a lot of unlearning, relearning and cogitating.
Bhorva – women hold up half the sky!
In the semi-arid terrain of Gujarat lies the village of Bhorva in Dahod district, which is around 70 kms from Ahemadabad.
What is striking about Bhorva is the assertiveness of the women and their awareness about land rights. Women here are equal participants in village-level decision-making and equal partners in cultivation.
We were greeted by the women with a refreshing glass of a raw mango sherbet – the village had small orchards of raw mango and guavas. In order to augment their incomes and also because it is less labor-intensive as compared to the cultivation of grains, a lot of women in the village have taken to horticulture. Most of these women are also proud owners of their lands and their beaming smiles highlight their self-confidence.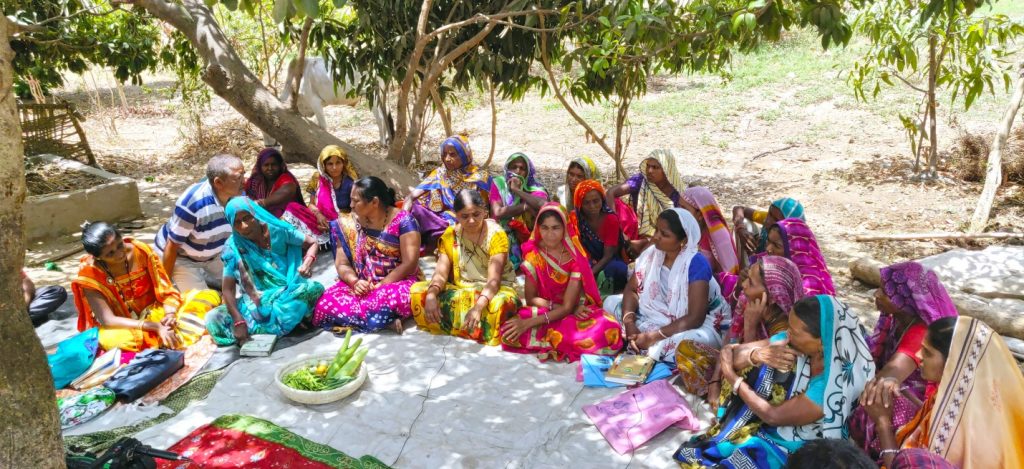 We interacted with around a dozen women and probed them about land rights, one of the recurring commonality in the response was , "If I own land, I have complete freedom to sow whatever crop I want, but if the land is not registered under my name, I feel like I am a mere worker"
Women's social standing and their active participation in village life are directly interlinked to the basic source of security, stability and sustenance – land. All was definitely not easy and women had to face stiff resistance from their family members and other villagers when they asked for their land rights.
Shackles of status-quoist patriarchy
The traditional patriarchal attitude of bequeathing land only to sons and not registering a women's name on property paper proved to be a big impediment in the path of these brave women, who struggled against all odds to let others acknowledge what was both rightfully and lawfully theirs. What is truly heartening is that the women of Bhorva continue to spread awareness about the importance of owning land.
Resham Ben, a village lady told me that after getting land rights, women's financial autonomy has increased, and this has also boosted their confidence level.
Skewed gender dynamics were very much apparent and the ordeal that women go through for securing what should have been rightfully theirs came as a shocker.
All of my assumptions were shattered into smithereens knowing the reality of women's lived experiences and the indomitable will with which they persisted.
Bharat Bhai, an affable middle-aged man who has painstakingly worked to assist women to claim their land rights, told me that in the village menfolk usually do not cooperate with their women and they lack a support system.
Another lady, whose name I seem to have missed, said in a forlorn tone that when women in the village raise their voice for land rights, the men in the village are puzzled as to since when women have land in their own names.
She continued further and stated with a mix of pain and disbelief that till this day a lingering attitude is that woman's husband dies or something untoward happens then she would gobble up the land. The age-old misogynistic stereotypes and a subtle denigration of her agency and free-will have permeated through centuries. So much so that even the most urbane of us have become inured to it.
Identity and dignity at the kernel
Myths can be hard to dispel, especially when they get entrenched in the garb of traditions and customs as incontrovertible wisdom that emboldens long-held prejudices.
With ownership of land, women now have complete liberty to make cultivation choices. Another change that has been witnessed is that now crop rotation is more widespread.
Mangu Ben, a good Samaritan of the village who is also a para-legal worker, says, "I provide information to the women and work with them. Some of them understand issues, while others don't. Since the family is large and joint, so even if the husband agrees to have the name of his wife as joint-owner of the land, others in the family strictly oppose it, saying that 'What's the need of a woman's name on paper'. So we tell them that women and man both have equal rights and women should avail their rights. Many women are still unaware of their rights".
Women who get lands under their names are able to avail the benefits of government schemes. They are also more assertive and aware of their rights. This leads to a reduction in cases of domestic violence as they can fight back against any sort of injustice if their name is on the land. They also have the option of legal recourse.
Another lady quipped instantly that there has been an increase of 15% in farmer incomes. Decision-making power is now in the hands of women, ever since they got land rights. The term power here is quite benign and doesn't invoke the connotations that it should since it's not really power but striving towards parity, justice and identity.
Pursuit of parity
One of the most sobering stories I heard was of Kanta Ben Baria, an elderly yet feisty lady who grows fruits and takes care of her ailing husband. Diminutive and skinny in frame, Kanta Ben has the resolve of steel.
Let's hear her story in her own words:
My husband has been ill since 5-6 years. I told this to the sanghatahan that we are facing a lot of problems as my husband was not able to work. Sanaghatan told me that if your name is there in the document then you will be able to avail government benefits. We got support from the government once my name was there in the will. I feel happy that my husband is with me and I am getting government benefits. When my husband was ill, our own family members, including my own sons, wanted to turn me away. Now things have got better at home. Now I grow fruits on my farm and sell them. This provides us with extra income.
When the land was not in my name, I often felt that I am a mere worker on someone else's land. But now I feel confident and empowered.
Leela Ben, who is quite amicable and cognizant about social reality, tells me how difficult it is for a woman to claim her land rights. In a society where being on equal footing with men is still an unaccomplished dream, I cannot even understand the extent and significance of having a land tenure for a woman of a village. She raises the same issues in a more forthright tone. Her subdued anger was just waiting to erupt like a volcano, I felt.
We provide the information and exhort them to come out of their homes and take property in their own names. If they will have property in their own names, they won't have to ask anyone. It is a very difficult task. A lot of times, family members say that the land is already in her husband's name and she is staying so what's the need of land in her name. Also, they say that the daughter would get married and go to another village, so what's the point of having land in her name. A lot of women are scared to come out and demand land rights because they are pressurized by their families. They don't want to go against the family. Women say to us that they feel empowered now after getting land rights, and that they have rights on their land.
Sharda Ben, who must be in mid-30s, said, "We own 3 Acre land which is distributed among 5 brothers. My husband died 21 years ago. I got information from Saarthi Centre and my name was included in the documents. After that, I got a cattle shed from the government. Since the land is in my name, I feel that no one will be able to oppress me. I get money from the government because my name is on land documents".
Exemplary fortitude
Nanda Ben, a widow whose husband died in 2002, had to face the opposition of her in-laws and bribe the officials for documents.
"My husband died in 2002. 2-3 years after that I got my name included in the land documents. I went to the local land administration and got my name included. I told them that that I want to include my name and my son's names in the document. But my relatives opposed it. I had to pay 500 INR for getting my name registered".
Nanda Ben displayed the same tenacity and unyielding spirit and very soon there was a remarkable change in her life and status.
"After that I got a borewell dug in my home and then started agriculture. With that our income has steadily increased. It has made life easier than before as we can now grow crops on our own land. We can get benefits from the government only when our name is there on land. In case of incomplete documents, things don't work. Without access to land, we won't even have a place to live. Kisan credit is easier to get if one has land" she added.
"If we don't have land in our name we will become homeless, my family will not allow me to live here, but I have shown guts and got land registry done. Still my niece's fight with me, how your name appears in property documents, some villagers said me not to appeal for land rights, why shouldn't I appeal?", asks Ratni Bhibhor, a 60-year-old woman with 4 kids.
I didn't have any answer to her simple question that reveals a volume about how patriarchy wedded to status-quo has always been a bludgeon aimed at the woman, especially those who want to change the way things are and attain dignity and equality.
Ongoing struggle
Bertolt Brecht, the German playwright considered the father of modern theatre, said, "Because things are the way they are, they will not stay the way they are".
I could not think of a more fitting and pithy expression to describe the women defying all odds to change the current scenario and taking it upon themselves to ignite the spark that will turn into a prairie fire.
Be the change you want to be, they say. The women of both Pitaladhua and Bhorva, though separated by thousands of kilometers and other cultural and linguistic distinctions, have something in common – they have been active participants and influencers in the change that has happened. They have been the architects of their own future and of a better tomorrow.
I left Gujarat and returned to Delhi with many presumptions incinerated in the burning anguish of my mind and their ash blowing away in the face of inundation of so many heartfelt experiences.
The experience was more than an eye-opener. It broadened my horizon, made me more empathetic and heightened my faculties of perception and observation. But still a lot of questions remain unanswered – Is the pursuit of gender equality chimerical? Will the innumerable unsung heroines from the mofussil get the plaudits they deserve? Will we ever evolve into a truly gender-equal society? Will there be a 'new dawn' for the millions of women in the countryside? And most importantly, will we, the majority of men, get sensitized adequately when it comes to women-centric issues.
Slavoj Zizek says 'Ideology is living'. While working on the documentary on land rights for women, especially in Gujarat, I sensed that patriarchy is also living – kicking and thriving too.