As fans around the globe gathered for the World Cup soccer tournament in late June, monsoon rains trapped a soccer team of 12 boys, ages 11 to 16, and their 25-year-old coach in a remote cave in Thailand.
The team knew the cave network, Tham Luang, well but heavy rains caught them off guard. Located two miles from Thailand's border with Myanmar, the cave's constant stream turns into a river during monsoon season.
Once friends and family realized the boys were trapped, rescuers rallied. But rising frigid water and dangerous swift currents thwarted rescue efforts, dimming hopes for those keeping vigil.
The Thai people turned out in strong support. Expert climbers from Libong Island, who scale cliffs to collect edible bird's nests, used their generations-old skills to search the steepest terrain. Farmers delayed planting and villagers dropped daily tasks to assist. An outpouring of aid and around-the-clock cooking of meals helped sustain rescuers.
Most search-and-rescue missions start with a map to guide the operation and coordinate tools, supplies, and personnel. Today's maps, created in a geographic information system (GIS), bring in all types of data to query and explore. In cases of cave rescue, workers rely on maps to correlate the underground world to the land above.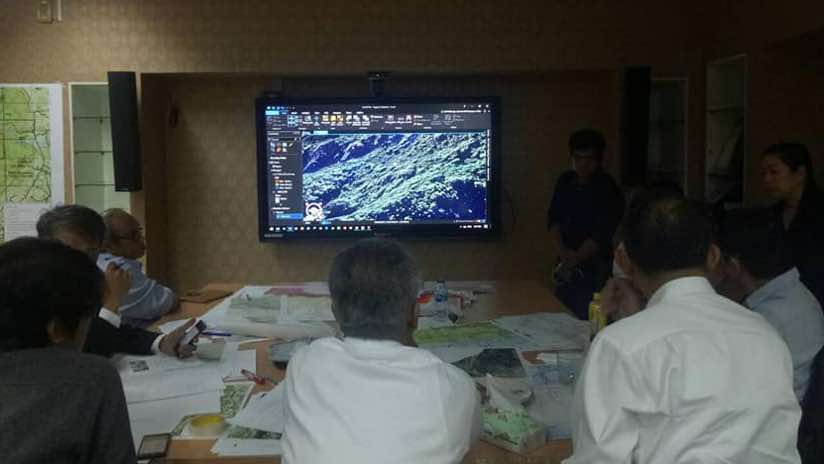 Diverting Water
Early on, the Thailand Department of Mineral Resources (DMR) pulled in GIS and mapping experts from Esri Thailand and GIS Company to create a variety of maps to help locate the boys.
While rescuers searched, heavy rains and surging water levels in the cave made it too dangerous for divers to enter. The force of the currents ripped off diving masks and sent divers drifting too far from the guide ropes used to keep them on course. The Royal Irrigation Department placed high-capacity pumps inside the cave early on but they did not immediately reduce water levels.
DMR staff and the mapping teams had to find a new approach. They added prior cave surveys [see sidebar] to the GIS to make maps that showed the complete picture of the cave surface both above and below.
Staff from the Royal Irrigation Department surveyed the area's geology using electrical resistivity techniques. Mapping experts interpreted the data to find sinkholes that might be acting as water funnels and they created 3D maps to show where above-ground streams stopped and went underground. Volunteers followed the maps to conduct a hiking survey of hillsides, noting the direction and volume of flowing water. Experts conferred with GIS-based data and analytics to review and model water diversion options.
"We had to calculate the basin, water flow direction, and accumulation using a digital elevation model, geological details…and details about the dense forest cover in order to identify the origin of significant flows of water inside the cave," said Chanist Prasertburanakul, Senior Aerospace Mapping Manager and Team Leader of GIS Company, Ltd. and Esri Thailand. "With this data, we found two significant sources of water flowing into the northern and southern parts of the cave."
A team, made up of Department of Royal Irrigation engineers, experts from the Department of National Parks, Wildlife and Plant Conservation, and soldiers from the Royal Army, worked together to construct dams to divert water flow. They ran long pipelines from a sinkhole above the northern part of the cave to nearby rice paddy fields. Despite ongoing rains, water levels started to drop.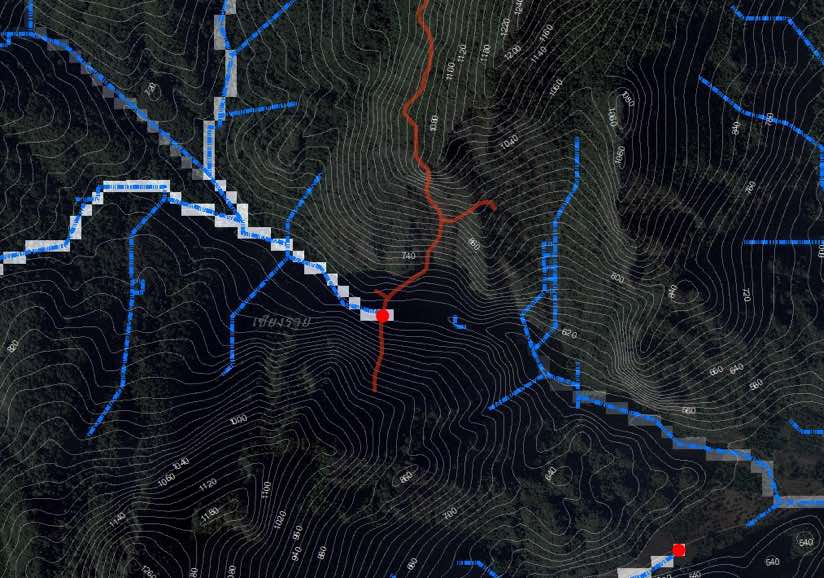 Finding the Team
Responders set up a rescue operation war room at the Geohazard Operation Center. From this central location, they planned and coordinated activities using a digital twin of the cave.
As the world watched, the clock kept ticking, rain continued to fall, and oxygen inside the cave started to run out. Help from within Thailand turned out in force. His Majesty King Maha Vajiralongkorn Bodindradebayavarangkun of Thailand declared it a national priority. More than 10,000 volunteers and workers from Thailand responded including 2,000 soldiers, 150 Thai Navy SEAL divers, and representatives from more than 100 government agencies. Cave diving and logistics experts flew in from around the world, with individuals and teams from Australia, Belgium, Canada, China, the Czech Republic, Denmark, Finland, India, Israel, Japan, Laos, the Netherlands, Russia, the United Kingdom, and the United States.
With so many responders and experts assembled, and water levels safely lowered, the dive team was ready to set out in search of the missing boys. They first studied maps depicting the cave's twists, turns, and dimensions to help navigate difficult passages and mentally mark their progress inside the cave. Then they laid out guide ropes and spare oxygen tanks along the path they would take. In the maze of passageways and chambers, divers checked every dead-end of the cave network and marked off each one on their maps.
Meanwhile, on the surface, the Royal Army searched for alternative cave entrances using topographic terrain maps and high-resolution aerial photos from the Royal Thai Survey department. Engineers, hoping to find a place to drill, explored 3D cross-section maps to calculate the distance to the center of the cave from multiple angles.
Nine days into the search, British cave diving experts found the team gathered on a muddy shelf more than two miles from the cave entrance and one mile underground.
"Initially we felt excitement and relief that they were still alive," said Rick Stanton, a rescue diver from the British Cave Rescue Council. "Relief was tempered with uncertainty. When we departed, all we could think about was how to get them out."