Healthcare counts as the foremost important facility and a city which has healthy citizens is balanced in every sphere. Let's have a look at what it smart healthcare and which technologies are key in it.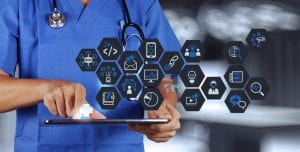 Cities are increasingly seen not just as the engines of innovation and economic growth but also the level at which solutions to wicked problems can be produced to comfort the lives of its citizens. City administrations are thus producing adequate and innovative approaches for such diverse issues by striving on technologies. Among all the facilities to citizens in a smart city, smart healthcare counts as foremost important facility as a city which has healthy citizens is balanced in every sphere.
No doubt the health sector is seeing advancement over the past few years but, with the increasing population and urban lifestyle, it becomes critical to look after citizens in a more quick and efficient manner. Nonetheless, the sector is escalating up so fast that it is expected to make up almost 15 per cent of all smart city business by 2020.
What is Smart Healthcare
'Smart Health Technology' combines Smart Technology and latest mobile device with health.  Nowadays, numerous initiatives have been designed to encourage a broader view of health and wellbeing thus smart wearables devices like fitness tracker or fitness bands and even health assessment apps in smartphones have gained grand attention amongst fitness enthusiasts. These devices are smart in the sense as they not only just monitor health but also provide solutions if needed at the right time. Smart devices act as the base of smart healthcare. Smart Health technology interacts and engages with data produced by those devices which can be analyzed by doctors, researchers and health care professionals for better-personalized diagnosis and solutions. These digital records save cost and time of both patients and hospitals as they not only offer personalized treatments and medications but also give preventive measures through real-time data collection
Role of technologies in Smart Healthcare
Connectivity provides the foundation of smart city services and it acts as an enabler of smart healthcare as well. With the help of this citizens are able to communicate with authorities easily and it helps authorities as well to gather more health data of its citizens which in return can be used to inform further city and service planning that makes public healthcare a priority. Here IoT plays an important role.
IoT in healthcare allows connecting data collected from smart devices and sensors to extract valuable insights. The technology can play a foremost role in healthcare observation and help in early detection of health issues. It would also help in assimilating the data collected from tests instantly, monitor the condition of the patient, and then convey that information to the doctors and staff in real-time, thus improving the effectiveness in the overall healthcare system. In the near future personal IoT-based health checking devices will change the way, we track the health of individuals.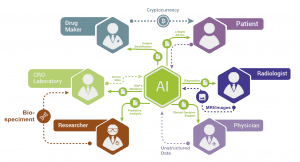 When the health data is collected it needs to be analyzed and managed for accurate treatment and here Artificial intelligence and automation are applied.
AI is also applied to perform tasks like analyzing laboratory tests, x-rays, CT scans, and data entry. AI-based apps can be used to access the current medical condition of patients that can provide assistance in medical consultation.
Technologies like Blockchain redefine the methods of maintaining and populating Electronic Health Records as well as they also help link them to other services like payments and insurance.
These advanced technologies are very critical in making healthcare a more determinate process, with concrete results, with a service that is more pertinent to the lifestyle of the modern citizen. Continuing innovation and improved data analysis will also help make it an area of constant enhancement that will continue to invent new ways of keeping people fitter and healthier.