Innovation advances more rapidly and with greater public trust when the core technology is based on a shared intellectual commons, says Robert Cheetham, President and CEO, Azavea.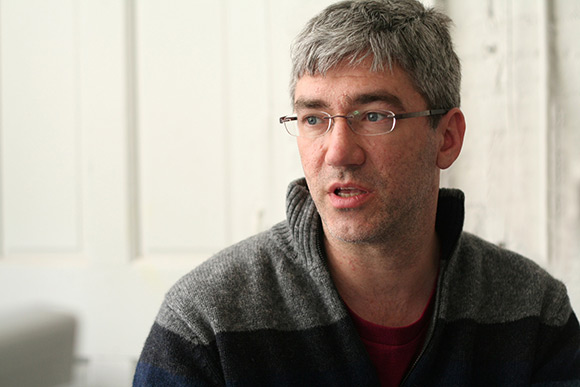 In which all sectors does Azavea provide solutions?
Azavea is a B Corporation whose mission is to advance the state of the art in geospatial technology and apply it for civic, social, and environmental impact. We work in a range of industries that include water, transportation, climate change, elections, supply chains, and infrastructure. We manage and contributes to open source libraries and frameworks that include: Raster Vision, an AI/ML library for remote sensing data; Raster Foundry, a web framework for managing satellite and aerial imagery; GeoTrellis, a library for working with raster data at scale; and Grout, a library for flexible data collection.
Using these and other building blocks, we create solutions for our customers. A few examples include: the Open Apparel Registry, a database of factories in the global apparel supply chain; a suite of green stormwater infrastructure tools for the Philadelphia Water Department; DRIVER, a set of traffic crash tracking applications for the World Bank; a coastal resilience mapping framework for The Nature Conservancy; and DistrictBuilder, an open source redistricting platform.
What technologies are you focusing on and what has been the output from your research over the years?
Advancing the state of the art through research is part of our mission. We pursue this aspect of our mission in four key ways. First, we build open source software libraries and frameworks, with an emphasis on web technologies that support working with large geospatial data sets in cloud infrastructure. Raster Vision, Raster Foundry, and GeoTrellis all began as internal research projects created to support web-based visualization and analysis of satellite and aerial imagery. We are also investing in automated toolchains for deploying geospatial software to Amazon Web Services, and we usually released these Terraform and Ansible scripts. Second, we pursue R&D grants from federal agencies and philanthropies. Raster Foundry is the result of investment by Azavea but also R&D grants from NASA and the US Department of Energy. Third, we create and improve our open source software under contract with customers. We recently added OGC standards support to GeoTrellis with funding from NASA and Canada Natural Resources and this feature will also make its way into Raster Foundry. The Sloan Foundation funded the original development of the DistrictBuilder redistricting platform.
Finally, we offer a "10% Time" benefit for our colleagues to pursue learning and research projects. This activity can take many forms and combination of each individual's learning interests and company research priorities. These projects evolve with our colleagues' ideas and interests, but a few recent examples include: developing a prototype for a next generation version of DistrictBuilder and an evaluation of contemporary Vector Tiles tooling culminating in a set of internal guidelines for leveraging this technology. Many long-term projects began this way, including GeoTrellis, one of our best-known libraries.
Azavea has strong partnerships with Amazon Web Services, Esri, CARTO, and the Eclipse Foundation. Can you tell us what kind of projects you are partnering for and how has been your experience?
Azavea builds software and data analytics on the web, and our partnerships with AWS, Esri, and CARTO are all aimed at supporting this work for our customers. All of these organizations build tools that we use to serve our customers. While we build and support many open source tools, Esri, CARTO, and Mapbox products are an important part of the technology ecosystem. They represent critical investments by our customers, and our partnerships with these firms are aimed at supporting the use of their technology to support customer projects.
The Eclipse Foundation is an open source software foundation. A few years ago, we thought that our GeoTrellis project would be able to reach more software developers if it was part of a larger community.
We submitted GeoTrellis to the Eclipse Foundation, joining other big geospatial data projects, like GeoMesa, GeoWave, and RasterFrames. This has enabled us to grow the number of users and contributors as well as increase collaboration with other open source projects with similar goals.
Almost all of our work is deployed in the Amazon Web Services global infrastructure. Our AWS partnership also extends to collaboration on open data for Earth observation. The AWS Sustainability Data Initiative has also been a key supporter of our R&D projects related to climate change.
Finally, Azavea partners with Earth observation data providers, like Planet and DigitalGlobe, to develop applications that leverage the medium- and high-resolution imagery these companies can deliver.
How do you use Big Data and Machine Learning along with geospatial technology to create meaningful solutions?
Much of our recent Machine learning work has focused on object detection and feature classification with satellite and aerial imagery, and our Raster Vision library is being used for detecting corrosion on water infrastructure, land cover classification, monitoring pipelines for right-of-way incursions, and automated data collection in cities.
In addition, our AI/ML work has extended to applications beyond imagery. The US Department of Agriculture funded an R&D project to apply deep learning for identifying tree species based on photos from mobile phones, and Azavea has developed a machine learning platform for forecasting crime risk on an hourly basis in order to help police departments plan neighborhood patrols more effectively.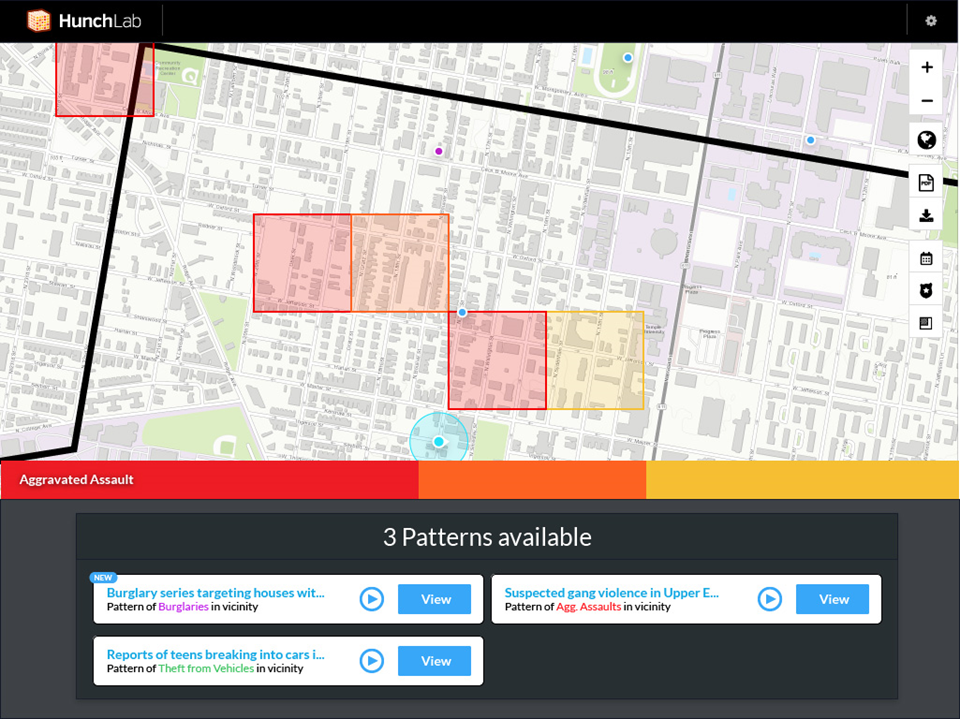 Some of these Machine Learning applications also raise ethical questions.
As a B Corporation Azavea attempts to uphold the principle that businesses should serve the interests of a broad group of stakeholders. In order to help us evaluate future projects, we have developed a Project Selection Guidelines document that outlines the principles by which we select projects and evaluate the potential benefits and harms of the new technology we create. I wrote these guidelines in order to help Azavea be a leader in the ethical application of geospatial technology, and I believe that this type of decision-making framework will become increasingly important.
Can you share with us a few case studies in which Azavea platforms were used and the social impact they created?
I'd like to highlight three projects that I mentioned earlier. The first is a relatively new effort we are developing for the C&A Foundation. The Foundation aims to create a fair and sustainable fashion industry that enables people to thrive. In order to improve workers' human rights, the C&A Foundation is trying to improve the transparency of the apparel supply chain. While many apparel brands publish data about their supply chain, at a global level the quality of even basic data – like factory names and locations – is poor.
The Open Apparel Registry (OAR) is an open source tool to map every apparel facility worldwide, creating a common registry of names, addresses, and a unique OAR ID for each facility. Because many brands are now publishing lists of their facilities, within a few weeks, the database had more than 13,000 facilities.
Using the OAR, the Business & Human Rights Resource Centre (BHRRC) was able to quickly respond to the dismissal of over 1,000 garment workers for striking over nonpayment of benefits in Cambodia. BHRRC used the OAR to identify and reach out to brands sourcing from the factory, asking for their response and plan of action. Two brands responded and launched investigations. Through pressure from many quarters, including brand interventions, the majority of workers were reinstated. This is an early example of the impact that the C&A Foundation hopes to support with the OAR.
The second example is a project with which Azavea has been engaged for several years. "Green City, Clean Waters" is Philadelphia's 25-year plan to transform the health of the City's streams by changing the stormwater is managed before it reaches the rivers.
By implementing green stormwater infrastructure systems such as permeable pavement, green roofs, and stormwater planters, the City is hoping to reduce water pollution impacts and make neighborhoods more beautiful in the process. The systems work by either diverting stormwater runoff to an area where it can infiltrate the ground, or be stored until it can be released back into the sewer system when the load is lower.
In exchange for the reduced runoff, commercial property owners who install and maintain these systems receive credits on their monthly stormwater charge. Azavea developed the impervious surface billing system as well as a suite of public-facing web applications that enable property owners to understand their stormwater bill, develop alternative scenarios for reducing their bill, as well as apply for mitigation grants and credits. The combined efforts of the City and property owners are reducing peak stormwater runoff and improving the water quality in all of the adjacent rivers.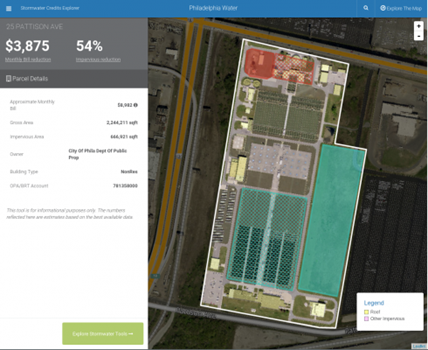 The third example, DRIVER, is an open source platform created to mitigate traffic crashes through better incident data management and analysis. Traffic crashes are a transportation problem that devastates communities. The World Bank reports that more than 1.25 million people are killed on the world's roadways each year, and many millions more are injured or disabled. The burden is particularly high in low- to middle-income countries.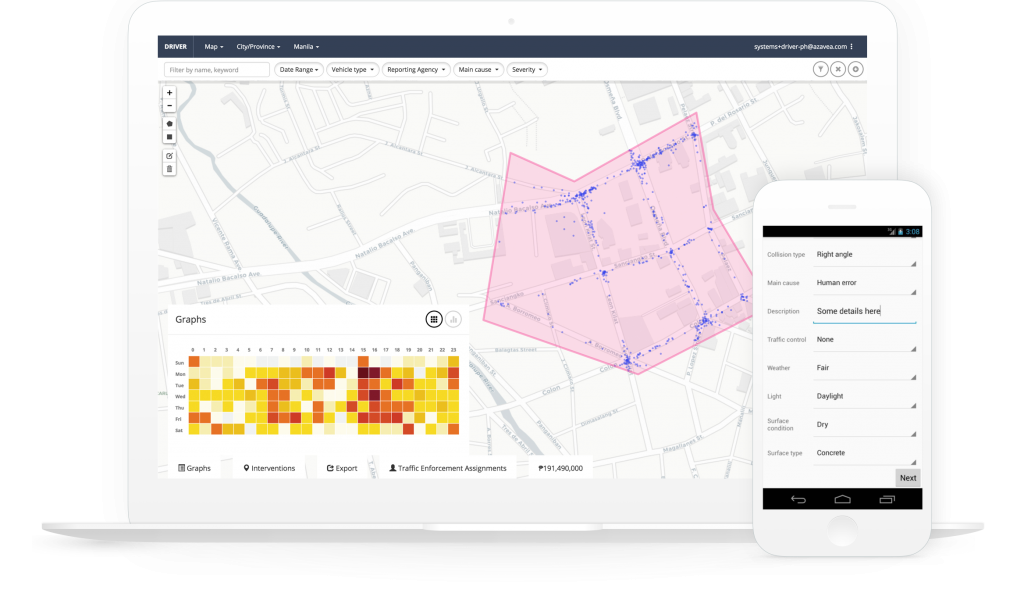 Azavea has partnered with the World Bank to develop a web-based road safety platform, beginning with an instance in the Philippines. The platform includes a mobile data entry system as well as statistical tools that can identify high-incident areas, forecast the potential for new incidents over time, and monitor infrastructure interventions in crash-prone areas. Now known as DRIVER, the Data for Road Incident Visualization, Evaluation, and Reporting solution, the goals of the application are to improve the efficiency of recording, accessing, analyzing, and sharing road accident and injury data. In December 2018, the Philippines National Police Highway Patrol Group was recognized with the ASEAN Road Safety Award for Southeast Asia for using DRIVER to support evidence-based interventions that are positively impacting road safety. The software was released under an open source license so that it could be replicated at low cost. Following the Philippines instance, Azavea adapted DRIVER for use in Saudi Arabia, including custom layout changes to support Arabic and the Hijri calendar. There are also DRIVER implementations in Vietnam, Laos, Bangladesh, Brazil, and Mumbai, with additional ones planned.
Azavea is almost two decades old. What can users and partners expect from your team in the coming years?
For the next few years, we expect to continue working on a diverse array of challenging geospatial technology projects with the potential for positive impact. The volume of geospatial data is growing rapidly, and we expect to continue investing in machine learning, artificial intelligence, and data processing tools that support solving new customer challenges working with these high volume data sets.
We think it should be possible to compute global scale indicators, like the Sustainable Development Goals using low cost infrastructure and tooling, and doing so is an explicit part of our vision for the next five years. We are particularly focused on the ethical application of AI and machine learning technology and the cultivation of an open technology ecosystem. That does not mean that we will not build proprietary applications; we do this for ourselves and our customers in many contexts today, and I expect we will continue to do so.
Rather, I believe that innovation advances more rapidly and with greater public trust when the core technology is based on a shared intellectual commons. We want to ensure that, like the internet, geospatial AI and ML is constructed on a foundation of open standards, open data, and open source software. We are working toward that vision with libraries like Raster Vision as well as efforts to release training data under open data licenses.

Technology and society are changing quickly, and it's often difficult to see very far into the future. However, we aim to build a company that lasts 100 years, and we want to work toward a planet and society that will enable flourishing human and natural ecosystems a century in the future. For the past twenty years, our work has been guided by our two-fold mission – advance the state of the art in geospatial technology and apply it in an ethical manner for positive impact – and I expect our mission will continue to guide us.