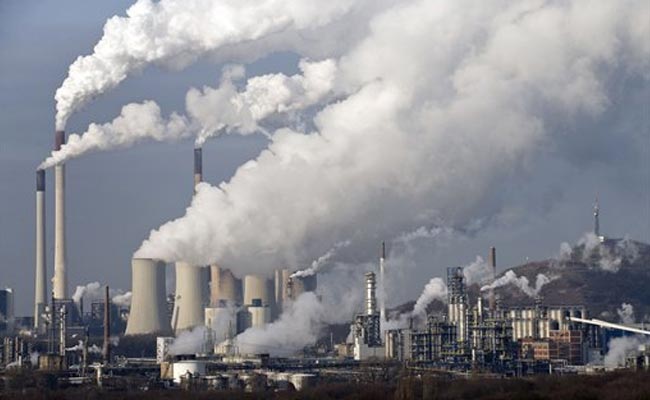 As we stand at the edge of the post-Industrial society and exultantly await the Fourth Industrial revolution and the age of AI, air pollution has become the epidemic of our age which kills more people than Malaria and AIDS.
According to the latest WHO report, 90% of the world's population inhales air that has an alarmingly high level of toxic pollutants and around 7 million people succumb to air pollution-borne diseases every year. The figure is both staggering and horrific. And once again it draws our much-needed attention to the calamitous impact of air pollution on human health and survival that countries like India seem to either overlook or address perfunctorily. Combatting air pollution has become an existential necessity more than an issue of ecological sustainability.
Alarm bells for India
In the WHO list of 15 most polluted cities in the world, 14 are in India. This amounts to India being the site of 70% of the most polluted cities around the globe. What is even more dreadful is the fact that the situation is still worsening and shows no signs of abating anytime soon.
Indian cities that showed excessively high levels of PM2.5 pollutants are Kanpur, Faridabad, Gaya, Patna, Agra, Muzaffarpur, Srinagar, Gurgaon, Jaipur, Patiala and Jodhpur followed by Ali Subah Al-Salem in Kuwait and a few cities in China and Mongolia.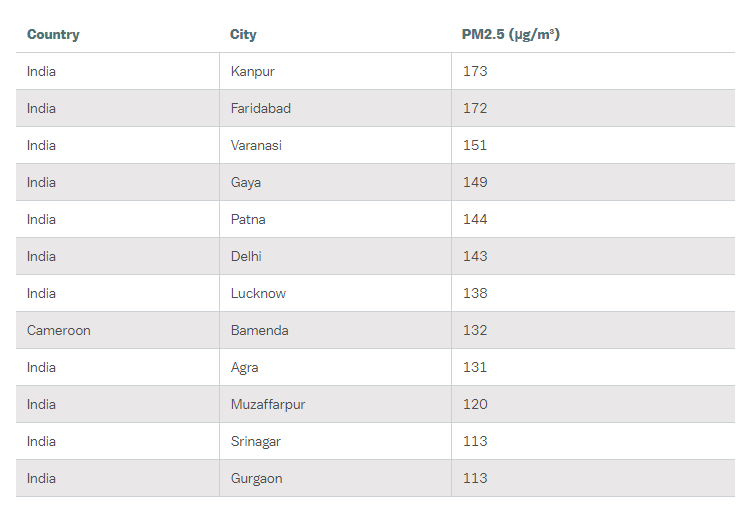 Last year, the capital city of Delhi became a gas chamber and this year too the metropolis features in the list of most polluted cities in the world after the Indian cities of Kanpur and Varanasi. While, on the other hand, Beijing has shown a marked improvement in pollution levels over the years due to sustained efforts by the Chinese government.
Globally, Cheyenne in Wyoming and Wenden in Arizona are among the least polluted cities.
The wedge between developed and the developing world and the stark difference in pollution levels there is clearly visible in the WHO report. More than 90% of the deaths due to air pollution take place in low and medium income countries in Asia and Africa.
One of the major contributors to air pollution in India and the larger developing world is the absence of clean cooking gas and the absolute dependence on stoves and coal for cooking. The report, however, also acknowledges that the countries, including India, have started addressing this problem and endeavor to provide clean cooking gas to millions. Household air pollution, when combined with ambient air pollution, becomes even more deadly.
Household pollution – a unique developing world problem
Immediate measures are required to first solve the problem of household pollution which accounts for about 40% of the total pollution. The use of traditional cooking methods has a direct correlation with income levels and poverty. So it would be appropriate to say that poverty is the major cause of household pollution and a concerted effort should involve both the promotion of clean energy and alleviation of poverty. More than 60% people in the developed world still don't have access to clean cooking gas. India has set the target of providing clean cooking gas connection to 80 million households by 2020.
Tedros Adhanom Ghebreyesus, director-general of WHO, says "Air pollution threatens us all, but the poorest and most marginalized people bear the brunt of the burden. It is unacceptable that over 3 billion people – most of them women and children – are still breathing deadly smoke every day from using polluting stoves and fuels in their homes."
Solution-centric approach
Pollution does not countenance political or sovereign boundaries, so there is a need for all the countries to cooperate and coordinate in tackling the menace, reiterated the WHO. What endangers all of us wouldn't provide exclusive respite to anyone. It's just a matter of time before pollution envelops hitherto unscathed areas if nothing is done to curb it.
Apart from household pollution, industrial emissions, indiscriminate deforestation, vehicular pollution and flouting of environmental norms by the industries are the major causes of air pollution. As has been said earlier, what India lacks is not an environmental policy or central directives, but prompt enforcement and an unrelenting attitude towards those who flout laws with impunity. India can take a cue from China which enforced a nationwide cap on the use of coal, shuttered many pollution-causing industries, relocated many others, and attracted investments in green energy.
Moreover, air pollution needs to be constantly monitored and the attitude of general indifference, apathy and complacency have to go. Prioritizing the reduction of pollution should be at the core of national agendas and this would involve active participation from the public and the administration ensuring that there is no laxity in enforcement.