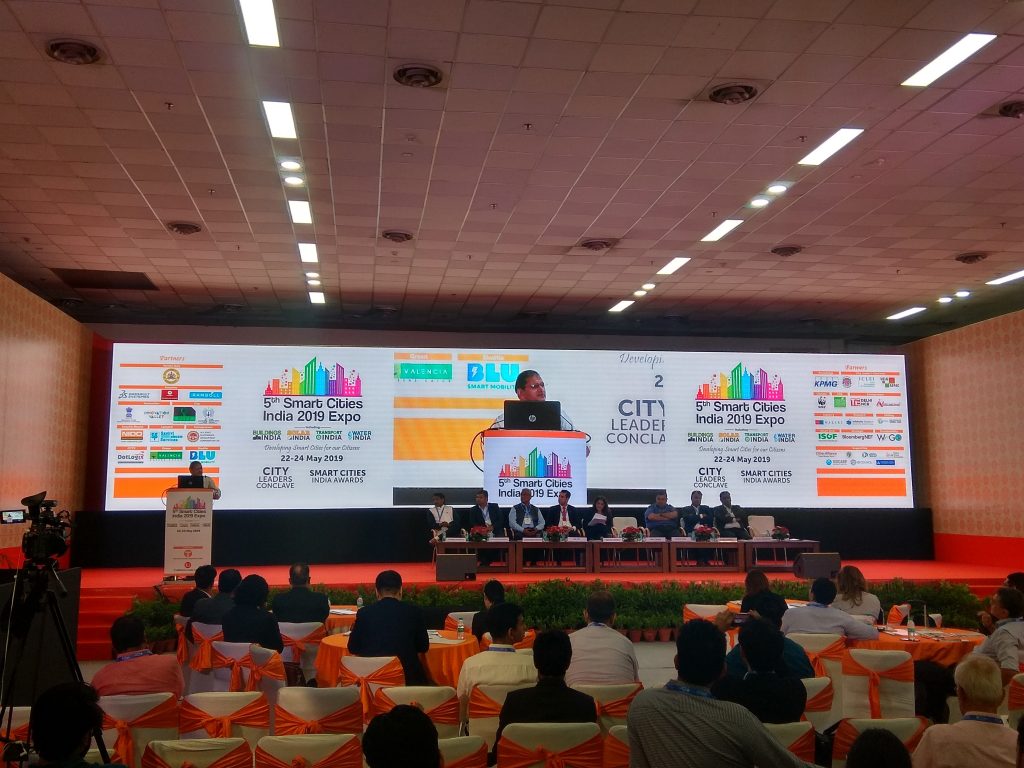 When it comes to smart cities, livability, sustainability, and connectivity are the most important parameters. In the transition to smart cities, we need a synchronism between the technological and the human facets. One of the goals of smart city development is a cohesive citizen-centric approach which can be realized only through seamless technological integration and uninterrupted connectivity.
At the 5th Smart Cities India Expo 2019, held in New Delhi, the role of digitally integrated smart cities as the future of urban sphere and engines of economy was discussed.
A lot of progress has been made in smart cities but still, there is a long way to go. Smart city is owned by people and ownership is reflected in people's participation, says Kyong Yul Lee, Secretary-General, World Smart Sustainable Cities Organization.
Interconnectivity – the multi-dimensional way
"Connecting rural and urban areas through digital systems has to be a priority area. Setting up digital services through the country and a synergy with smart cities is much needed for the future", says MS Rao, President  & CEO, National E-governance Division.
By incorporating GIS planning in existing smart city frameworks, domains from healthcare to solid waste management can be improved.
Internet of Things ( IoT) and 5G would be among the main drivers of smart cities. With thousands of devices connected to the internet and sharing information real-time, emphasis on the security aspect of smart city is a must. With IoT, the risk of security breach is further compounded and can reach alarming proportions.
Also Read: Why smart city is the only possible city?
"When it comes to smart city there are two things that come in our mind: governments and users. As we get integrated into using different technologies, it is important to realize how crucial cybersecurity is", Gaurav Agarwal, Managing Director, Symantec, India & SAARC.
He further added that most smart city projects get conceived with surveillance, so safety and security considerations have to be at the core of smart city project.
Web enabling governance
The landscape of governance and administration will change radically as more and more cities become smart and develop robust and resilient infrastructure. The top-down governance approach would be a thing of the past and a participatory and decentralized model would make smart cities more vibrant.
A real smart city should be citizen-centric and provide citizens with the liberty to do whatever they want. E-governance is one way to make governance more engaging and participative.
"There have been efforts towards e-governance in the last two decades. When we look around at the availability of technology, there is a need of a complete paradigm shift", says Govind Singh Chauhan, Executive Director, ABM Knowledgeware, India.
"As per data available with governments, why should people seek service and apply. The entire framework needs to be revisited. When going through procuring of things of smart cities, there is a fundamental disconnect between citizens and the government" Chauhan further added.
The basic premise of a smart city is to embrace everyone who contributes in making the city space livable, but when it comes to application space, the idea has been erroneously interpreted. We have to use tools like ML and AI for minimizing manual operations, increasing efficiency and saving time.
With the interconnection of devices and the proliferation of smartphones and other ancillary internet-based services, there would be an abundance of data. And analysis of the data to gain insights and solve issues would be another priority area.
Data analysis for solving issues
"When we think of smart city, it's primarily about data. Analyzing data and aggregating it. The mode will become decentralized and smart city would become a data integrator. Without data analysis, problems in urban areas cannot be fixed. Data-centric focus should go along with human-centric focus", believes Gowtham Kumar Sampath, Head – ICT Research, Infoholic Research, India.
Integration and convergence of technologies is one aspect that is still missing in smart cities and we need to bridge this divide, opines Ashdir Kinra, CEO, Cohesive Technologies, India.
When we look at smart cities, my view is that everything in a smart city should be on the same page. Smart city according to me is mindset first and technology second, says Harsha Thenarasu, CISO, HKIT, India.
If you allow outdated protocols, it needs to be configured. From vendor, resource and technology should be the same. And we need a proactive approach in managing detection. When building smart city, we need to focus on all aspects of a smart city as people and process both play an intrinsic role.
Smart cities are all about connected cities and network connectivity in all forms, wired or wireless, is the underlying factor.
"All aspects of connectivity, connectivity that drives data is important.  Defining the problem and then find a solution to the problem is the way, as eventually people and services would support smart city"  added Vasudevan Venkatkrishnan, Business Development Director APAC, Ruckus Networks.
Also Read: Importance of mobility data in making cities smarter