Over the past few years, Luciad has shown great commitment in bringing its high performance geospatial product suite to the masses. Moving on from efficiently meeting the needs of aerospace and defense customers, the company is now all set to solve big data challenges faced by many companies.
In its quest to help companies manage their geospatial data more effectively, Luciad has completely overhauled its server solution LuciadFusion.

LuciadFusion Studio: An engaging platform for Geo Data management
At the very outset, a simple web interface makes using LuciadFusion Studio a breeze. Once logged in, a guided tour helps the user to easily explore the different areas of the portal.
The list is very impressive when it comes to the supported formats for Luciad's server product – vector, raster, symbologies, weather, multispectral and more. LuciadFusion Studio allows the user to connect directly to any of these data sources in their original format and reference.
The user can connect to static or dynamic data sources, or drag and drop files right into the browser to start working. LuciadFusion automatically crawls the data, extracts metadata and catalogs it, enabling the user to retrieve and publish it quickly.
LuciadFusion Studio also includes a preview of data files and styling.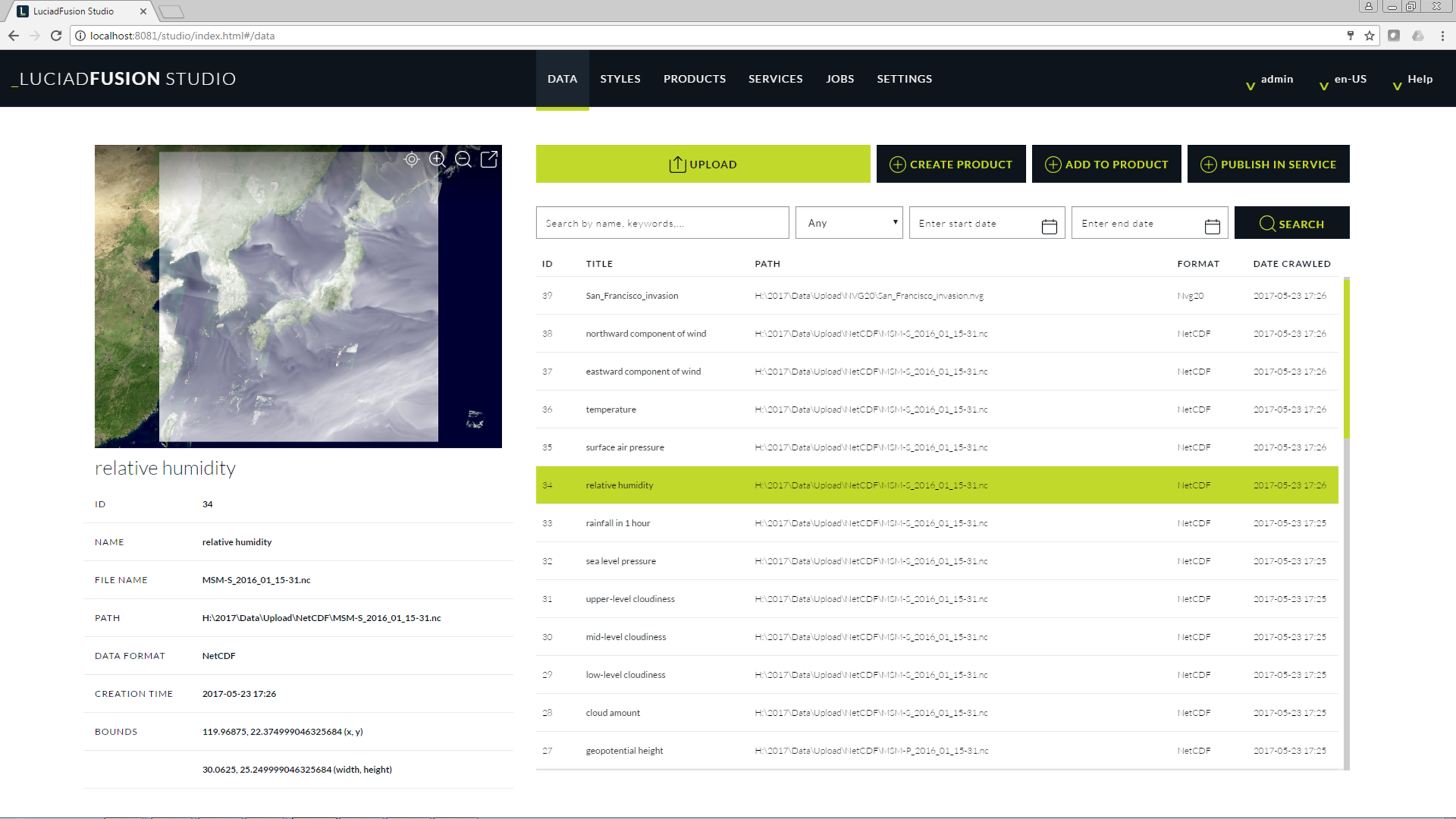 Publishing data made easier
Publishing data has never been so easy! LuciadFusion Studio not only allows the user to connect to different formats of data, but also search through different files and publish them as a service. Selecting multiple datasets, combining them and adding custom styling to publish the data as a product are additional features that make LuciadFusion Studio a favorite. The Server solution also gives the user the freedom to decide whether to keep the data dynamic or tile it with OGC WMTS or Luciad Tiling Service (LTS).
Sharing work becomes easier with LuciadFusion Studio as it generates a link that can be immediately copied into Luciad's desktop application LuciadLightspeed, Luciad's browser application LuciadRIA or any OGC-compliant client.

What gives LuciadFusion Studio the Edge
The ease LuciadFusion Studio provides in working is unique. The web interface, besides being extremely user friendly, provides flexibility to users to connect to the server from any location to add new data and make it available to other users.
LuciadFusion Studio gets installed quickly, and can be deployed on a local server, in the cloud or even on-premise.
 Keeping in mind the varied formats geo data is becoming available these days, LuciadFusion Studio's built-in support for nearly all file types is an exceptional advantage. What more? If the data is not supported natively, LuciadFusion Studio allows the user to easily bring in custom formats with its API. Do we need anything else?
LuciadFusion Studio is a boon for smart cities projects, industrial operations and traditional GIS users. It also provides Luciad's historically mission-critical clients a huge upgrade in terms of usability and performance.
Undoubtedly this synopsis of Luciad's exciting new Server solution has piqued your interest, so why not know more about it by clicking here.