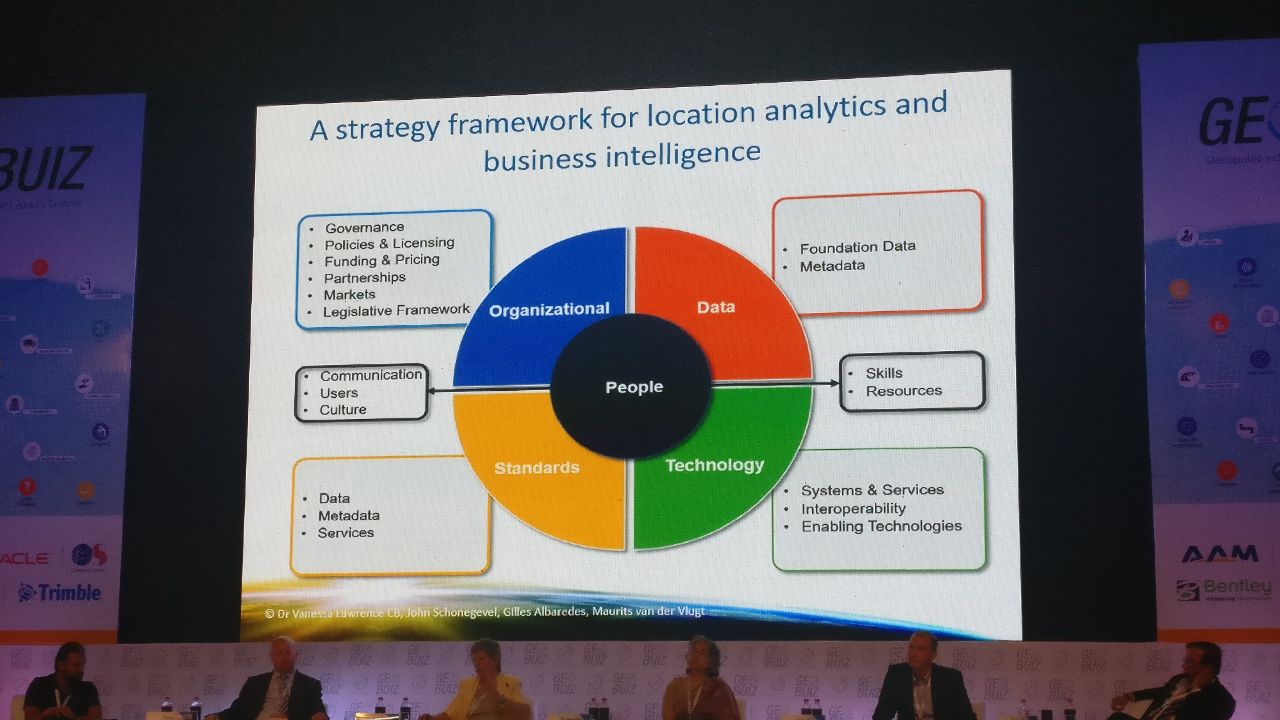 Location is a unifying theme for businesses. Location can be an address, a service boundary, a sales territory, or a delivery route. Spatial relationships, patterns and trends reveal invaluable business intelligence and bring easy-to-understand visualization to business applications.
Location analytics and business intelligence now extend to almost all facets of financial services. Current estimates are that 97% of large companies leverage analytics, with over 100 million users worldwide. A recent study by the International Data Corporation (IDC) discovered that data-driven businesses—those that look at, analyze, and understand their data—are 6% more profitable and 5% more productive.
At Geo Buiz Summit, the pre-conference event of Geospatial World Forum 2018, the session on 'Location Analytics and Business Intelligence: Leveraging Mainstream IT and Financial Services Market', moderated by Dipanshu Sharma, Entrepreneur, USA focusses on how disruptive technologies such as Cloud, Artificial Intelligence, machine learning, Big Data, Blockchain, etc., are ensuring a rapid innovation cycle for the players in the financial domain. It is time to leap forward by imbibing technology, spatial data, business intelligence and analytics maturity curve through a 360-degree approach.
Innovations leading to new applications
While disruptive technology has made its impact in every strata of life, it has also led to emergence of new applications. These consist from a whole range of consumer-based applications to apps which provide complete end-to-end solutions. Rakesh Verma, Managing Director, MapmyIndia, India, validates it by further elaborating, "About twenty years back, India required digital mapping. Now things have changed drastically. In 2017 we brought digital map twins. This included a 360 degree panoramic view of India both inside and outdoor. From this, the kind of analysis that can be made is phenomenal. We also brought a lot of disruptive models. When we talk about analytics then we have to keep in mind commercialization and monetization. So, we have consumer-based apps for millions, but if you can trace each and every address of the country and analyse it according to different categories; like tracking their income pattern, can be key to many developments."
While vast amount of data and their analytics is bringing the real change, what is a common thread between innovations and growth of new applications is Location. Agreeing to this fact, Peter Hawkins, Regional Director Digital Content, HERE Asia Pacific, Singapore says, "Location is underpinning the next technological revolution."
"We are seeing a very disruptive kind of trend in the industry. This is generating vast amount of data and analyzing it. It is interesting to see how we have gone from static content to dynamic content and now to connecting content. Innovative apps which impact a huge community are my favourites. We are going to focus on automation, an apt potential for disruption. Datasets on smart devices is sitting on the cusp of 4IR," adds Hawkins.
In the words of Dr Vanessa Lawrence CB, Director, Location International, UK, "My favourite apps are those that help me to get answers. Data analytics has the power to bring differences to stock price of companies, through this you can understand a company's functioning, etc. People should realise that the kind of decision making aspects that data analytics and business intelligence brings in, they should take full advantage of these technologies."  Whether it is financial services or government entities, data analytics is the key to success.
Emphasising on the huge amount of data collected from the maps that has revolutionized the whole world, Arnout Desmet, Vice President, Expansion Markets (Maps and Licensing) TomTom, The Netherlands reinforces says, "Over the years navigation has evolved a lot. It has really become mainstream commodity. Maps have been used by explorers from decades. We see lots of innovation and use cases in the regard of maps. We get access to wealth of data to further build on the information that we provide about traffic, fleet management."
Rich maps, smart maps and traffic are the enablers of spatial analytics. Very good examples are the retail stores or banking services. With the help of these smart maps, stores or banks can evaluate the traffic or demand for particular commodities or ATMs that can help enormously to increase their businesses
Dr Manosi Lahiri, Founder & CEO, ML Infomap, India cannot agree more. She also gives a social dimension to it. "Our tagline is Maps, Apps and Data. Digital mapping and GIS solutions helps in solving complex issues. The end-result enables better decision making."
Dr Manosi adds, "My favourite apps are those which can help the society during distress like apps based on public health or disaster response. User experience is critically important. What is absolutely mandatory over here is that the data should be totally validated and accurate."
However, Dr Manosi stresses on while Location is the key driver for these applications, location comes into play only at the background. It answers the where part.
Future of Location
More and more industries are integrating spatial analytics with BI as such a system provides a wealth of information. Spatial analysis can be used to gain operational, transactional, and competitive advantages.
In the near future, industries are expected to benefit from emerging technologies like geospatial intelligence fusion, crowdsourcing, human geography, visual analytics and forecasting. And of course there are new evolving technologies like machine learning and artificial intelligence algorithms, which can give feedback on the location and behavioural pattern of people to build models for better in business intelligence. Business Intelligence will gain more power with technologies that will allow dimensional and spatiotemporal visualization and linkages between geolocation, social media, crowdsourcing, and spatial analysis..
Smartphones with location changed our lives. It has become the 'must have' in every sphere. The future will see an enormous explosion of data from various sensor, smart devices. Location is going to be a lot from intrusive