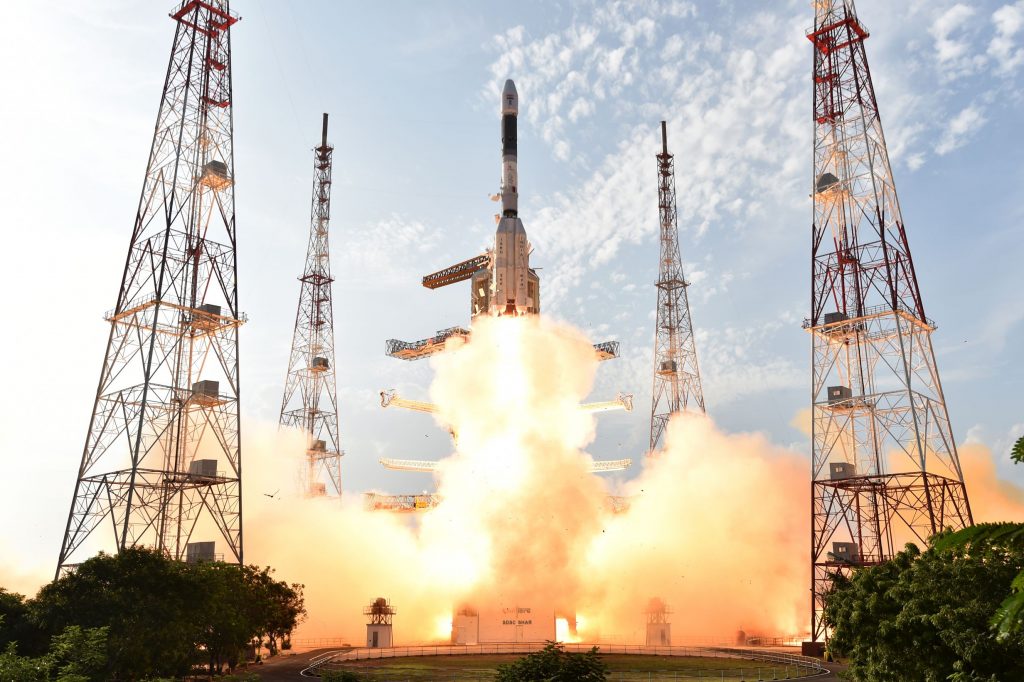 From the launch of record 104 satellites in a single rocket, to putting one of the heaviest satellites in space, 2017 proved to be a year of breaking boundaries for ISRO, leaving one unsuccessful launch of its eighth regional navigation satellite that failed, unfortunately. But overall, it proved to be a year of setting up new benchmarks by showing an exemplary display of their intelligence to the entire space community in the world.
ISRO's satellite launches in 2017
In 2017, the space agency attempted five launches (in February, May, June, July and August), out of which four were successful. Now, 2017 has come to an end. So let's look back at these launches as to see how 2017 was for ISRO.
February: Launch of Cartosat-2 series satellite and other 103 satellites
Starting the year with a bang, ISRO launched 714 kg weighing Cartosat-2 series satellite along with 103 co-passenger satellites in February. With this launch, India broke Russia's record of launching 37 satellites at a time. As if this was not enough, the mission was carried out by ISRO PLSV-C37 rocket that was on its 39th mission. The objective of the mission was to use Cartosat-2 series satellite images for road network monitoring, water distribution projects, and for the creation of land use maps. The total cost of the mission was 15 million dollars approx.
In May, India launches South Asia satellite
Two months after ISRO's PSLV-C37 launch, India launched an even heavier 2230 kg weighing GSLV-F09 (Geosynchronous Satellite Launch Vehicle) from the Satish Dhawan Space Centre in Andhra Pradesh. Following the launch, Narendra Modi, Prime Minister of India, addressed the South Asian leaders. He congratulated ISRO for developing the satellite for the cause of growth and prosperity of the people of South Asia. A communication satellite, GSAT-9 provides various communication applications in Ku-band with coverage over South Asian countries. It allows higher frequency communication and can help in predicting weather, land monitoring, or mapping of natural resources. The satellite also provides quick response in natural calamities.
June: India launches 31 satellites in a single flight
In June 2017, ISRO launched 31 satellites including another Cartosat-2 series satellite. Weighing 995 kg, the PSLV-C38 lifted off from Sriharikota carrying a Cartosat-2 series satellite, a 15 kg University/Academic Institute satellite from India called NIUSAT, and the remaining 29 co-passenger satellites from the US, a set of three satellites from the UK, Belgium and Italy, and one satellite each from Austria, Chile, Czech Republic, Finland, France, Germany, Japan, Latvia, Lithuania, and Slovakia. Launched in June, the Cartosat-2 series satellite will be used for monitoring roads and keeping track of water distribution.
July: Launch of telecommunication satellite GSAT-17
A little over a month later, ISRO attempted to launch its GSAT-17 telecommunication satellite and succeeded. GSAT-17 was launched using the European Ariane 5 Launch Vehicle from Kourou, French Guiana. The satellite also carried equipment for meteorological data relay and satellite-based search and rescue services.
August: Navigation satellite IRNSS-1H mission unsuccessful
But in August, ISRO failed to launch its eighth regional navigation satellite. The Indian Regional Navigation Satellite-1H (IRNSS-1H), was declared unsuccessful after the satellite's protective heat shield, which is expected to separate and drop off after launch, failed to separate. This is the only failure of PSLV after September 20, 1993, when the rocket had failed to ignite after the second stage separated.