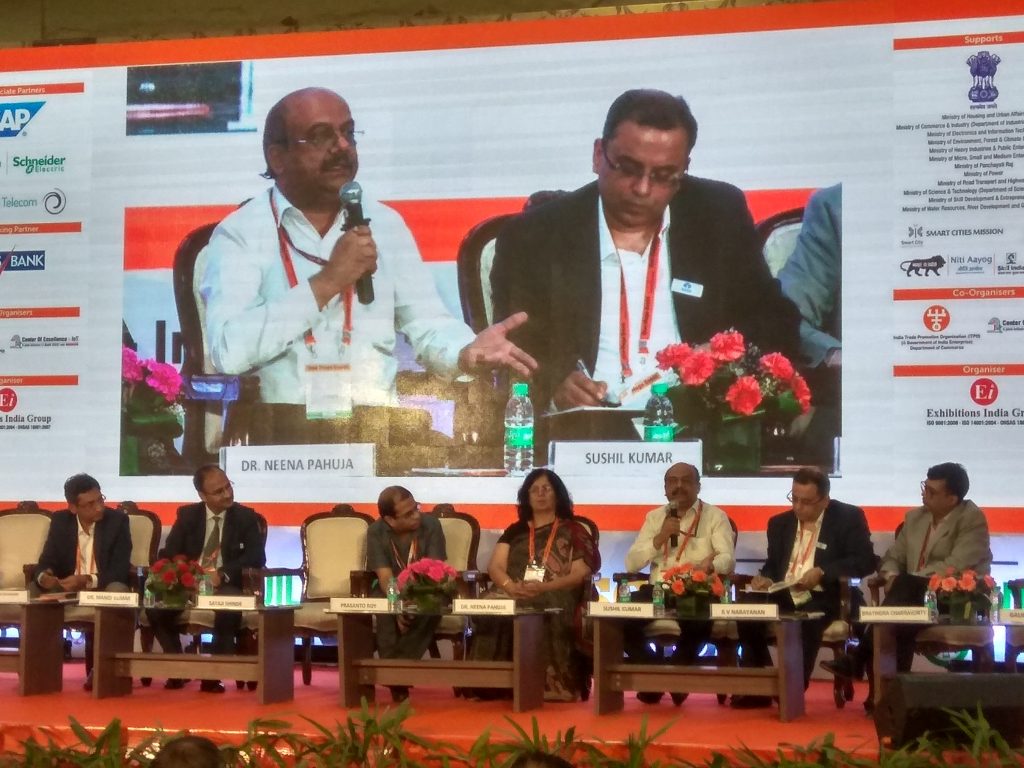 IoT( Internet of Things) would soon leave its imprint on every field imaginable, from modern modes of transportation to security, communications, and healthcare. The unimpeded interconnection and seamless interplay of various technologies are also essential for smart cities. So for the layout of a smart city ecosystem, the role of IoT would be pivotal in ensuring that multi-spectra delivery of services is ensured in the city.
One of the most pressing expectations from a smart city would be a marked qualitative transformation not only in cutting-edge infrastructure but also an enhancement in the quality of life and providing the residents a sense of fulfillment. And none of which can be without IoT being the lynchpin of smart city ecosystem.
At the 4th Smart Cities India 2018 Expo, held in New Delhi, Neena Pahuja, Director General, ERNET, in her keynote address, spoke about how Information and Communication technology would provide the basis for IoT based smart city and how we need diverse yet interoperable models.
"Smart city cannot be smart unless we are smart and without people's participation. Different cities have different requirements. Different things are happening. The objective is at the end ensuring sustainable development", she said.
Focusing only on India, she said, "We have close to 100 smart city projects and a large number of smart city consultants. What we need is a modulated approach and both soft and hard infrastructure and environment. An India-centric interoperable structure is the need of the hour and we also need to create open architecture data platform that collates all data and provides opportunities to entrepreneurs".
Need for broader integration
At the heart of a smart city projects lies closed collaboration, whether between government departments, municipal authorities or the convergence of different technologies. Smart city development mandates that everything works in tandem.
Sayaji Shinde, Business Head – Smart Cities and Infrastructure, Asia Pacific, Schneider, is of the view that IoT enablement requires a command control center for coordination between the various independent parts and an access to the final location.
He said, "Most cities still operate in silos but efficiency in one parameter also reflects on the other. It is evident that a lot of cities fall short of becoming smart only because of this. We can have a number of services deployed but the matter of fact is we need synchronization and greater efficiency when there is problem-sharing. Outcome-oriented city platform is the area that needs attention".
There is certainly a need to rapidly increase the adoption of IoT and to ensure that more and more technologies function along with IoT.
Concerted efforts and interoperability
Bratindra Chakravorty, CEO, Rapid Transpay, India, said that "Along with accelerating IoT adoption, the point is about getting a competitive edge and looking at legal frameworks to manage risks."
Smart cities cannot have the same old laws that are not framed keeping in mind the centrality of technology and it becoming all pervasive and crucial to it.
To foster faster adoption of IoT compliant technology and to boost it for future advancements, there is a need for alignment and integration on all levels. But this is not enough.
 "Effective and integrated administration and command center is a key enabler of smart cities. One of the key points that tends to be ignored is smart administration", KV Narayanan of TCS said.
Regarding IoT adoption, no doubt that interoperability is one of the main focus areas and one that provides a support base to all other channels.
Further underscoring the need of interoperability, Sushil Kumar, DDG –iOt, TEC, Government of India, said that, " We need robust communication technology for sharing data across verticals. Interoperability at the application level and increased security at other levels should be the target,".