A powerful temblor of 7.1 magnitudes on the Richter scale rocked Mexico, causing rampant destruction and huge loss of life and property. The death toll in this tragedy has crossed 225 and thousands more are injured, missing, or lying in the debris, waiting to be rescued. The epicenter of this powerful quake was in Puebla, which is about 80 miles from Mexico City.
Mapping the impact
ESRI has created an impact summary map to entirely focus on the region and provide accurate and detailed analysis, highlighting the regions most affected by the earthquake. ESRI has developed an enhanced Shakemap that shows the impact of the devastating quake on nearby population.
An impact summary map is used mostly in situations of emergency to gauge the impact on the ground and very quickly communicate it to anyone interested in knowing about it. It is very helpful in giving the crux of the matter to people and contributing to dissemination of information that would be essential in rescue operations and evacuation of people trapped in disasters. Impact summary map has a special GIS service hosting software.
Different colors for different figures
In the map there are four colors: Orange representing 447k total population and 114k households; yellow denoting 10.2m total population and 2.6m total households; Green and Blue representing 8.7 m and 43 m people respectively, along with 4.3 m and 10.8 m households.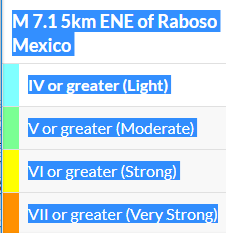 The tool at play
The observation and analysis was done using the Enrich Layer tool.
Enrich Layer tool provides demographic information of people and regions. It uses ESRI Geo Enrichment Service for furnishing information about a location and all the residential areas and businesses.
Enrich Layer tool is a highly versatile in its use and it caters to a large number of requirements of a diverse set of people. For instance, if a library wants to start a program and know about how many people would be interested in its program, it can use the tool to analyze the data of number of people residing in localities near a library.
Similarly, if a corporation wants to build a retirement community center, it can avail the tool for demographic composition of all the neighborhoods in the vicinity.
Enrich Layer Tool uses high quality data that is fetched from many sources and is regularly updated.
How is the impact measured?
Impact of an earthquake is mapped in Modified Mercalli Intensity (MMI) seismic scale. MMI has four bands that show the intensity and the range of impact. The interactive map can be zoomed in and zoomed out to focus on a specified location, as per its coordinates on the map and everything from housing areas to community centers to shopping complexes can be searched just in a fraction of seconds.
Potential of impact mapping
The immense assistance that this feature provides at the times of natural or man-made disasters cannot be underplayed.  By saving time in rescue operations, as impact mapping does, it is ensured that many lives would be saved and many more people would be forewarned. The founder of Scot Trust, the trust that owns British daily The Guardian, said that "news is sacred". This may no longer be true with the proliferation of fake news and mushrooming of propaganda outlets, but indeed this old maxim holds true today for precise geospatial data that has the potential to enhance disaster preparedness and devise new mitigation methods, thus overhauling disaster management and post calamity supervision completely.
There is enormous potential in the field of impact mapping that is yet to be harnessed and it is unambiguously one of those technologies that will spawn other innovations as well, sowing the seeds for another technological breakthrough.