News breaks as HXGN Live opens; timing sets stocks soaring
Is Hexagon AB looking for a buyer? A report by Wall Street Journal mentioned late on Tuesday that the Stockholm-headquartered measurement technology and software company has held talks on a possible sale to an American or European rival that could value the industrial-technology company at some $20 billion.
What was interesting was the timing of the newsbreak. It couldn't be a mere coincidence that the story came on late on Tuesday, just on the opening day of the prestigious HxGN Live, which kicked off on Tuesday evening in Las Vegas amid much fanfare. Running June 13-16, the four-day international conference brings together thousands of industry professionals, and shareholders and partners of Hexagon.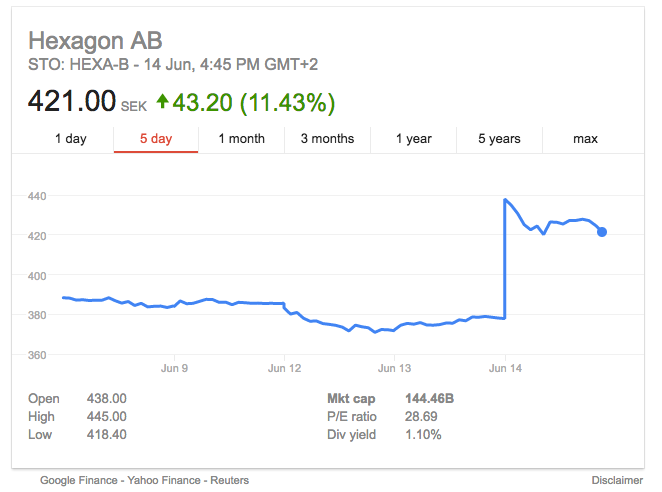 The result was for all to see. As the stock markets opened on Wednesday in Europe, Hexagon shares jumped to a record high on the Nasdaq Stockholm exchange. The scrip opened at 438.00 Swedish Kronor, as against the previous day's close of 377.80 kr. That was a jump of more than 17% in early trade and were still up 11.3% at 420.40 kr by 1008 GMT, valuing the company at about 150 billion Swedish Kronor ($17.3 billion) and putting it just outside the 10 largest Swedish listed firms and well ahead of companies such as home appliances maker Electrolux.
It won't be a cheap deal
In an early morning statement for investors on Wednesday, Hexagon said that it "has noted the recent speculation in media regarding a potential acquisition of the company. Hexagon regularly evaluates various opportunities to optimize the company's positioning and shareholder value. Should these evaluations lead to concrete results, the market will be immediately informed."
WSJ, which put the deal value somewhere around $20 billion, also said quoting people familiar with the matter that the talks were at an early stage and the company may ultimately decide not to sell if a big enough bid didn't materialize.
It goes without saying that if it comes through, the deal value will be substantial. Hexagon beat the global economic sluggishness to report $3.5 billion in revenue last year. Even before today's surge, the company had a healthy market cap. According to its 2016 annual report, as of December 31, 2016, its market cap was 112 billion Swiss Kronor or $12.91 billion.
As to how healthy its balance sheet is can be guessed from this: Hexagon made as many as seven major acquisitions in 2016. In February 2017, the company bought US-based MSC Software in an $834-million deal to boost its product portfolio in automated manufacturing.
"I think it is not unlikely there will be some kind of structural change in Hexagon over time," Handelsbanken Capital Markets analyst Daniel Djurberg was quoted by Reuters, pointing to Hexagon's industrial-focused business as the main attraction for prospective buyers. "But I think it would be a complex process for potential buyers to buy all of Hexagon with a big premium if they only are interested in half of the company."
What could be the reasons
So why is a company which posted such healthy profits and was on an aggressive acquisition spree till a few months back looking for suitors now?
The first and foremost is the insider trading case against its CEO and President Ola Rollen in Norway. The future of Hexagon had looked uncertain ever since Rollen was arrested last year by the Norwegian authorities on charges of insider trading related to an outside investment which Hexagon was not part of, a charge he strongly denies. Rollen was later releazed and resumed his role as the chief executive and the company had maintained that it continues to support the CEO. However, in March this year the authorities indicted him of the charges and the trial is now scheduled to begin in October.
Rollen has been singularly instrumental in shaping Hexagon's transformation from a conglomerate of small, disparate businesses in 2000, to a global leader in geospatial technologies now. It is simply impossible to imagine Hexagon without his leadership.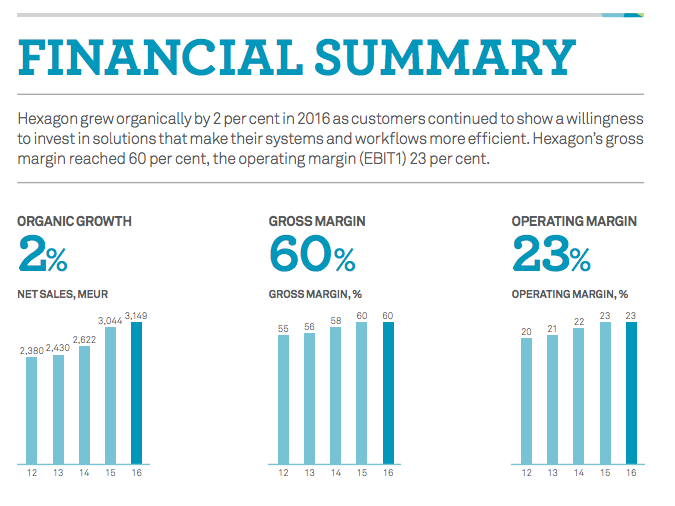 Another very interesting aspect would come out if one took a close look at Hexagon's balance sheet. A company posting 23% in EBIT (earnings before interest and taxes) and 60% in gross margin had only 2% organic growth to show for in 2016, thus proving its real expansion was coming from new acquisitions and not increased output, customer base expansion, or new product development.
This could be because of the churning that the geospatial market is going through. There is a significant disruption in terms of its course of business directions with new sets of opportunities are opening up with revolution in space technologies, Internet of Things, increasing focus on automation, and location enablement with the 4th industrial revolution.
In such a background, traditional geospatial companies are finding it tough to stay on top of things. Hexagon is currently perhaps at its highest peak in terms of consistent profitability and cost efficiency, and it may be worthwhile to note that it would be very difficult to maintain this momentum in the coming times.
The last but not the least that could be of interest is that Hexagon is a company which is controlled by private equity investors. Its largest shareholder is Melker Schörling. As of May 31, his company Melker Schörling AB had 26% shareholding and 46.9 voting rights. Ramsbury Invest AB is the second largest shareholder with 4.8% shares and 3.4% voting rights. Schörling, who had served as the Chairman of Board so far, announced to step down in May citing ill health.
Schörling had in anyway not been involved in day-to-day operation of the company, and with the uncertainty looming over Rollen's future and leadership, it was but obvious a seasoned private equity player like him would look for an exit plan when the going is good.
Who could be the possible buyers
The WSJ report said Hexagon was holding talking with an American or European rival. By its own admission in its 2016 annual report, Hexagon sees the following technology companies as competitors.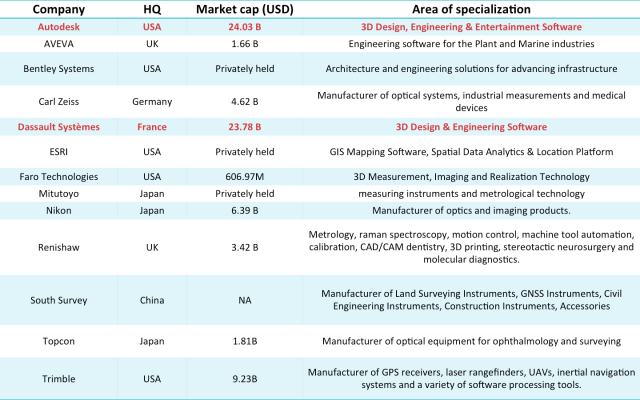 A quick look at the table shows of the list only two – Autodesk and Dassault Systèmes — have the financial muscle to buy Hexagon.
Paris-based Dassault Systèmes develops and markets PLM software and services that support industrial processes by providing a 3D vision of the entire lifecycle of products from conception to maintenance. Interestingly, Dassault Systèmes customer profile is similar to Hexagon's — Aerospace and Defense, Architecture, Engineering and Construction, Energy, and processes, Finance and Corporate Services, High Technology, Industrial Equipment, Life Sciences, Marine & Offshore, Natural Resources, and Transport & Mobility.
On the other hand, while Autodesk has kept away from hardware all this while, last November it entered into a partnership with Leica Geosystems (a Hexagon subsidiary) to provide wider access to premier reality-capture and BIM-to-field layout solutions for professionals involved in laser scanning, building construction layout and related markets. The companies also announced that they were further exploring multiple technology integrations for ways to create synergies that will benefit their joint customers.
Autodesk's primary interest area of 3D design (including 3D printing) fits in perfectly with Hexagon's vision of driving the process of smart change through digitalization.
Of the other companies in the competitor list, either they are too small in market cap size or are smallish privately held companies. Only Trimble is bigger than the rest and has a similar product/customer portfolio as Hexagon. However, given that its market value is almost half of that of Hexagon ($9.2 billion), it could be a tall call for it to raise the funds for such an acquisition.
There is another possibility however of a buyer being a completely outsider — a mainstream IT or technology infrastructure company.
About Hexagon
There are more than six sides to the Hexagon Group – it has a network of 45 subsidiaries providing products for measuring — everything from the length of a microchip to the height of a mountain. Hexagon's sells its software and hardware for nano, micro, and macroscale applications in more than 160 countries, and maintains R&D operations in about 50 countries with about 18,000 employees.
According to Hexagon's 2016 annual report, 50% of its net sales come from the Geospatial Enterprise Solutions business, which includes Hexagon Geosystems, Safety & Infrastructure, and Positioning Intelligence. Hexagon's geospatial solutions are used for infrastructure planning, construction and maintenance and in the mining, agriculture and public safety industries. The other half comes from the Industrial Enterprise Solutions, which includes the divisions Manufacturing Intelligence and PPM. Hexagon's industrial solutions are used for measurement and quality inspection of complex components in manufacturing processes as well as in design and operation of engineering facilities.