Hexagon is transforming and positioning itself as an information technology company and it is in its mission and vision. We are all witnessing a major global shift in which the future will be all about data and correlations; it is a truth that you cannot ignore, emphasizes Claudio Simao, Chief Technology Officer, Hexagon AB.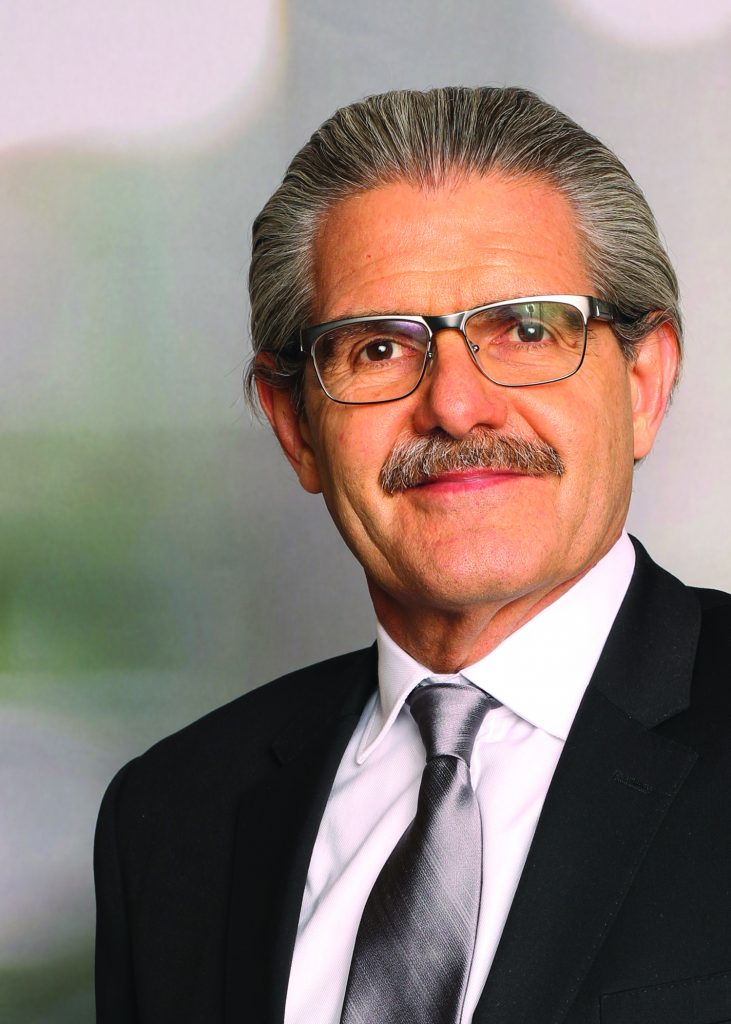 At HxGN LIVE 2019, Ola Rollén focused on how data is changing our lives. Is Hexagon reorienting itself from being a pure geospatial player to a data company?
We all have a major opportunity as we are living a major change into digital transformation. Hexagon is reorienting itself as it goes through this paradigm shift that is multifaceted, involving new technologies and data-centric solutions as drivers but also other aspects as business models, go-to-market possibilities and even organization. We are transforming and positioning ourselves as empowering an autonomous future, and this is in our mission and vision as also drives our strategic plan. We are all witnessing this major shift in which the future will be all about data, from a causal and deterministic to correlational and adaptive systems. It is a truth that you cannot ignore when planning sensibly your technology roadmaps.
To start, you must capture data, so you need sensors — you saw the innovations that Geosystems announced in reality-capturing digital sensors. This is in Hexagon's DNA as also the applications' software to manage and stream data at sensors' and processes' level — a key component of the Digital Transformation stack.
Besides sensors, we have new digital technologies in our portfolio, platforms and new digital enablers that give us an opportunity to disrupt completely the way we address workflows and processes and ultimately solve problems. To apply these digital enablers as part of modern software architecture and develop end-to-end solutions, we need new procedures and methodologies. Digital Transformation solutions development is multi-layered, so it is all about an organization's format designed for collaborating. We cannot have siloed development any longer.
Basically, we are reorienting ourselves in many ways to embrace these new opportunities envisioned, enabled by new technologies and the data-era but empowered by Hexagon's comprehensive core technologies and domain knowledge – including geospatial technologies. For instance, we have devised the 'Smart X' concept that encompasses solutions related to different connected ecosystems as in Smart Cities, Factories, Plants, Mining or Agriculture. To put it simply, we are kind of restructuring the way we do things. It is a completely new approach to solving old problems in a more optimized way and/or bringing entirely new processes and workflows in a revolutionary and disruptive manner. It is even a new mindset and demands major changes both technically and organizationally.
So, yes, we are reorienting ourselves from the technology perspective but not only.
Hexagon's geospatial products and solutions cater to a wide range of industries. How do you perceive the transformation in Geospatial vis-à-vis Artificial Intelligence, Analytics and Cloud?
Geodata serves as the key ingredient for Hexagon's various applications and sectors from which location intelligence can be derived. As for other industries, the maturation of Advanced Analytics, AI techniques and Cloud-Edge frameworks will enormously help in further developing geospatial solutions. The impact is deeply transformational, as you can do what you could not before, allowing the development of new disruptive solutions from, for instance, efficiently and fast learning curation and mining historians and enterprise data lakes to real-time feeds from sensors, as provided by Hexagon's Digital Reality Sensors through a real-time 5D software platform Smart M.App. This is already unlocking rich value from data, and Advanced Analytics, AI and Edge-Cloud composition are some of the enablers.
Hexagon has a very strong team covering the core technologies, tightly managed and innovating in a technology-push and market-pull approach. We work closely with divisions, regions and business development teams to screen market needs and technology readiness. From productization perspective, Hexagon has a robust program called HIP – Hexagon Innovation Program – that serves each product line, for both software and hardware, including mature processes and methodologies managed by senior project and product managers with an agile approach. What's new are our Smart solutions, under the vision of connected autonomous ecosystems, as in smart factories, cities, plants, mines, farms, autonomous mobility, etc. In this case, we are talking about cross-divisional enterprise-grade solutions, optimizing existing processes and/or developing new disruptive solutions which create high value. I can tell you that the results are amazing. We are revolutionizing the way we develop solutions with 'design + systems thinking' solution architecture for enterprise solutions encompassing all aspects of process and data to enable optimum solutions in a scalable fashion.
With increasing focus on precision and real-time solutions, customer expectations are soaring. Do you view this as an opportunity or a challenge?
It is both a challenge and an opportunity, and I think that we have the ammunition to face the challenge, and consequently leverage the opportunity. As I mentioned before, our comprehensive portfolio of leading core sensorics and software-centric applications' technologies is amazing. Domain knowledge is very important for us because we are in so many verticals and the key is to understand the problem in the environment it is embedded. We began developing enabling technologies five to six years ago (around 2013 end), the framework of key digital enablers, that we call Xalt, that now permit us to have a modern solutions' architecture. Then we have our data platform that helps us in building data repositories and streams in a contextualized and correlated manner. All these factors place us in a unique position to address the next challenges and leverage the opportunities.
Seamless interplay of technologies and their convergence for deriving actionable insights and delivering optimum output is the technology trend that has transcended conventional barriers. How do you see the impact of this trend on the industry and in the market?
This is at the core of the concept of 'design + systems approach' for solutions architecture. It is all about Process and Data composition, Back-end / Cloud Edge / Front-end. It is a thoroughgoing revolution on solutions architecture involving new technologies for data management, software and hardware. This also demands a major change in the mindset of R&D managers, developers and project/product managers. The fact is that there is a myriad of software components, many of them open-sourced, so an extreme fragmentation of the digital enablers. Different companies and start-ups have seen the technology gaps and jumped in to provide unconnected components, causing confusion and troubling the marketplace and consequently the development teams. So, we have products that do not scale even at an initial phase. Additionally, tech debt makes companies use open-sourced fragmented building-blocks, deriving inconsistent and volatile roadmaps, uncompromised with users' needs in the long-run, etc.).
As the era of autonomy unveils, do you think there would be a need for a more interdisciplinary and collaborative approach in technology?
Definitively this is again at the core of our modern solutions' architecture method. Architects and R&D managers must consider the end-to-end architecture, from sensors to software, data and process, as I have mentioned before.
This demands an interdisciplinary and collaborative approach in everything we do. What is not easy is that it demands being prepared in terms of new specific knowledge, proper mindset, new processes and techniques. Collaboration in the sense of internal and external open-sourced partnership is also central. So, it is a fundamental change and will come stepwise both from the technology and human perspectives. At Hexagon, we are developing our sensors, data systems, software and solutions keeping in mind this important paradigm shift. We are also evolving with our Inner Source program – as an internal GitHub – to improve collaboration among the internal developers.
This is being done with a sensible business-driven orientation, but in a future-proven manner, and together with our customers, respecting the industry pace.
What according to you is that one technology that will disrupt the market in times to come?
I think Data and Process composition to permit systems' Interoperability. Composition is fundamental, from Cloud-Edge orchestration to edge-to-edge choreography — machine to machine distributed computing and orchestrated computing from the Cloud. What one calls intelligent Cloud and Edge. 
We are clearly at the verge of a new technology cycle. The early '80s was about the PC, the mid '90s about the Web and then late 2000s about Mobile and Cloud. The next technology cycle is about autonomy, being ubiquitous Connectivity an enabler. I believe in AI, which can be considered as the engine of autonomy. But you have to make systems to interoperate. Even while applying AI, things must interact seamlessly with each other as the processes tend to be managed more and more in real-time. So, Interoperability is foundational key component – I would even say that the Autonomy cycle is, in fact, allowed by Data availability (sensors and application knowledge), Interoperability and AI. If we look for an analogy with a car, Data is the gasoline, AI the engine and Interoperability the power-train…
But we still develop, design this solution and that solution, and then create an API. This is not how this will work in full autonomous systems when you need real-time data streams, combining historians and dynamic feeds and various interconnected systems.
How soon do you see the world completely going autonomous?
I think this cycle will come in different stages. It's like constructing a building brick by brick. Autonomy will come step by step. It's like autonomous cars — there are auxiliary systems that help you to go through stages of assisted driving as, for instance, keeping constant speed, the distance between cars, parking or following the lanes in a highway. The same will happen for smart cities, smart farms or smart mining. So, autonomy will be delivered in steps, and frankly speaking, this is good because we need time to adjust existing processes as it will be as impactful as the PC, Web and Cloud and Mobile technology waves, so pretty transformational if not disruptive.
And I do believe it is going to save humanity from destroying the mother Earth, as Ola mentioned in his keynote. 
Will it kill jobs or, otherwise, improve the quality of jobs? Before the agricultural revolution, everybody said we are nearing the end as most of the population was living in the fields. Same for the Industrial Revolution. But automation improved it. In fact, modern technology improved enormously the quality of life.
Indeed, sometimes we don't initially acknowledge all the aftermath of technology transformations. Besides boosting quality, productivity and security of production processes, autonomy will unload considerably the stress of human related processes.
The reality is that complexity has outstripped the ability of human operators, not only professionally but also in our personal activities considering all multiple analytical workflows we are submitted in the day-by-day. Human judgement is definitely the weak link and our cognitive biases, our limitations when judging complex correlational systems or even to think statistically, is a strong factor for stress – the cause of many sicknesses.
As mentioned, there have been many revolutions over the last century, being one of the most significant the longevity revolution.
We are living on average today an average of 35 years longer than our great-grandparents did. Think about that: that's an entire second adult lifetime that's been added to our lifespan!
I do believe Autonomy will deliver the same kind of benefit to our great-grandchildren, an extension of our adult lifetime with better quality.
As a technologist, does the thought of machines taking over some day bother you?  
Machines "think" much faster and can access virtually all historic knowledge, machines perceive the ubiquitous, machines are not biased and so on…
It is a fact that machines one day could eventually think that there is better use of the atoms of Claudio than being Claudio! One can conclude that it would lead to the end of humanity, the so-called singularity.
But, as mentioned before, I do believe that this new technology wave will unfold stepwise, it will come in layers permitting adjustment of our society and its institutions. I guess humanity has the wisdom to learn and adapt. We have a much better life today than years ago. We are improving, though we don't realize that fully because the way media works, bad news sell better. But the world is getting much better. I am positive — I think that we will not reach singularity but will prosper on.
ALSO READ: A Complete Guide to High-Accuracy Measurements in Disconnected GNSS Environments