I was using Google Maps recently for a personal trip and noticed this feature called 'plus codes'. I wondered why I did not find any mention of this in media. And I tried to explore a little bit into this.
What is the use of plus codes in Google Maps?
According to Google Maps, plus codes work just like street addresses. You can use a plus code to find or share a place on Google Maps.
A plus code is a combination of two elements. First is a Shortcode (of 6 or 7 letters and numbers) and second is Locality (A town or city).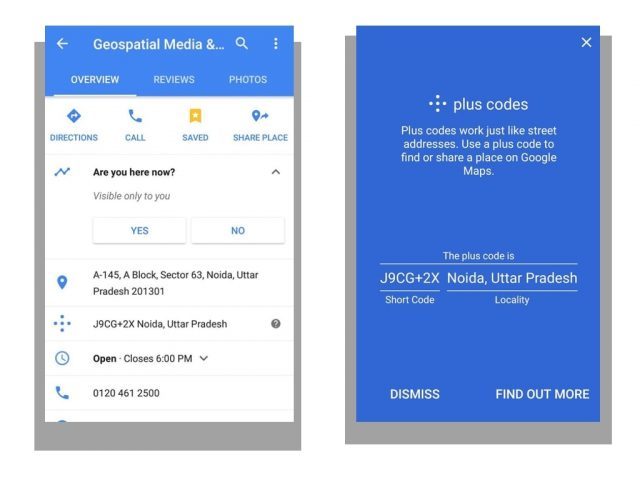 In the above example, the plus code for our business Geospatial Media & Communications is given as J9CG+2X Noida, Uttar Pradesh.
How to use plus codes on Google Maps?
In Google Maps, you can use Plus codes in the following two ways – find the plus code for a place or find a place using plus codes. This feature is available for both Android and iOS devices. Know more from Google.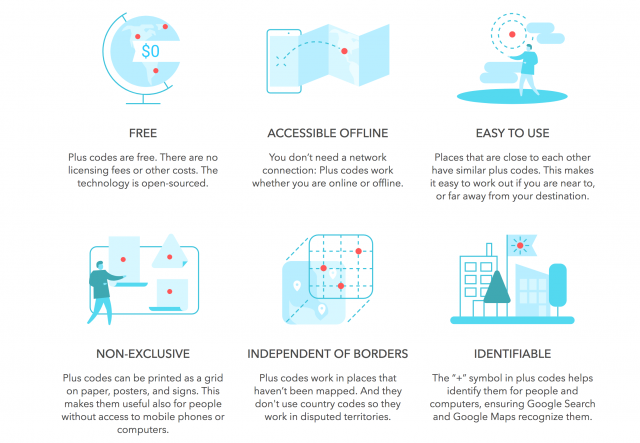 Who is working on the plus codes initiative?
While it is not clearly mentioned on the front pages who is running this or who is behind plus codes, a little digging into the site shows this is project managed by Google's Zurich engineering office.
This also seems to be an extension of an existing project – Open Location Code (OLC, for short), an open-source project initiated by a group of Google engineers.
Why is Google bringing this initiative?
This is where it goes interesting. While there are similar services existing today, Google might be looking at an easy and native way of integrating grid based addressing system into Google Maps.
Reasons might be – one, they probably would have found it challenging to integrate existing services with all the Google Maps offerings; two – Google also uses GoogleMaps platform for commercial purposes, and this might bring in additional licensing challenges. So, they might have given it a careful thought and might be playing safe. This is my best guess. Besides Google also did an evaluation of existing encoding systems and their challenges.
Another smart move they made was by Google was, making plus codes developers offering and making it an Open Source offering. Also, check out the GitHub page.
What is the use case?
The biggest challenge still in the world we live in is that – half of the world's urban population lives on an unnamed street. This is the biggest use case. This is the notion behind most of the similar services like What3Words. And organizations like governments, businesses, and humanitarian agencies have started using such services.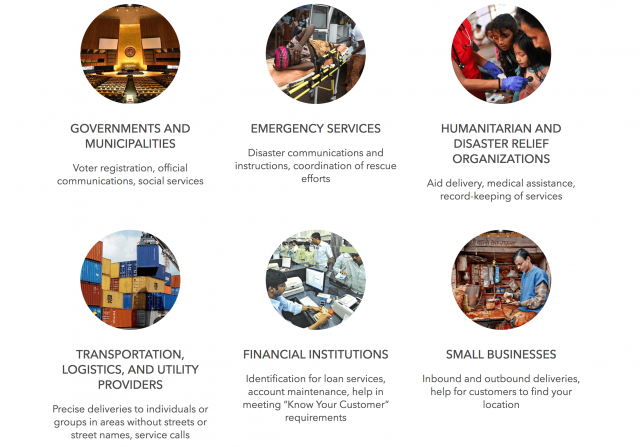 With a similar move from Google Maps, the most widely used mapping platform by users and developers, the uptake might be huge and it would be easy for most of the third party services like to easily integrate plus codes.
Interesting fact – The postal services of Cape Verde were the first to support plus codes for mail delivery.
Open your Google Maps app, check out plus codes and let me know your views. If you are a business or development agency using similar services or planning to use this one, please let me know what do you think.