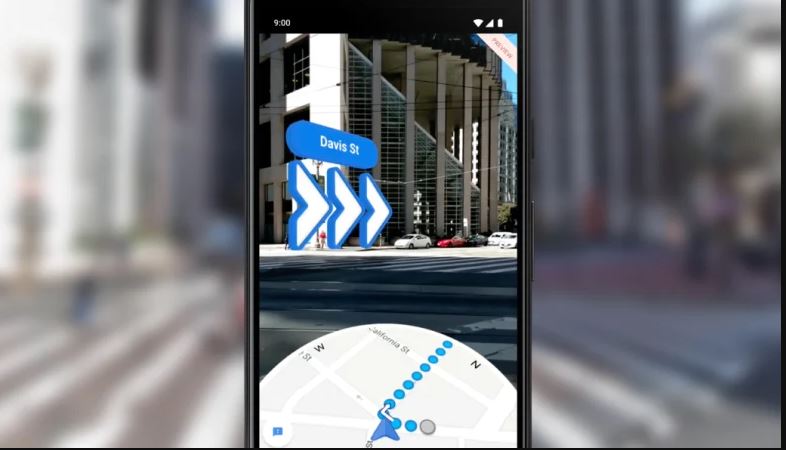 Google has made available its Google Live Maps Live View AR( augmented reality) feature for Android and iPhone users. The feature was first announced at Google I/O 2018 and launched for exclusively for Pixel phones in May this year. Now all AR-compatible smartphone users can view screens in their vicinity. Android devices that support ARCore or iPhones that include ARKit support will be able to access Google Maps Live View.
The AR navigation feature superimposes walking directions over real-world streets. Using a smartphone camera, the map would show the location where we are heading and when to turn left or right, or hit straight. The AR map would rely on the data mapped by Google Street View, so it won't work on roads that have not been updated in the Street View database.
Google Maps should be opened and a destination selected. Right next to the old 'start' button there is a new option called 'Start AR'. Clicking on this option divides the screen into two parts: Camera feed at the top and map view at the bottom. After this, the app prompts to point the camera on the opposite side, just after a few seconds, the app detects the location and gives instructions.
Once the location is confirmed, two big blue arrows can> be seen on the screen, which highlights the direction in which the person should be heading.
This is one of the main benefits of using AR in maps, as it overcomes the limitation of normal Google Maps – people often get confused about directions and with GPS updating slowly, they turn in the wrong direction.
When the phone is lowered, the AR mode switches n>off and normal navigation resumes. AR mode is switched on again when the phone is raised in hand again.
Another important in-built functionality in AR mode is that it dissuades people from crossing the streets while staring at the phone screen. The app detects that a person is moving while AR mode is on. If the person neglects the warning sign and continues, the AR mode will go blank after a few seconds and insist that the phone should be lowered.